Authored by:
Last edited: February 6, 2023
Valentine's Day 2023 is fast approaching. Time to open your heart-infused brain for ideas your students can enjoy to celebrate the holiday of affection.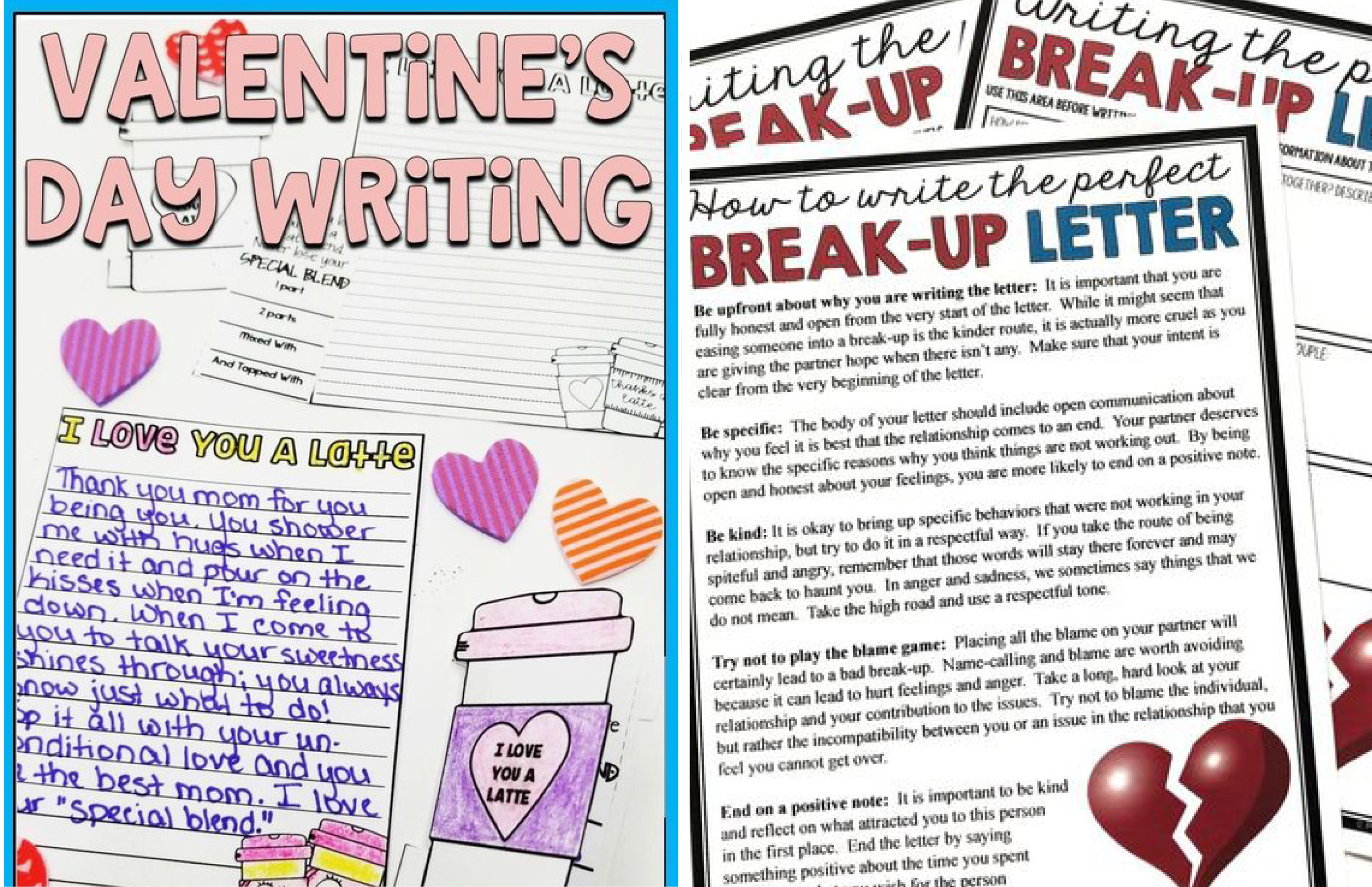 The celebration of love, the season of feelings: Valentine's Day.
This holiday is full of forget-me-nots, teddy bears, luxury dinners, and candy hearts. February 14th can be a wonderful day of fun learning activities for middle school students. Decorations that bring the classroom alive, brain teasers about the holiday, and don't forget the parties with cupcakes. Taking the time to create lessons with the theme of valentines can be a charming experience for students.
What are some good Valentine's Day activities for middle school?
Here is a list of Valentine's Day activities and lesson plans that will keep your student's attention and help them celebrate the holiday with good feelings. Also, middle school students are going through a lot of changes. Having classroom activities and art projects about feelings may help them self-regulate when needed.
1. Writing Lessons
This valentine's day themed activity will enlighten the kids who like to write and at least engage those who don't like writing as much. Teaching students how to use themes in their written communication is a skill they can use in many aspects of their lives.
2. Valentine's Day Card and writing for your loved ones
Help your language arts students express their emotions with this lesson. Seeing who can create meaningful cards is always fun. But this lesson is to help those who don't know how to say what they want to say. Have them practice their creative writing with a card to a mom, dad, sibling, or grandparent.
3. Would You Rather
The school has changed in many different ways. But one thing that has stayed the same is that students love to play games. Introducing the Valentine's Day edition of "Would You Rather" to your kids will make for a fun time for your class.
4. Valentine's Day This or That Game
Here is another game that will make a party more festive. All the students would get a card and compare what they chose with each other, making for stimulating conversation.
5. Valentine's What's on your phone
This one is entertaining and a little telling for the older middle and high school students. What will be surprising is what they will have on their social media!
6. Valentine's Day Trivia
Who doesn't like trivia? This game can be fun for students and adults.
7. Valentine's Day Scavenger Hunt
Scavenger hunts can take considerable planning, but students will have a ball when participating. These special hunts can be a classroom or a school-wide activity.
8. Textured Heart Paintings
Plan accordingly, as painting can be a time-intensive endeavor. Once you're done, the art will make for a stunning bulletin board.
9. Minute-To-Win-It Valentine's Day Games
Putting a twist on games can bring a challenge in that the students will get involved. This game will work well in elementary school, also.
10. Paper Heart Building Activity
Busy hands, am I right, people? Crafts bring a sense of physical accomplishment to students. With simple-to-follow instructions, students can find joy in crafting hearts. Of course, they can create and (depending on your education) make the symbol of love leap out from your classroom walls. Think of how this can turn into a stem activity or make it a stem challenge.
11. Break Up letter
Valentine's day is always happy and blissful. There are heartbreaks, however. For many kids, it could seem like their world is ending when such things happen. Teaching older students how to write a breakup letter can be one of the most critical skills they learn. They do not even have to give the letter to the other person; it can be an activity for them to release any negativity. If you do this, be sure to make the school counselor aware.
12. Valentine's Spirit Week
Solidarity and unity are essential for a school. A spirit week leading up to valentine's day can spark conversations and give a solid sense of connection with students. As a school-wide activity, this would be an ideal chain of events.
13. Valentine's Day Bingo
BINGO! There is an exhilaration that flows through a person when they say bingo. Just remember to have a sweet prize waiting for them.
14. I Spy Game
You can never have too many games for students. Here is a simple one that can be played during the week of Valentine's.
What is Valentine's Day?
What is Valentine's Day exactly? The history of the holiday—and its patron saint the day honors—is "hotly" debated. February is known as the month of romance but contains traces of Christian and ancient Roman traditions. But who was Saint Valentine, and how did he become attached to this holiday?
There have been three St. Valentines for which the holiday was named. All of whom broke Roman laws, such marriage between young lovers and helping people escape terrible Roman prisons. Unfortunately, they were martyred at the hands of the roman emperor Claudius II. It's said that Valentine (one of them anyway) sent the first "valentine" greeting after he fell in love with a young girl. He signed the letter "From your Valentine,". Of course, we still use this in letters and cards today.  
Symbols of Valentine's Day
There are many symbols associated with Valentine's day. Most of which have universal meaning for people everywhere. Here are a few you may be familiar with:
Cupid (Cherub) is a childlike angle that is a traditional symbol of romantic love. Depicted as tiny beings who shoot arrows at people to fall in love, they are historical figures dating back to Greek and Roman times. Cupid is the Roman name, but in Greek mythology, the name given is Eros (love). Cherubs can be mischievous creatures playing with the hearts of mortals and gods.
Red Roses: It is said that red roses come from the tears and blood of Aphrodite and Adonis, stained the ground they shared. Roses have long been symbols of love for many around the world. When people see these delicate, fragrant florals, there is an extraordinary sensation of warm excitement. Also, these flowers make for fabulous decorations in any room.
The heart symbol: We associate the heart shape with love for several reasons. In ancient Roman times, a plant called silphium (now extinct) was a main ingredient in love potions. The leaf from this plant is where the heart shape originates. Many people used to believe the heart in our bodies was also shaped like the romantic symbol.
Whether it's flowers, hearts, or little cupids (and the color red), expressing feelings is an essential aspect of the holiday.
How do you teach kids about Valentine's Day?
There are a variety of ways to teach kids about valentines day. Some students will be interested in valentines day beginnings. You could teach a social studies lesson about how valentines day began and how it spread around the world.
Other students will want to hear stories about heroes and heroines who fall in love with their soul mates. Many books bring the holiday out in exquisite detail for kids to enjoy. Nothing holds the imagination like a fun valentine's day story.
The spirit of Valentine's is expression. You could have a class project in which the students write cards to friends or family members. Teaching the importance of expression without wanting to receive is the development of a selfless person.
What are some activities for middle school students?
If you have peer leaders in your school, speak to their coordinator (usually a teacher or a counselor). You can propose an activity or event the peer leaders would be in charge of that promotes Valentine's Day. Students are very good at knowing what would bring excitement to their peers. Start the day off with an announcement of kindness the students can utilize.
You can connect with the other teachers at your school and have a Valentine's Day dance or even a friendly sporting activity. Invite the parents and local vendors to participate. Everyone in the community is a stakeholder in the school, and helping to build stronger community ties will instil in students to work together.
What is your best Valentine's Day memory?
There may be many memories that come to your mind in answering this question. Because the holiday is associated with romantic love, bountiful boutiques of roses can flash before one's eyes. But Valentine's Day is more than gifts and love songs we play for our partners. It can also be an expression of fondness we have the people who help provide meaning to our lives.
My best Valentine's Day memory is all the cards my mother would send me. She believes in cards so much she even began sending eCards. It was a simple gesture of her love for me. It hurts a little bit each year when I do not receive anything—such expressions are overlooked in real-time. Reflecting on the blessing of having my mother in my life takes me to a place where she can always hold me.
Conclusion
February brings many significant holidays and events. Valentine's is one of the first things that comes to people's minds. Depending on what part of the world you reside in, the holiday helps to usher in spring when life begins to blossom again. Though all do not like the holiday, it can be enjoyed by all when they participate in a suitable activity. The ideas and lessons above should give your students great Valentine's Day fun.
Here at TeacherVision, we have many interactive resources, including freebies, for Valentine's and other holidays throughout the year. Be sure to visit our Valentine's Day Resource Hub.
Sign up for our newsletters to stay up to date with all the latest resources and lesson plans and make sure to create a free membership account for access to our resource library and browse our catalogue of resources.