Summer reading for grades 3-5, with activities!
Pick any book from this list of the best kids' books and your students will be sure to have fun reading and doing the activities over the summer break. Activities are designed to help reinforce reading skills learned during the school year while home on summer break. Great for use as a family reading activity or playgroup sessions.

Out of gratitude for the poet's art form, Newbery Award–winning author and poet Kwame Alexander, along with Chris Colderley and Marjory Wentworth, present original poems that pay homage to twenty famed poets who have made the authors' hearts sing and their minds wonder. A Newbery Medalist and a Caldecott Honoree offer a glorious, lyrical ode to poets who have sparked a sense of wonder.

Enrichment Activities

Being able to jump into books used to seem like the greatest thing in the world to Owen Conners. But now Owen's trapped in a time travel book where readers—that would be you—decide how the story goes. As if that weren't enough, Owen's also stuck in a prison for time criminals in a prehistoric era. He's surrounded by bizarre fellow prisoners, including Kara Dox. How does Kara recognize Owen if they've never met before? She seems to think they're old friends, but that can't be possible. Still, Kara might just be the only chance Owen has to escape. And he has to find a way out to save his friend Bethany, who's still in grave danger. Because unless Owen can stop him, Nobody is going to split Bethany into two, separating the fictional and non-fictional worlds forever.

Enrichment Activities

It is December 17, 2010: Nadia's twelfth birthday and the beginning of the Arab Spring. Soon anti-government protests erupt across the Middle East and, one by one, countries are thrown into turmoil. As civil war flares in Syria and bombs fall across Nadia's home city of Aleppo, her family decides to flee to safety. Inspired by current events, this novel sheds light on the complicated situation in Syria that has led to an international refugee crisis, and tells the story of one girl's journey to safety.

Enrichment Activities

Rose Howard is obsessed with homonyms. She's thrilled that her own name is a homonym, and she purposely gave her dog Rain a name with two homonyms (Reign, Rein), which, according to Rose's rules of homonyms, is very special. Not everyone understands Rose's obsessions, her rules, and the other things that make her different—not her teachers, not other kids, and not her single father. When a storm hits their rural town, rivers overflow, the roads are flooded, and Rain goes missing. Rose's father shouldn't have let Rain out. Now Rose has to find her dog, even if it means leaving her routines and safe places to search

Enrichment Activities

This collectible boxed set chronicles the oh-so-fabulous life of Nikki Maxwell as she navigates the halls of middle school, mean girls, BFF drama, and first crushes. From the first not-so-fabulous adventure, to the interactive How to Dork Your Diary, to the latest pet-sitting catastrophe, these books are filled with dorktastic fun!

Enrichment Activities

Gus and Cassie have always been on the same team off the field, but in this third novel in New York Times bestselling author Mike Lupica's Home Team series can they stay friends when they're on the same court? Gus knows Cassie is more than good enough to compete on the boys' team, and besides they really do need a point guard, so why isn't he able to shake the feeling that she belongs on their bleachers rather than their bench? Can Gus find a way to bring the home team together both on and off the court, or will all these prejudices block their shot at a winning season?.

Enrichment Activities

Jethro Creighton is nine years old in April 1861, when the Civil War begins. His southern Illinois farming family is torn apart when his brothers, cousin, and a close family friend leave to fight in the war. Jethro is forced to grow up quickly and tracks the progress of the war through letters and newspapers. Finally, four years later, the war is over and all are relieved. But then President Lincoln is assassinated. Suddenly, the future becomes frightening and uncertain once again.

Enrichment Activities

Charlie and the Chocolate Factory
by Roald Dahl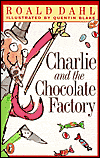 Charlie and the Chocolate Factory
by Roald Dahl
Children have been waiting patiently for the chocolate gates of Willy Wonka's chocolate factory to open. The twist is that only five lucky children can be let inside. Charlie Bucket's dream comes true when he finds a winning ticket that allows him to go into the chocolate factory.
Moss, the Native American hero of Michael Dorris' book
Guests
, learns to recognize the complex emotions within himself and his elders when his tribe invites white settlers to share the harvest feast.
Enrichment Activities
Jean Fritz wrote a compelling story about her youth in the China of the mid 1920's, a period of great turmoil. Jean's own family suffers the loss of her younger sister, as well as other hardships. Eventually, the family resettles in the United States, a country that Jean has only heard about.
Enrichment Activities
The book is based on the real-life story of a 12-year-old American Indian girl, Karana. In the early 1800s, she was stranded on a small island off the coast of California. Karana faced grave dangers and survived, in isolation, for 18 years before leaving the island to live in the Santa Barbara Mission.
Enrichment Activities
For James Henry Trotter, life with the exceedingly nasty Aunt Sponge and Aunt Spiker is pure misery. Jame dreams of a better life, but he's totally unprepared for the wild adventures ahead of him when he drops the magic crystals he receives from a strange old man. Before long, James is off on a weird, wonderful journey inside a giant peach with an odd assortment of traveling companions!
Enrichment Activities
Number the Stars
won the Newbery Award in 1990. This moving, well-written book, helps children to see the effects of courage and caring. The factually-based story is set in Denmark during World War II and tells of that country's efforts to save their Jewish citizens. Two young girls are the focus - each having poignant tales to tell. Look at our collection of ideas and resources to enhance this important book.
Enrichment Activities