CREATED BY:
LAST UPDATED: January 23, 2020
The Newbery Award-winning book, Number the Stars, has educated many children about the bravery of the Danish people in World War II. Use these activities to extend the reach of the book.
Page 1 of 2
Number the Stars
by Lois Lowery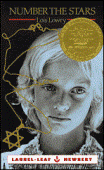 Number the Stars, by Lois Lowry, won the Newbery Award in 1990. This moving, well-written book, helps children to see the effects of courage and caring. The factually-based story is set in Denmark during World War II and tells of that country's efforts to save their Jewish citizens. Two young girls are the focus - each having poignant tales to tell. Look at our collection of ideas and resources to enhance this important book.
Enrichment Activities
Internet Resources
Books by Lois Lowry
---
Enrichment Activities
Mapmakers
Have the students color and label a map of Europe locating Denmark, Copenhagen, Germany, and Sweden.

Recipe for Peace
Have the students create a "Recipe for Peace". Introduce this by asking the whole class, "What does it take to make peace?" You can aid their brainstorming by giving a few examples (kindness, understanding, laughter). Have the students create a sign or a poster (using a recipe format of ingredients, procedure, servings) of their "Recipe for Peace".

Little Red Riding Hood
Read the story Little Red Riding Hood. Have students make a Venn Diagram comparing and contrasting it with Number the Stars.

Symbols
In the story, Number the Stars, there are symbols which represent different people - the Star of David, the swastika. Have students think about their most important characteristics and create a symbol to represent it. They might want to consider what are their strengths or interests. They can make the symbol out of art materials and write a description of the meaning behind it.

World War II Research Project
Students can research (using the Internet sites below) and write a report on some facet of World War II which interests them.

Number the Stars - Character Jeopardy
Have students play the game Character Jeopardy. To extend this activity, you can tell the students to write new answers/questions.
Internet Resources
World War II Facts
Grade Levels: Intermediate, Middle, Secondary
Detailed information in a chronological order.
http://www.infoplease.com/ipa/A0001288.html

The History Place - World War II
Grade Levels: 'Intermediate, Middle, Secondary'
Photos and maps of World War II in the Pacific.
http://www.historyplace.com/unitedstates/pacificwar/index.html

Denmark Facts
Grade Levels:'Intermediate, Middle, Secondary'
All the facts, maps, and statistics you need to know about Denmark!
http://www.infoplease.com/ipa/A0107460.html

Lois Lowry
Grade Levels: Intermediate, Middle, Secondary
This site has a biography of Lois Lowry, a bibliography, and reviews of her best-loved books.
http://www.loislowry.com/