CREATED BY:
LAST UPDATED: January 23, 2020
Island of the Blue Dolphins tells the story of an American Indian girl stranded on an island, alone, for 18 years. This literature guide for the Newbery Award winner will excite students to keep reading from cover to cover. Our resources will help teachers to extend the book.
Page 1 of 2
Island of the Blue Dolphins
by Scott O'Dell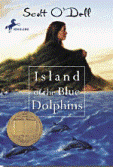 Scott O'Dell won the Newbery Medal for Island of the Blue Dolphins in 1961, and in 1976 the Children's Literature Association named this riveting story one of the ten best American children's books of the past 200 years. The book is based on the real-life story of a 12-year-old American Indian girl, Karana. In the early 1800s, she was stranded on a small island off the coast of California. Karana faced grave dangers and survived, in isolation, for 18 years before leaving the island to live in the Santa Barbara Mission.
Enrichment Activities
Internet Resources
Books by Scott O'Dell
---
Enrichment Activities
Museum of Images
This book is rich in visual images "painted" by the author. Have students find a favorite passage and create a painting that comes to them from the imagery of the passage. Create a class museum with the artwork. Have the viewing students try to find the passage in the book that is represented by the artwork.

National Park
Pretend that the Island of the Blue Dolphins (San Nicholas Island) is becoming a national park. The students will draw a map of the island based on the descriptions from the book. Have students write and illustrate a brochure for visitors to the new island park. Finally, in teams, have students create (using art materials) monuments or tributes to Karana that will be scattered around the park. Encourage them to highlight significant events from the story. You may want to assign the events in order to avoid duplicated efforts.

Ingenious Inventions
Karana is forced to create many ingenious inventions with very little resources. Divide your students into cooperative groups. Provide each group with the following materials:


Three Popsicle sticks
One elastic band
A piece of string
Glue
Anything else you have handy


Tell the students that they are to invent a tool (as Karana did) with the materials you have provided. Encourage them to brainstorm possible tools before beginning construction.

An Animal's Point of View
Animals play an important role in Karana's life. They become her friends and companions. Ask students to pick one of the animals from the book (Rontu, the red fox, the birds, etc.). The children will write and illustrate a diary by that critter about life with Karana on the Island of the Blue Dolphins.
Internet Resources
Channel Islands Marine Sanctuary
Grade Levels: All
Learn about the Santa Barbara Channel where the Island of the Dolphins lies.
http://www.cinms.nos.noaa.gov/
Current Weather Conditions – San Nicholas Island
Grade Levels: All
Find the latest temperature, wind velocity, and more.
http://weather.noaa.gov/weather/current/KNSI.html