CREATED BY:
LAST UPDATED: March 9, 2022
Activities and resources to teach Homesick: My Own Story by Jean Fritz.
Page 1 of 2
Homesick: My Own Story
by Jean Fritz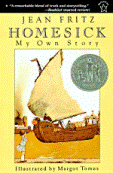 Jean Fritz wrote a compelling story about her youth in the China of the mid 1920's, a period of great turmoil. Jean's own family suffers the loss of her younger sister, as well as other hardships. Eventually, the family resettles in the United States, a country that Jean has only heard about.
To buy this book, click here or on the book cover.

Enrichment Activities


Internet Resources


Books by Jean Fritz
---
Enrichment Activities
China Homecoming
Jean Fritz returned to China as adult and wrote a book about her experiences. It is called China Homecoming . Encourage your students to read and compare Jean's perceptions of the same person at different times in her life. Ask them to think of how the perceptions they had in their memoirs (see below) may change when they are older.
 
Chinese Calendar
Your students can use the Chinese Calendar Chart to answer the questions for an online or printable quiz.
 
Chinese Calligraphy
Explore the ancient art of calligraphy with your students.
 
Chinese Words and Phrases
Introduce the wonderful Chinese language to your class.
 
Comprehension Checks
Check your students' comprehension of Homesick: My Own Story with Test A, Test B, and Test C. Use the Answer Key for correcting.
 
Culminating Projects
Students can examine life in the 1920s and present their results in a project-based format. Students gather information and make presentations on 1920s dance, hair, clothing, and more. 
 
Jean Fritz Books
Jean Fritz has written 56 books for children. Encourage your students to read other books by her or to read one aloud to a younger child. See the bibliography at the bottom of this page.
 
Memoir
Homesick: My Own Story is a memoir (an account of a person's personal experiences) that demonstrates the power of sharing experiences in written form. Assign your students to compose their own memoirs.
 
Pack Your Bags
Ask your students to make a list of what they would take with them if they had to pack in one hour and could only take one suitcase.