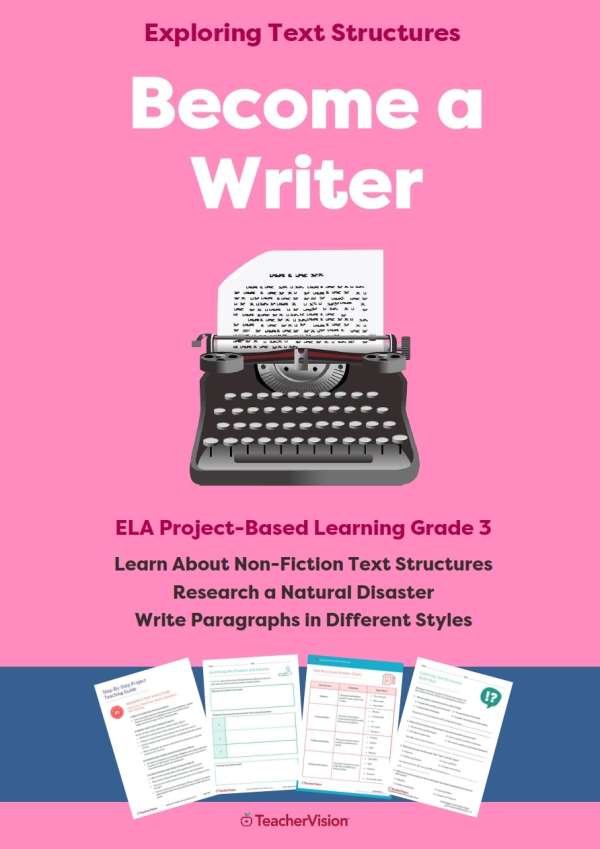 Purchase or subscribe to access this resource.
$14.95
Included with a Premium Membership
Subscribe for instant access to this and every resource on TeacherVision.
Subscribe
A Complete CCSS-Aligned Unit on Text Structures: Sequencing, Problem/Solution, Compare/Contrast, Cause/Effect
Build background knowledge of a topic (natural disasters) through research, then learn specific ways to structure nonfiction text for impact, readability, and understanding!
Your 3rd grade students will combine research and writing skills in this ELA project-based learning unit. They'll do topical research on natural disasters,  and then explore and combine 4 different text structures (sequencing, problem/solution. cause/effect, compare/contrast) and "show what they know" by writing and presenting their final research reports. 
What's Inside
Packed with hands-on inquiry-based activities, extensions and enhancements, cross-curricular independent and group work, and engaging and interactive challenges, this 54-page project-based unit comes complete with:
For the Teacher: A complete Text Structures Lesson Plan with step-by-step instructions for all activities, teaching tips, assessment guidance, and inquiry questions.
For Students: A full-color Student Pack complete with all of the printables, slides, photos, and instructions students need for the research, writing, and activities - just print (or share) and teach!
A complete, ready-to-teach Teacher Pack that includes:
Teacher versions of all the student printables with step-by-step annotations and notes for teaching text structures;
Formative and summative assessments, answer keys, and a full project rubric;
Instructions and guidance for the extension activities and project enhancements;
Materials and resources lists, links to articles, videos, and research, plus additional resources for lecture and presentation.
What's Included
Lesson Plan - Step-by-Step Project Teaching Guide
Milestone 1: Sequence Text Structure
Milestone 2: Cause and Effect Text Structure
Milestone 3: Problem and Solution Text Structure
Milestone 4: Compare and Contrast Text Structure
Milestone 5: Identifying Text Structures
Teacher and Student Resources
Materials List - Materials Needed for the Projects in this Unit
Books About Natural Disasters (optional)
Text Structures Anchor Chart
Sample Sequence Structure Organizer
Sequence Text Structure Organizer Handout
Text Structures Project Guidelines
Sample Sequence Paragraph
Sequence Paragraph Writing Prompt Handout
Milestone #1 Inquiry Question
Sample Cause and Effect Organizer
Cause and Effect Structure Organizer Handout
Sample Cause and Effect Paragraph
Cause and Effect Paragraph Writing Prompt Handout
Milestone #2 Inquiry Question
Identifying the Problem and Solution Writing Prompt Handout
Sample Problem and Solution Organizer
Problem and Solution Text Structure Organizer
Sample Problem and Solution Paragraph
Problem and Solution Paragraph Writing Prompt Handout
Milestone #3 Inquiry Question
Exploring Text Structures Quick Quiz
Exploring Text Structures Quick Quiz Answer Key
Sample Compare and Contrast Organizer
Compare and Contrast Text Structure Organizer
Sample Compare and Contrast Paragraph
Compare and Contrast Paragraph Writing Prompt Handout
Milestone #4 Inquiry Question
Text Structures Identification and Answer Key Activity
Milestone #5 Inquiry Question
Exploring Text Structures Summative Assessment and Answer Key
Exploring Text Structures Project Rubric
OVERVIEW:
This project-based learning lesson is designed to support and reinforce the concepts taught as part of an ELA lesson or unit on text structures and nonfiction writing. It is built around 5 inquiry-based milestones that incorporate cross-curricular hands-on projects, formative and summative assessments, independent and group activities, and extensions.
STUDENT/GROUP OUTPUT:
In the course of this project-based learning unit, students will:
Build background knowledge about and do topic research on natural disasters;
Learn about the sequencing, cause/effect, problem/solution, compare/contrast text structures;
Write one paragraph utilizing each text structure as part of an essay on natural disasters;
Read classmates' essays and identify the usage of each text structure in the essay.
SUGGESTED SUBJECT PREREQUISITES:
Students will acquire necessary background knowledge of text structures and informational/nonfiction writing as part of this project, and instructional materials for providing that background are included in the Teacher Pack. 
SEQUENCE AND PACING:
This project-based unit is divided into 5 milestones. The minimum suggested duration for completing this project-based unit is 5 class periods. However, the unit is completely flexible can be lengthened or shortened as necessary or desired, based on available class time and interest level.
TECHNOLOGY RESOURCES (suggested):
STANDARDS ALIGNMENT:
These activities support the following Common Core State Standards for 3rd grade
CCSS.ELA-LITERACY.RI.3.3 - Describe the relationship between a series of historical events, scientific ideas or concepts, or steps in technical procedures in a text, using language that pertains to time, sequence, and cause/effect.
CCSS.ELA-LITERACY.RI.3.8 - Describe the logical connection between particular sentences and paragraphs in a text (e.g., comparison, cause/effect, first/second/third in a sequence).
CCSS.ELA-LITERACY.W.3.2 - Write informative/explanatory texts to examine a topic and convey ideas and information clearly.
CCSS.ELA-LITERACY.W.3.7 - Conduct short research projects that build knowledge about atopic.
CCSS.ELA-LITERACY.L.3.1 - Demonstrate command of the conventions of standard English grammar and usage when writing or speaking.
CCSS.ELA-LITERACY.L.3.2 - Demonstrate command of the conventions of standard English capitalization, punctuation, and spelling when writing.