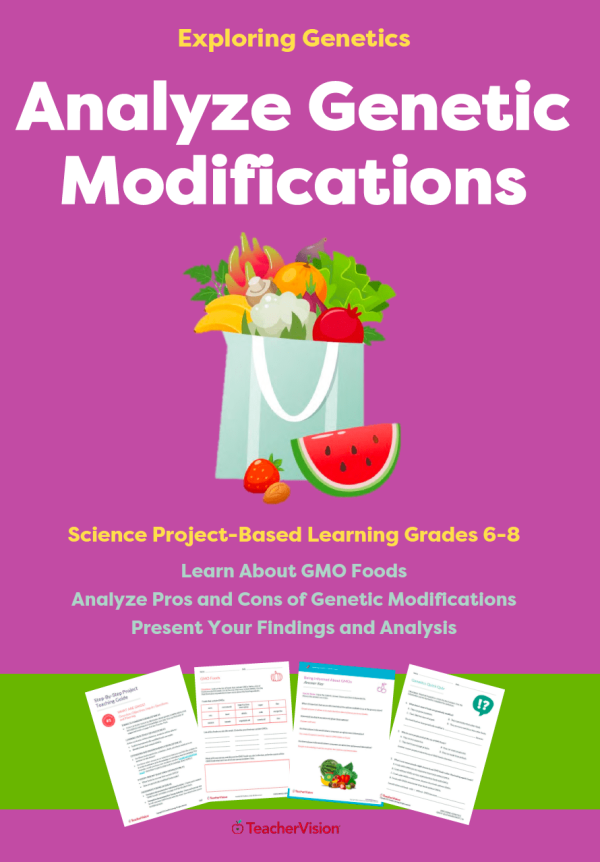 Purchase or subscribe to access this resource.
$14.95
Included with a Premium Membership
Subscribe for instant access to this and every resource on TeacherVision.
Subscribe
A Comprehensive Lesson on Genetically Modified Organisms (GMOs)
Build background knowledge of how GMO crops and foods are made, learn about the pros and cons of genetic modifications to food through inquiry-based activities, work hands-on to do a cost/benefit analysis of GMO vs. organic food, and design, create, and present persuasive educational materials to support your position on genetically-modified foods!
Your students will combine critical thinking, math, science, and persuasive writing skills in this project-based learning unit for grades 6-8 science. They'll learn about how organisms are modified genetically to make crops and food, use their analytical, math, and problem-solving skills to understand the pros and cons of genetic modifications, and "show what they know" by designing and creating a a series of educational materials to support their opinion of the benefits or harms of GMO foods.
What's Inside
Packed with hands-on inquiry-based activities, extensions and enhancements, cross-curricular independent and group work, and engaging and interactive challenges, this 52-page project-based unit comes complete with:
For the Teacher: A complete Genetics Lesson Plan with step-by-step instructions for all activities, teaching tips, assessment guidance, and inquiry questions.
For Students: A full-color Student Pack complete with all of the printables, slides, photos, and instructions students need for the research, experiments and activities - just print (or share) and teach!
A complete, ready-to-teach Teacher Pack that includes:
Teacher versions of all the student printables with step-by-step annotations and notes for teaching GMO concepts;
Formative and summative assessments, answer keys, and a full project rubric;
Instructions and guidance for the extension activities and project enhancements;
Materials and resources lists, links to articles, videos, and research, plus additional resources for lecture and presentation.
What's Included
Lesson Plan - Step-by-Step Project Guide
Milestone 1: What Are GMOs?
Milestone 2: Are GMOs Good or Bad?
Milestone 3: Comparing Costs
Milestone 4: Genetically Modified Foods Project
Milestone 5: Project Presentations 
Teacher and Student Resources
Materials List for the Projects in this Unit
Books About Genetically Modified Foods (optional)
What is Genetically Modified Food? Activity and Answer Key
Milestone #1 Inquiry Question Writing Prompt
What Do You Know About GMOs Interview Activity
Milestone #2 Inquiry Question Writing Prompt
What's the Deal with Genetically Modified Foods? Activity and Answer Key
GMO: Friend, Foe, or I Don't Know Posters Activity
Genetics Quick Quiz and Answer Key
Meal Planning GMOs/Non-GMOs Activity 
Mealtime Math GMO/Non-GMO Food Costs Research Activity
Milestone #3 Inquiry Question Writing Prompt
Wheel of Chance GMO Foods Activity
GMO Foods Project Guidelines and Instructions
GMO Foods Project Planning Sheet
Milestone #4 Inquiry Question Writing Prompt
Being Informed About GMOs Activity and Answer Key
Milestone #5 Inquiry Question Writing Prompt
Genetics Summative Assessment and Answer Key
 Genetics Project Rubric
OVERVIEW:
This project-based learning lesson is designed to support and reinforce the concepts taught as part of a science lesson or unit on genetics and DNA. It is built around 5 inquiry-based milestones that incorporate cross-curricular hands-on projects, formative and summative assessments, independent and group activities, and extensions.
STUDENT/GROUP OUTPUT:
In the course of this project-based learning unit, students will:
Build background knowledge about genetically-modified organisms (GMOs) and their uses in crops and food;
Explore the pros and cons of GMO crops and foods;
Perform a cost/benefit analysis of GMO crops and foods vs. organic, non-GMO crops and foods;
Define and develop a personal opinion position on the benefits and risks of genetic modifications to food;
"Show what they know" by designing and creating a set of educational materials that supports their opinion about the benefits or risks.
SUGGESTED SUBJECT PREREQUISITES:
Students will acquire necessary background knowledge of GMO foods as part of this project, and instructional materials for providing that background are included in the Teacher Pack. 
SEQUENCE AND PACING:
This project-based unit is divided into 5 milestones. The minimum suggested duration for completing this project-based unit is 5 class periods. However, the unit is completely flexible can be lengthened or shortened as necessary or desired, based on available class time and interest level.
TECHNOLOGY RESOURCES (suggested):
STANDARDS ALIGNMENT:
These activities support the following NGSS curriculum standards:
LS1.A: Structure and Function
LS1.B: Growth and Development of Organisms
LS3.A: Inheritance of Traits
LS3.B: Variation of Traits