Whether it's your first day or first month, teaching new students the procedures of your classroom will ensure a smooth start to the school year. Here are ten procedures that teacher, Tara Dusko, teaches to her class on day one.
Updated on: September 10, 2018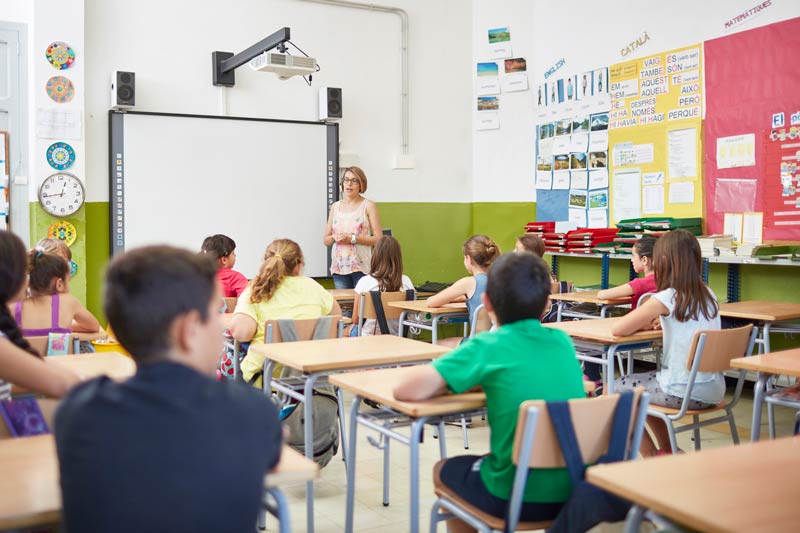 The first day of school is a very busy day. You're meeting your new students and making connections with them. It's also the perfect time to start introducing your classroom procedures. Here are 10 procedures you should teach the first day.
#1 - Bathroom
My bathroom procedure is one of the first ones I cover. Inevitably, someone is going to need to use the bathroom pretty quickly, so I start the day by going over the expectations.
In my classroom, the students only have to raise their hands to ask to go to the bathroom if I am doing direct instruction. Otherwise, they are allowed to put the bathroom pass on their desk and go. That way they don't interrupt my guided math or strategy groups.
#2 - Pencil Sharpening
Another procedure I address early in the day is pencil sharpening. There's nothing more distracting when you're teaching than the sound of the pencil sharpener.
I tell my students that they should have at least 2 sharpened pencils at the start of every day. They can sharpen pencils in the morning and at the end of the day. If both pencils break, they need to borrow one from me until it's a good time to sharpen the others.
If you're not careful, your tissue box will become the most popular meeting place in your classroom.
#3 - Tissues
If you're not careful, your tissue box will become the most popular meeting place in your classroom. It's shocking how often five different students need a tissue at the exact same minute.
I have a rule that if you need a tissue, you get one and go. There's no lingering at the tissue box.
#4 - Lining Up
I always take a few minutes before lunch on the first day to talk about how we line up and walk in the hallway. I tell my students I expect a "3S" line - straight, still, and silent - before we will leave the classroom.
Once we are in the hallway, I have my class walk on one of the silver lines on the floor. That keeps them from walking beside someone else and makes it harder for them to chat.
#5 - Getting Books from the Classroom Library
Your students are going to be eager to check out the books in your classroom library. That's awesome, but you don't want them to mess up the beautiful shelves you've spent days organizing.
I always have my class gather in the classroom library on the first day of school. We do a mini-lesson on ways to choose a just right book and discuss the parts of the classroom library. That way, they know how to choose a book and where to put it back neatly.
#6 - Turning in Papers
As your students finish their assignments, they need to know where to put the papers. I try to always have my students put papers in the same locations. That way, they don't have to ask where things go every day.
I have bins labeled on the side of my classroom. One is for homework, one is for math work, and one is for reading.
#7 - Using Technology
If you are 1:1 with technology, it's important to go over your expectations for how to use it. Go over how to carry the technology, where it can be used, and what websites are allowed.
I also use the first day of school to give my students their passwords and have them join all my classes in Google Classroom. If you don't use Google Classroom yet, check out this post to see why I can't live without it.
#8 - Assembly Behavior
At my school, we always have an assembly on the second or third day of school. I like to take a few minutes on the first day of school to talk about good assembly behavior.
We walk down to the auditorium to see where our class sits. Then, we practice sitting flat so everyone behind us can see. We also discuss appropriate times to talk or clap during an assembly.
#9 - Fire Drill
A fire drill is also inevitable during the first week of school. I always take a few minutes to go over the procedures on the first day.
On the way out to recess, we practice walking quietly in a straight line to our fire drill spot. That way, when the lights start flashing and the drill begins, they know exactly what to do.
#10 - Packing
Finally, your students need to know the end of the day procedures. Where do they write their homework? What should they put in their backpack each day? When are they allowed to get their coat and backpack? These are all questions you need to consider.
If you have a good packing procedure, it will lead to a smooth dismissal and fewer things will be left behind. I have my students write their homework in their assignment books. Then, I call them by group to get their books stamped and to get the mail from their mailboxes. Finally, they get their things from the closet and finish packing.
I know teaching all of these procedures is time-consuming. However, taking the time to do it on the first day and reinforcing it the first few weeks will save you so much time the rest of the school year.
Want more from this author? Check out Tara's tips for managing a chatty class, getting free or cheap books for your classroom library, and her money-saving ideas for teachers.
Author Bio:
Tara Dusko is a 3rd-grade teacher and mom of two. She blogs about ways to have a fun, low-stress year as a teacher at Teach Without Tears and about time and money-saving tips for moms at Flavors, Fashion, and Fun.