Looking for a great book to read at the beach or for several to recommend to your summer book club? Check out this slideshow of fiction and non-fiction books. It contains summer reading suggestions for teachers who are interested in reading for pleasure or professional development. Each novel has an accompanying literature guide that can be adapted for book groups or classroom instruction. All quoted reviews are from
Amazon.com
.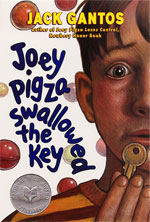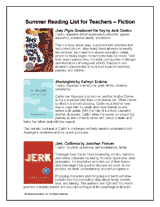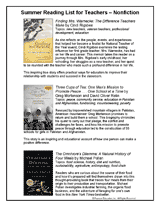 Joey Pigza Swallowed the Key
by Jack Gantos
Genre: Realistic Fiction
Topics: Attention Deficit Hyperactivity Disorder, special education, emotional abuse, alcoholism
Recommended by educators and librarians, reviewers call this book "an excellent portrayal of life with ADHD" and "a must read for teachers, parents, and children." This "informative and thought-provoking" story told from the perspective of a boy with attention issues is "a real page turner".
From the publisher: "Joey Pigza can't sit still. He can't pay attention, he can't follow the rules, and he can't help it — especially when his meds aren't working. Joey's had problems ever since he was born, problems just like his dad and grandma have. And whether he's wreaking havoc on a class trip or swallowing his house key, Joey's problems are getting worse. In fact, his behavior is so off the wall that his teachers are threatening to send him to the special-ed center downtown."
Jerk, California
by Jonathan Friesen
Genre: Realistic Fiction
Topics: Tourette Syndrome, self-acceptance
Readers will find themselves drawn in to this compelling story with its engaging characters and intriguing plot twists. Many readers found the book to be "a great read" and hard to put down, often finishing it in one to three days. One reviewer said, "In reading the story, I felt like I could understand how it would feel to have Tourette's." Another reviewer commented, "I expect this book will be one that becomes required or recommended reading in high school classrooms all across the U.S. And it ought to be."
From the publisher: "Twitch, Jerk, Freak—Sam Carrier has been called them all. Because of his Tourette's syndrome, Sam is in near constant motion with tics and twitches and verbal outbursts. So, of course, high school is nothing but torment. Forget friends; forget even hoping that beautiful, perfect Naomi will look his way. And home isn't much better with his domineering stepfather reminding him that the only person who was more useless than Sam was his dead father, Jack. But then an unexpected turn of events unearths the truth about his father. And suddenly Sam doesn't know who he is, or even where he'll go next. What he does know is that the only girl in the world who can make him happy and nervous at the same time is everywhere he turns . . . and he'd give anything just to be still."
The Thing About Georgie
by Lisa Graff
Genre: Realistic Fiction
Topics: dwarfism, special needs, friendship, family
Children, parents, and educators will enjoy this "real and very moving" book which provides insight into dwarfism and the life changes of a 10-year-old boy. A fourth grade teacher commented, "I found this story to be a wonderful depiction of personal struggles and friendships children experience within their daily lives." Another reviewer wrote that the story "brings you right into Georgie's world and leaves you looking at both childhood and physical challenges with a fresh set of eyes."
From the publisher: "The thing about poodles is that Georgie Bishop hates to walk them. The thing about Jeanie the Meanie is that she would rather write on her shoe than help Georgie with their Abraham Lincoln project. The thing about Georgie's mom is that she's having a baby—a baby who will probably be taller than Georgie very, very soon. The thing about Georgie... well, what is the thing about Georgie?"
Three Cups of Tea: One Man's Mission to Promote Peace... One School at a Time
by Greg Mortenson and David Oliver Relin
Genre: Biography
Topics: peace, community service, education in Pakistan and Afghanistan
Once considered a must-read inspiring and educational account of how one person really can make a positive difference, this New York Times bestseller is embroiled in scandal with recent news reports questioning its authenticity.
From the publisher: "Anyone who despairs of the individual's power to change lives has to read the story of Greg Mortenson, a homeless mountaineer who, following a 1993 climb of Pakistan's treacherous K2, was inspired by a chance encounter with impoverished mountain villagers and promised to build them a school. Over the next decade he built fifty-five schools—especially for girls—that offer a balanced education in one of the most isolated and dangerous regions on earth. As it chronicles Mortenson's quest, which has brought him into conflict with both enraged Islamists and uncomprehending Americans, Three Cups of Tea combines adventure with a celebration of the humanitarian spirit."
The Omnivore's Dilemma: A Natural History of Four Meals
by Michael Pollan
Genre: Nonfiction
Topics: food science, history, diet and nutrition, sustainability, agriculture, anthropology
Readers who are curious about what exactly they are eating will find themselves drawn into this thought-provoking book that examines where our food comes from. One reviewer commented, "this is a great book that will leave you thinking differently about eating and probably eating differently because of it."
From the publisher: "A New York Times bestseller that has changed the way readers view the ecology of eating, this revolutionary book by award winner Michael Pollan asks the seemingly simple question: What should we have for dinner? Tracing from source to table each of the food chains that sustain us—whether industrial or organic, alternative or processed-he develops a portrait of the American way of eating. The result is a sweeping, surprising exploration of the hungers that have shaped our evolution, and of the profound implications our food choices have for the health of our species and the future of our planet."
The Wal-Mart Effect: How the World's Most Powerful Company Really Works—and How It's Transforming the American Economy
by Charles Fishman
Genre: Nonfiction
Topics: business, U.S. economy, economic history, retail, consumerism, globalization, American culture
If you have ever wondered about Wal-Mart's success and influence, this book uses real-life examples to explain the positive and negative effects of Wal-Mart on large and small businesses, manufacturers, employees, and individuals in the United States and around the world. Reviewers call this book "well researched and informative" and "a great eye opener for anyone who is interested in understanding how Wal-Mart is able to offer everything for less."
From the publisher:"Wal-Mart isn't just the world's biggest company, it is probably the world's most written-about. But no book until this one has managed to penetrate its wall of silence or go beyond the usual polemics to analyze its actual effects on its customers, workers, and suppliers. Drawing on unprecedented interviews with former Wal-Mart executives and a wealth of staggering data (e.g., Americans spend $36 million an hour at Wal-Mart stores, and in 2004 its growth alone was bigger than the total revenue of 469 of the Fortune 500), The Wal-Mart Effect is an intimate look at a business that is dramatically reshaping our lives."
Chew On This: Everything You Don't Want to Know About Fast Food
by Charles Wilson and Eric Schlosser
Genre: Nonfiction
Topics: business, health, food science, diet and nutrition, American culture
For adults who enjoyed Fast Food Nation, Chew On This makes information about the fast-food industry accessible to a younger audience. Reviewers call this book "an outstanding read for young people" that "will get their attention and get them to think about their eating habits." One said, "this book should be required reading for every child, teen and parent."
From the publisher: "In the New York Times bestseller Chew on This, Eric Schlosser and Charles Wilson unwrap the fast-food industry to bring you a behind-the-scenes look at a business that both feeds and feeds off the young. Find out what really goes on at your favorite restaurants–and what lurks between those sesame seed buns."
"Praised for being accessible, honest, humorous, fascinating, and alarming, Chew On This was also repeatedly referred to as a must-read for kids who regularly eat fast food. Having all the facts about fast food helps young people make healthy decisions about what they eat. Chew On This shows them that they can change the world by changing what they eat."
Summer Reading List for Teachers – Fiction
View this printable for even more great summer reading suggestions for teachers. You'll find a description and themes for each fiction title.
Summer Reading List for Teachers – Nonfiction
Discover more nonfiction summer reading suggestions in this printable for teachers. Each recommended book has a brief synopsis and relevant themes.