Authored by:
Last edited: January 23, 2020
Use these enrichment activities and Internet resources to enhance teaching Anne Frank: Diary of a Young Girl.
Page 1 of 2
Anne Frank: Diary of a Young Girl
by Anne Frank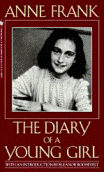 Born on June 12, 1929, Anne Frank was a Jewish girl and only 13 years old when she was forced to go into hiding during the Holocaust. She and her family, along with four others, spent 25 months during World War II in an annex of rooms above her father's office in Amsterdam, the Netherlands, before they were found by the Nazis and sent to concentration camps. Although Anne did not survive, her diary did. It was saved during the war by one of the family's helpers, Miep Gies, and was first published in 1947. Through this diary we see Anne's life, set against a background of unbelievably horrific world events.
To buy this book, click here or on the book cover.

Enrichment Activities


Internet Resources
---
Enrichment Activities


The Diary of Anne Frank Literature & Film Guide
Pair your study of the classic book The Diary of Anne Frank with the PBS MASTERPIECE Classic film version of the story. This guide to both the book and film will extend students' understanding of the story and the era in which it was written.


Acrostic Poem
Write an acrostic poem that describes Anne Frank's character. Use her diary as a reference.


The Anne Frank and Miep Gies Connection
After reading a Dateline report on Miep Gies, who was a friend to Anne Frank's family, students answer questions about Miep's life.


Culminating Projects
Students choose from a selection of five motivating and thought-provoking projects. Projects include extending Anne's diary entries, analyzing her Gemini personality traits, and completing "what if" scenarios. Use the Anne Frank: Diary of a Young Girl Project Ideas sheet.


Draw a Floor Plan
Have students draw a floor plan of what they think the annex looked like, based on Anne's descriptions in her diary.


Holocaust Remembrance Day (Yom HaShoah)
Explore a collection of resources for Holocaust Remembrance Day, which takes place on April 11, 2010.


TeacherVision's World War II Theme
Check out the lessons in our World War II Theme. Activities and resources include a timeline of the war, a photographic images lesson, and more.


"What If" Creative Writing
Give students the following question to answer: If you had to go into hiding for an indefinite period of time, what objects or materials would you take with you? Have them write on the blank journal page and then display their writing for others to see.


Comprehension Checks
Check your students' comprehension of Anne Frank: Diary of a Young Girl with various tests.