CREATED BY:
LAST UPDATED: April 4, 2023
It's the last four to six weeks of the school year and you need some inspiration, quickly, for decorating the classroom walls. We hear you. Check out this list of May bulletin board ideas to help you get through the last few weeks of school.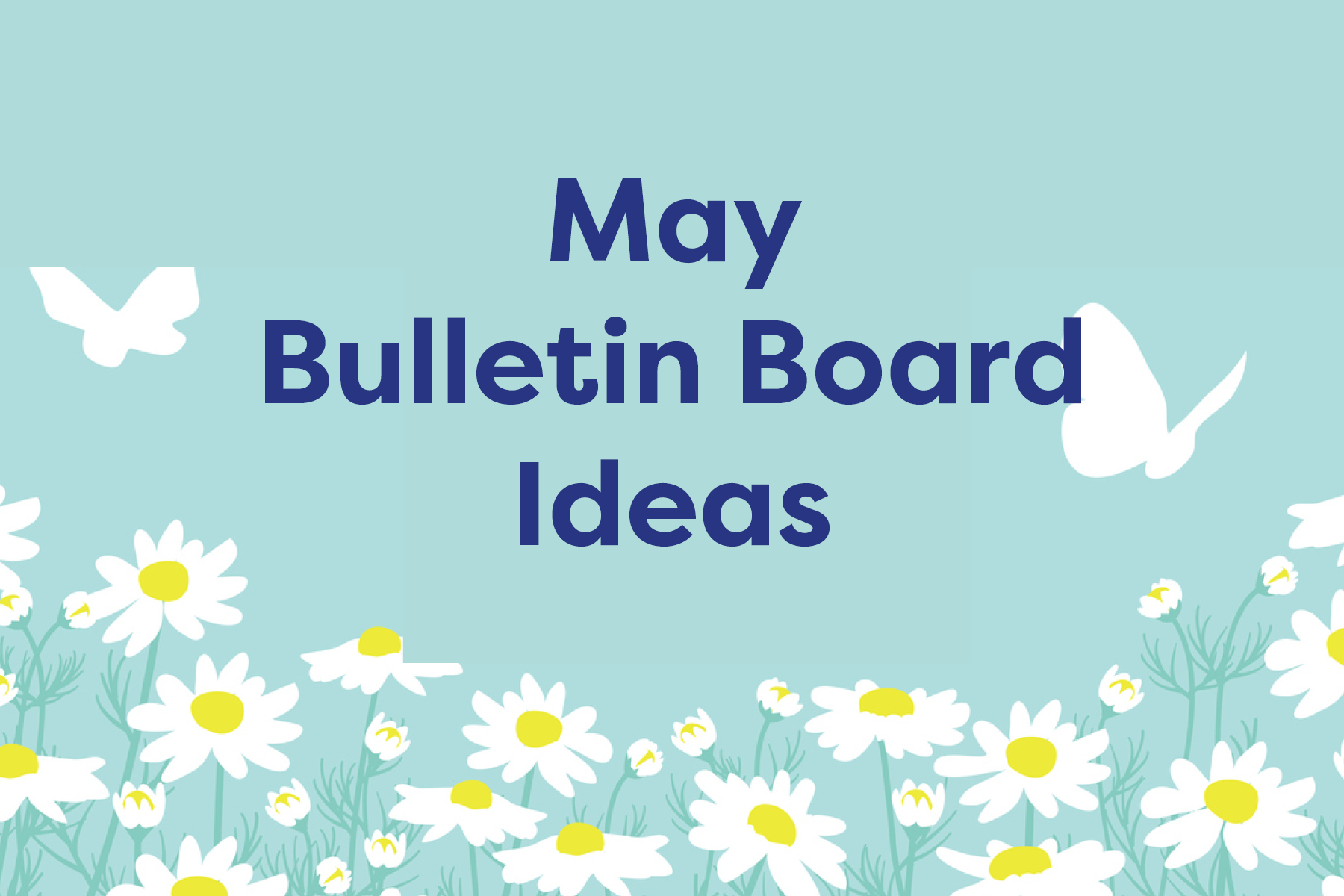 The school year is ending, and you are tired. So tired that the last thing you want to think about is classroom decor. Unfortunately, by the end of the school year, the kids are tired too. That's why you really need to take the time to change your classroom bulletin board for the last four or six weeks. If the students notice you are no longer putting in the effort to change out bulletin boards and create engaging lesson plans, they are going to quit on you. That can lead to major classroom management problems.
Don't worry, though. An end-of-year bulletin board can be quick and easy, and you won't have to change it until you return to school in the fall. Before you choose your bulletin board display, think about what purpose it will serve. Will you do a countdown to summer, reinforce learning objectives with several interactive bulletin board stations around the room, or give the students ownership of the board by allowing them to reflect on the school year?
Looking for more Bulletin Board Ideas? Check out 11 Bulletin Boards You'll Never Want to Take Down
Many teachers have difficulty coming up with an end-of-school bulletin board idea. Valentine's Day, St. Patrick's Day, and Easter have already passed, and there aren't really any holidays to take advantage of except Mother's Day and Memorial Day. Make this transition to a summer bulletin board kid centered instead of holiday-themed or standards-based. Consider fun ways to end the school year and let the students know how much progress they have made over the last ten months.
May bulletin board ideas
Seasons and months are always great for quick and easy bulletin boards, especially in prek and kindergarten classes. Bulletin board borders are available with images of flowers or summer activities.
Here are a few DIY spring bulletin board ideas.
April Showers bring May Flowers
This bulletin board is quick and easy. You can make it more educational or interactive by adding color words or word wall words that describe the flowers. You can cut out leaves from construction paper and add tissue paper flowers. Variations on this themed bulletin board include putting rain boots or an umbrella alongside the flowers or using student handprints to make the leaves or flowers. While this is more of an elementary school-themed decoration, it could be used in higher grades by having the flower petals contain math problems or word wall words and a posted writing prompt.
Related Article: Spring Bulletin Board Ideas
Summer Themed Ideas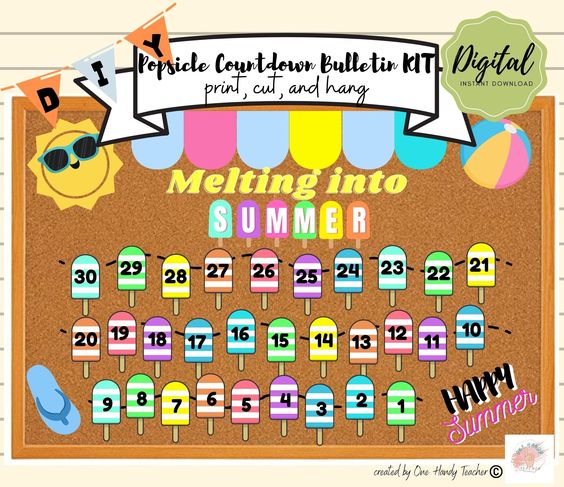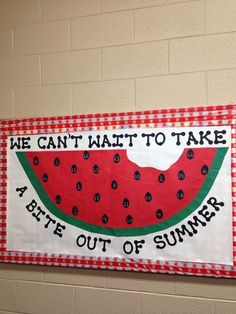 Summer bulletin boards can be countdowns of how many days are left in the school year or adorned with cut-out figures doing summer activities. The multiple scoop ice cream cone countdown makes a great classroom door decoration. To create these DIY bulletin boards, count the days left until school ends and add an element to the design for each remaining day. Some great examples are petals on flowers, scoops of ice cream, scoops of sand, and watermelon seeds. Look at these cute examples.
Bulletin boards that showcase student work
These are my favorites. I always love to show off what the students have accomplished. You can do this by creating The Academy Awards of ?th grade or using bulletin board letters to write something cute like Super Stars or Outstanding Learners. Add worksheets or printables from students in the class. Try to change it out every week, so all the students are showcased during this last stretch of the school year. Be sure to cover the student's name if other students or parents will see these papers.
Interactive bulletin boards
Spring time is the perfect time to create interactive learning stations around the classroom to reinforce everything the children learned this year. From word wall words and writing prompts to math or language arts games, there are all kinds of interactive bulletin boards that are perfect for ending the school year. These are not limited to elementary school classes, either. I have seen many middle and high school classrooms use learning stations.
We had a ball this year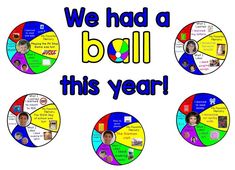 This writing prompt is a great way for students to share their favorite school year memories and show off all the skills they learned. The prompts in the ball could easily be customized to fit any grade and subject. Combined with a box of vocabulary cards or word wall lists, you could challenge students to include twenty of the words as they complete the printout. You could also use this very versatile writing activity for a specific high school class students have completed. Believe it or not, those older students occasionally enjoy artsy projects that are more fun than educational.
https://i.pinimg.com/236x/cc/1f/d6/cc1fd67dfe874f8bed5afeff2366d090.jpg
Template for the ball
Famous Figures in History, Math, English, etc.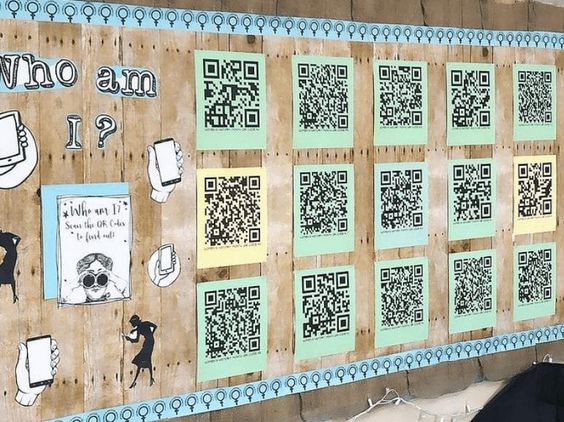 This is an activity for a tablet equipped classroom or a school where students are allowed to use cell phones for educational purposes. If some students don't have a device, use the buddy system or form partnerships. For this awesome activity, the teacher goes online and finds biographical information about figures the students have learned about. A quick fill-in-the-blank worksheet is created, and the students scan the QR codes to be taken to a website about that individual. After reading the article, the student completes the worksheet. Middle and high school students love this activity.
A Cup of Kindness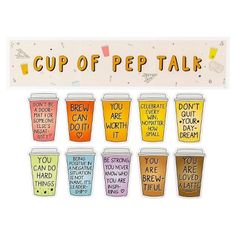 This bulletin board can be used as originally designed, where students read the affirmations daily, or it can be modified to become personalized and interactive.
To make this idea interactive, change the wording on the coffee cups to display student names. Put one name on each cup. Staple or tape the cups to the bulletin board, but leave the top open. You can push the two sides of the cup closer together as you staple to create more of a curved, open shape. A student writes something kind about each of the other students and puts the compliment into the cup. At the end of the week, the cups are given to the owners so they can read all the comments. One caution- teachers need to preview the comments to be sure they are all complimentary and appropriate.
Book recommendation bulletin boards
There are many ways to use book-related material in interactive bulletin boards. One of the simplest ideas is appropriate for all ages, including prek students. The teacher simply chooses an image of a book the class recently read and has each student tape a thumbs up or down next to the book.
Another great interactive is the mini book review. This simple, quarter-page folding handout asks students to list the title, author, main character, and what they liked best about a favorite book.
Blind Date with a Good Book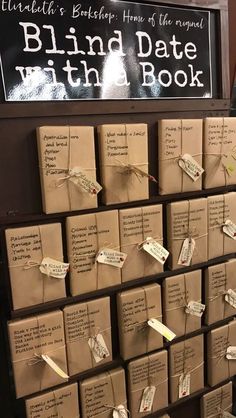 One I always loved using with my middle and high school students was the blind date book. There are a few ways to do this, but you start with a selection of books wrapped in brown paper and numbered. You can attach the actual books to the bulletin board or display them on a chalk rail or shelf and list certain attributes on the bulletin board with a book number.
For example, your board might have adjectives such as funny, scary, horrifying, sweet, friendly, mysterious, canine, feline, etc. Under each adjective, write the numbers of the books that fit in that category. If a book fits in more than one category, list it in each. That really puzzles the kids. Students have to choose the books based on what they think they will be about.
Some teachers write these adjectives or a vague synopsis on the brown paper that covers the book. There are many ways to do this activity.
Preparing for the future bulletin board ideas
Many students will complete a major milestone this year, like finishing kindergarten or getting ready to move up to a new school. These milestones deserve to be celebrated. Here are some great ideas.
Snapshots of the year
Kindergarten and first-grade students really like this one. A current photo of each child is displayed alongside a photo taken at the beginning of the school year. Kids have fun looking at how much they have grown, the changes in their hair and clothing, and any new or missing teeth. Older students could be tasked with writing a comparison essay as well.
Cruising into__ grade
The end of the school year marks a life event for children, especially those who have struggled. Show them how proud you are by creating this simple bulletin board with cut-out cars and bulletin board lettering.
Careers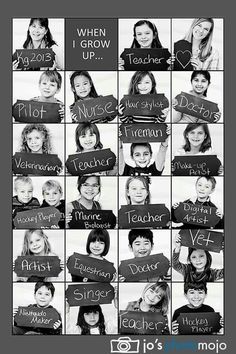 The school counseling department can get involved in end-of-the-year bulletin boards, too. A fun one is displaying photos of the students with the career path they think they will choose. Wouldn't it be great to stick those in a child's permanent portfolio to pass out at high school graduation? I wonder how many would still match.
The Year Flew By
Kites or hot air balloons displayed around the room can highlight standards learned, life skills mastered, and field trips taken. Some students might feel like there weren't many things they enjoyed about the school year, but these displays may help them realize everything they accomplished.
Highlights of the year

This can be done by making a mock film reel from a paper roll or cutting out film cell images from card stock. Inside each cell, place a highlight of the year. Try to focus on the fun things to keep it light and positive. Field days, guest speakers, assemblies, birthday parties, and science experiments are all great things to include.
Preparing for fall reopening
If your school will allow it, take the time before you leave for the summer to set up the fall bulletin board, which you will use to welcome your students into the new school year. It will be one less thing for you to worry about when you set up your classroom.
I hope this article has been helpful and has given you plenty of classroom ideas. Remember that bulletin boards are more than classroom decor. They are a way to reinforce learning, celebrate achievements, and engage students.
Looking for more great ideas?
Head over to our Bulletin Boards Planning Hub where you'll find a trove of ideas and creative solutions for your bulletin boards all year round.
Sign up for the TeacherVision newsletter to get daily or weekly updates on everything new and coming up in the world of teaching. Create a free TeacherVision account to start downloading your free teaching resources and lesson plans from our huge library of resources and too