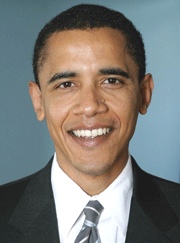 Born: Aug. 4, 1961
Birthplace: Honolulu, Hawaii

Barack Hussein Obama, Jr. made history in June 2008, when he became the first African American to head a major party ticket in a presidential election. He edged out Sen. Hillary Clinton in the race for the Democratic presidential nomination after a long and often bitter primary season. He ran as the candidate of change and made hope the center of his campaign. He's to face Sen. John McCain in the general election. Obama's platform has focused on advocating for working families and poor communities, education, caring for the environment, and ethics reform.
Obama was born in Hawaii in 1961 to an American mother and a Kenyan father. When he was two, his parents, who had met as students at the University of Hawaii, divorced. Obama's Harvard-educated father then returned to Kenya, where he worked in the economics ministry. Obama lived in Indonesia with his mother and stepfather for part of his childhood, returning to Hawaii to finish high school. He graduated from Columbia University, where he majored in political science and specialized in international relations. He then attended Harvard Law School, graduated magna cum laude, and served as the first African-American president of the Harvard Law Review. After law school, he worked as a community organizer and a civil rights lawyer in Chicago. He also taught at the University of Chicago Law School as a senior lecturer specializing in constitutional law. Obama represented the South Side of Chicago in the Illinois State Senate from 1996-2004 as a Democrat. In 2004, he was elected to the U.S. Senate, winning with 70% of the vote against the conservative black Republican, Alan Keyes. Obama became the only African-American serving in the U.S. Senate (and the fifth in U.S. history). Obama's idealism, commitment to civil rights, and telegenic good looks generated enormous media attention for his Senate campaign. The eloquence of his keynote address at the 2004 Democratic Nation Convention in Boston, Mass., confirmed his status as one of the Democratic party's freshest and most inspirational new leaders.
Obama published an autobiography, Dreams From My Father, in 1995; it became a best-seller during his 2004 Senate campaign. His next autobiography, The Audacity of Hope, became a bestseller after its Oct. 2006 publication, and won both the Black Caucus of the American Library Association Literary Awards and the NAACP Image Awards in 2007. He is married to Michelle Obama, a Chicago native who also graduated from Harvard Law School. They have two daughters: Malia Ann and Sasha.