Authored by:
Last edited: January 23, 2020
Use these lessons and activities with Go and Come Back, by Joan Abelove, a story of a Peruvian tribe and the anthropologists who come to live there.
Go and Come Back
by Joan Abelove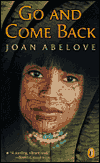 When two young anthropologists come to live in the Peruvian jungle village of Poincushmana, everyone makes a fuss – everyone but Alicia, who is baffled by the reaction of her tribe, the Isabo. But as the days pass, she too is drawn in by the ladies because they are stingy, stupid, and fun to watch. They don't understand the Isabo and someone needs to set them straight. And that someone, surprisingly, is Alicia.
To buy this book, click here or on the book cover.
Enrichment Activities
Books by Joan Abelove
---
Enrichment Activities
Character Chart
Students will analyze the main characters, their relationships with one another, and any distinct characteristics they may have using the Character Chart.

Conflict Dissection
This graphic organizer will help students to study the story's setting, problem, and solution. Use the Conflict Dissection organizer.
Hispanic Heritage Theme
This theme page is packed with lessons, activities, and references for all grade levels about Hispanic Heritage.
Books by Joan Abelove
Go and Come Back
, 1998
A young Amazonian tribeswoman tells about the stay of two American women anthropologists, who arrive to study her people's way of life.
Lost and Found
, 2000
Thirteen short stories, ranging from a teenager starving herself to achieve "perfection," to the hilarious humiliations of a freshman forced to endure fencing class.
Saying It Out Loud
, 1999
With the help of her best friend, 16-year-old Mindy sorts through her relationship with her mother and father as she deals with the fact that her mother is dying from a brain tumor.