CREATED BY:
LAST UPDATED: January 23, 2020
Extend reading comprehension with a by using a literature guide of enrichment activities and Internet resources to enhance teaching of the novel Star of Luis by Marc Talbert.
Page 1 of 2
Star of Luis
by Marc Talbert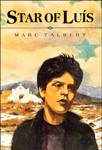 After Japan's attack on Pearl Harbor in 1941, Luis's father joins the army. Shortly after the attack, Luis's mother moves the remaining family from East L.A. to New Mexico to be with her dying father. Life for this Mexican/Catholic boy turns upside down when his uncle, a priest, announces the secret their family has been keeping for 350 years – they are Jewish.
To buy this book, click here or on the book cover.

Enrichment Activities


Internet Resources


Books by Marc Talbert
---
Enrichment Activities
Character Chart
Students will analyze the main characters, their relationships with one another, and any distinct characteristics they may have using the Character Chart.


Conflict Dissection
This Conflict Dissection graphic organizer will help students to study the story's setting, problem, and solution.


Internet Resources

Chicago Mexican Fine Arts Center
Grade Levels: Middle, Secondary
Allow students to discover the world of Mexican fine arts.
http://www.mfacmchicago.org/
Mexico Facts and Flag
Grade Levels: All
Information on Mexico, including geography and history.
http://www.infoplease.com/ipa/A0107779.html