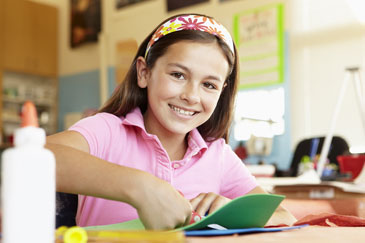 Objectives
Students make reindeer heads.
Materials
Construction paper: brown, red, black, green, yellow, white
Scissors
Glue
Art materials (glitter, paint)
Procedure
Students will each trace their foot on brown paper and cut it out. This piece is the reindeer's head.
Trace both hands on yellow paper and cut out.
Glue to the back of the "toes" end of the foot. These are the antlers.
Students cut out eyes and a reindeer nose with the white, black, and red paper.
They could also use googly eyes and pom-poms for the face.
Glue the face pieces on the reindeer.
Add any holly pieces or appropriate holiday decorations.
Students create reindeer heads by tracing their hands and feet. This arts & crafts activity makes a fun classroom decoration and also a great gift for parents around the holidays.