Authored by:
Last edited: November 21, 2023
Linda Valloor, M.Ed., is an experienced high school teacher teacher, education consultant, and writer.
Read on as Linda shares the benefits of good professional development for teachers and how to make the most of in-person and online professional development opportunities.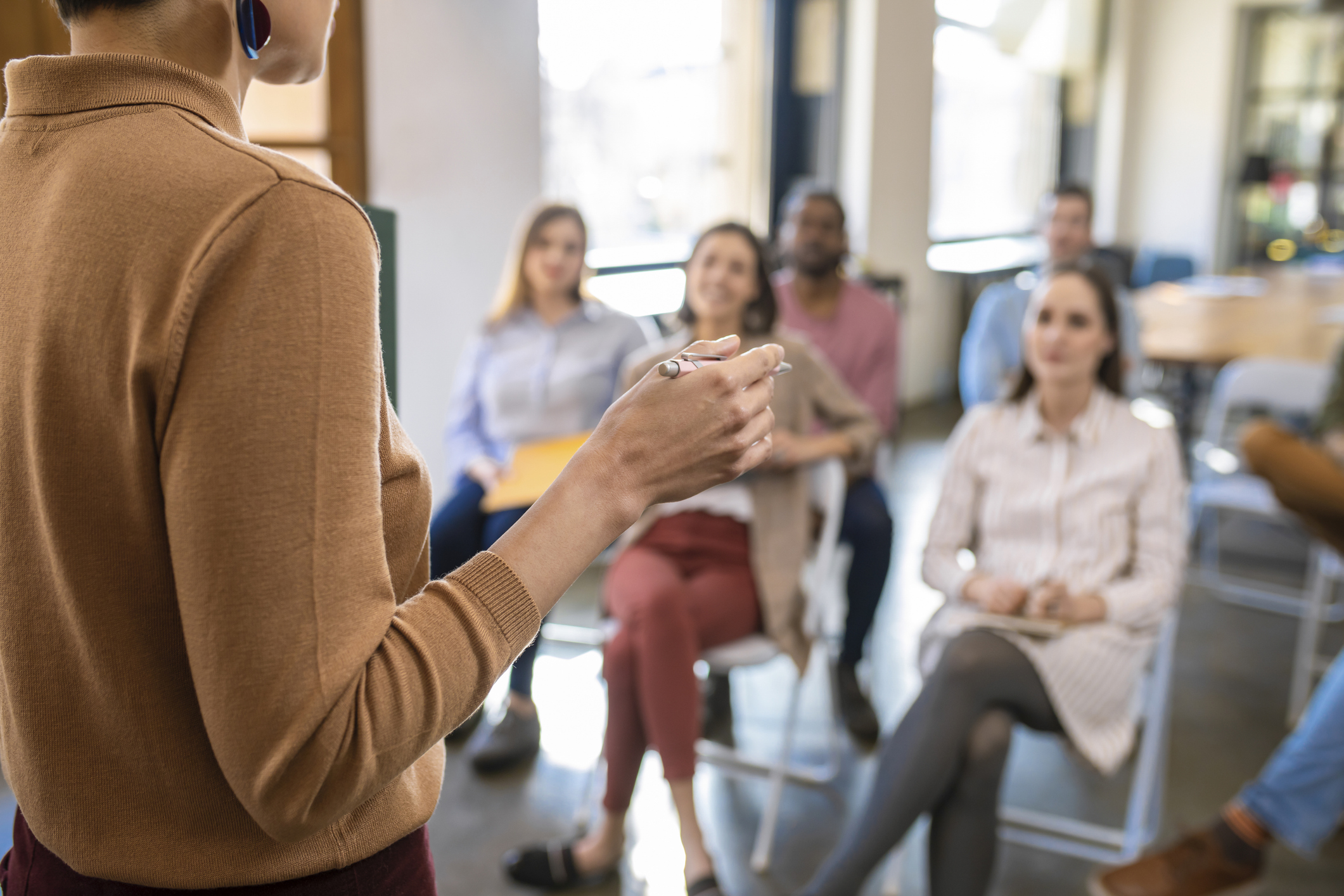 Educators brainstorm, plan, and create content daily to ensure learners are comfortable, happy, and healthy. But how often do education providers get the support they need?
Proper professional development (PD) opportunities are a necessary tool to ensure the wellness of educators and to encourage their growth as effective teachers.
What are the benefits of teacher professional development?
We've outlined the most important benefits of teacher professional development. Whether this development is through learning opportunities, in-person professional development courses or self-paced online webinars, teachers will gain valuable knowledge to help them both in and out of the classroom.
1. Good professional development allows educators to connect with others in the teaching community
Educators often feel isolated and alone while trying to meet every expectation as a teacher. Interactive professional development opportunities can remind teachers that they are part of a unique and valued community.
Friendships and lifelong professional relationships can be made through professional development workshops and seminars. These relationships provide the positive encouragement and empathy that teachers need and deserve. Feeling like they are not alone, that they are understood, and others support them are important parts of an educator's well-being. This is why staff must be encouraged to connect and build bonds. Even getting advice from veteran teachers can empower an educator as an individual in an impactful community.
It may be difficult to attend in-person professional learning days, but there are plenty of online and distance options for teacher professional development. Consider attending an interactive online learning course, or listening to a webinar such as those provided by TeacherVision. Even online courses in teacher professional development can remind teaching staff that they are supported and understood.
2. Professional development encourages a growth mindset
Just as we encourage a growth mindset in children, we should be encouraging it in adults too. The Harvard Business Review discusses the importance of understanding how talents can be developed. Even the best teachers can grow from learning new concepts. Developing our craft is accomplished through working hard, accepting suggestions, and having good teaching strategies.
A growth mindset encourages realistic expectations from yourself in your lesson plans and classroom management. Many things can go wrong during our teaching: paint spilling everywhere, children disliking an activity you spent hours on, students not engaging in discussion because they did not complete their homework, a transition exercise taking 30 minutes instead of 5 – the list can be endless. The truth is, these are the realities of being a teacher.
Professional development courses that create safe spaces for teachers to brainstorm, share stories, and try new activities. They can encourage educators to develop their talents and understand that success comes with trial and error. Professional development allows staff to try new things without feeling the pressure of being perfect. Focusing on a growth mindset through PD grants educators the freedom to approach their curriculum in new ways and nurture student achievement.
3. Good professional development allows time for self-reflection
Self-reflection is a crucial component of wellness. Psychology Today explains that self-reflection starts with a tranquil mind. This is usually not the case for an educator while they are on the job. An aware mind, an active mind, a stimulated mind, a creative mind? Yes. But a tranquil mind? Maybe not. And that is not a teacher's fault.
To set the stage for self-reflection, you must try to clear your mind first. Sometimes that requires breathing exercises, soft music, a quiet room, or having guiding questions ready. After work, it is hard for teachers to find time to reflect as they are pulled in many directions or often exhausted. This is where high-quality professional development strategies can help tremendously.
A professional development activity that enables educators to take time to reflect on their work is the type of session teachers appreciate. A safe space should be created for staff to breathe, meditate, or journal before they engage in true reflection. Professional development sessions that include this focused time encourage teachers to take the necessary time to clear their heads and reflect. Providing a specific topic of focus for self-reflection can help guide educators and enable them to begin a realistic routine for their own lives apart from formal PD. 
4. Effective professional development provides opportunities for teachers to stay up-to-date with best practices
Educators that stay informed in their field with relevant strategies and initiatives feel happier, overall. It is often hard for teachers, on their own, to seek out professional studies and courses that will challenge them. But this does not mean they don't desire to do so! Teachers must understand that good professional development can be the difference between feeling fulfilled or overwhelmed as the school year continues.
Having access to courses, workbooks, or webinars that incorporate research and strategies can keep teachers at the top of their game. Some educators do not know where to start when it comes to staying informed with timely articles and curriculum. However, good professional development does not have to be hard to find. Teacher Vision offers many options on topics such as effective teaching strategies, for example. Whether the article is exploring cultural diversity or focusing on social-emotional learning, there is a list of helpful resources at a teacher's fingertips. Being aware of best education practices will positively impact staff and children.
5. Professional development fosters necessary confidence in teachers
Teambuilding.com discusses the many benefits of professional development for educators, and one major result is growing confidence. When teachers have access to well-rounded resources, they feel equipped and capable. This is because they have ways of developing into more well-rounded educators and they know that they are becoming better facilitators, teachers, and employees. 
PositivePsychology describes self-confidence as a large factor in a worker's happiness. Self-confidence is linked to a person's belief in their abilities, and this belief is connected to thoughts about their past performance and their assumptions about future performance. Confidence is often reflected in a happier and more fulfilled lifestyle. Confident individuals have a greater sense of self-worth and enjoy life more than those who struggle with self-doubt. Teacher professional development can help instill confidence in teachers as they empower others to live their best lives and facilitate successful student outcomes!
Encouraging and supplying valuable professional development to educators will affect them in clear and positive ways. We all want our teachers to be as happy, healthy, and equipped as the children they serve, and great professional development is one way to achieve that goal.