by Maya Cohen
This year, make Black History Month come alive for your kids by taking a trip to commemorate the significant contributions made to the United States by the African-American community, and to honor the struggles experienced by many black Americans. Any one of these field trip ideas will engage your kids in history and make them eager to learn more.
Crenshaw Wall
Crenshaw Wall
5100 Crenshaw Boulevard
Los Angeles, California
Walk the length of this colorful mural, which spans a full city block in Los Angeles. This artistic colossus is a testament to African-American achievement and unity. The artwork was started over 30 years ago by a man named Tony Riddle, who began scribbling poetry on the side of the wall. His work inspired other artists to express their African pride by painting and writing all along the face of the wall. Your kids will marvel at the colors and stories, with each section revealing a portion of African-American history.
Martin Luther King Jr. National Historic Site
Martin Luther King Jr. National Historic Site
450 Auburn Avenue
Atlanta, Georgia
Educate your children about the life and achievements of Martin Luther King Jr. while taking a tour of King's birthplace, Sweet Auburn. They'll learn biographical information about this civil rights leader, and hear his message of peaceful disobedience. The tour includes a delightful puppet show detailing the significant contributions of African-American leaders to our country. Round up your family and head to this historic site to teach your children about a brilliant and courageous African-American visionary.
Tribute to the Great Migration
Tribute to the Great Migration
Martin Luther King Drive
Chicago, Illinois
In the early 1900s, tens of thousands of African-Americans fled the brutal treatment and laws of the south to move north toward opportunity and, for some, freedom. This bronze statue, erected by Aaron Sarr in 1996, depicts a man with a suitcase, headed northward toward a new life. Let your children witness this symbol of pilgrimage, and explain why this journey was significant to a black American in the early 20th century.
Congo Square
Congo Square
Armstrong Park
New Orleans, Louisiana
Congo Square in New Orleans remains an important cultural and historical landmark, because this is where slaves were bought and sold. However, this section of the French Quarter also remains a symbol of hope and unity, since slaves used the square as a place to gather, dance, and sing. Congo Square is still home to theater and dance productions that support African-American life and achievements. Take your family to a play at the Congo Square Theater to commemorate and honor Black History Month.
National Museum of the Tuskegee Airmen
National Museum of the Tuskegee Airmen
6325 W. Jefferson Avenue
Detroit, Michigan
This museum is housed within Fort Wayne, an 18th century military fortress. Bring your family to this Detroit site to honor the African-American Air Force troops that served in World War II. Retired Tuskegee Airmen are often on-site to lecture and speak with attendees about their experiences during battle. View photographs and old uniforms, and help your children understand the major contributions of these brave men.
Apollo Theater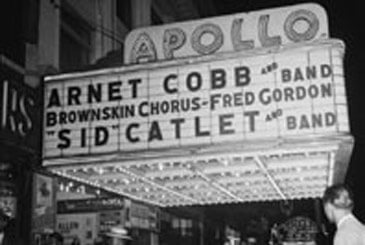 Apollo Theater
253 W. Martin Luther King Jr. Boulevard
New York, New York
The Apollo Theater in New York City has long been a beacon for new and innovative African-American talent. Many important African-American performers have graced this stage and made history. The introduction of Amateur Night in the 1930s helped aspiring musicians, comedians, and actors gain recognition in the big city. Take a tour of the theater and enjoy a show with your family this Black History Month.
Pride and Passion: The African-American Baseball Experience
Pride and Passion: The African-American Baseball Experience
25 Main Street
Cooperstown, New York
Surprise and excite the sports fans in your household with a fun family trip to the Baseball Hall of Fame in Cooperstown, New York. The interactive exhibit will engage your kids while teaching them about African-American baseball history. Explore the Negro League section, and explain to your children that sports were initially segregated in the U.S., and black athletes had to struggle for recognition. This will be an entertaining and educational day for your family.
Josh Gibson Marker
Josh Gibson Marker
Ammons Playground
Pittsburgh, Pennsylvania
Teach your kids about the baseball player who paved the way for Jackie Robinson and racial equality in American sports. Known as the "Black Babe Ruth," Josh Gibson played on two Negro teams in Pittsburgh, and hit 800 home runs over the course of his extraordinary 17-year career. This incredible athlete died only months before Jackie Robinson joined the Brooklyn Dodgers, so he never saw the color barrier breached in American baseball. Bring your family here to celebrate the life and achievements of Josh Gibson.
Emancipation Park
Emancipation Park
3108 Dowling Street
Houston, Texas
Juneteenth is a nationally celebrated day commemorating the freedom and achievement of African-Americans in the United States. Emancipation Park was purchased over 100 years ago in honor of this celebration, and is still used for Juneteenth celebrations today. The park is a symbol of the success within the African-American community, because it is one of the first plots purchased by a black American. Reverend Jack Yates bought this ten-acre site in the 19th century, in the name of Juneteenth. Teach your children about the significance of Juneteenth, and stroll the beautiful site of the annual celebration.
Carter's Grove Plantation
Carter's Grove Plantation
Route 60 at Pocohontas Trail
Williamsburg, Virginia
Experience history at Carter's Grove Plantation, which was home to some of the very first American settlers. You'll see 18th century life recreated, complete with costumed interpreters who give a tour of the mansion and grounds and explain the role of black slaves on the premises. Challenge your kids to examine the way that life has changed since the days when the plantation was functional. Make history come alive for your children as they bear witness to American life in the 1700s.
Underground Railroad Homes
Underground Railroad Homes
Deacon Joseph Qualis: 6306 8th Avenue; Pastor Deming: 426 Park Avenue; Deacon Smith: 109 Congress Street; John Bullen:6027 7th Avenue
Kenosha, Wisconsin
Do your kids think the Underground Railroad was a 19th century subway system? Let your children uncover the true history of this dangerous but imperative network that brought slaves to freedom. Before the Civil War, four homes in Kenosha served as stops in the Underground Railroad, and were facilitated by brave individuals who helped smuggle slaves into Canada. Tour these homes and imagine what it was like for the enslaved to flee in search of emancipation. The Underground Railroad was an enormously organized, impressive, and perilous effort. During Black History Month, invite your family to honor the courage of those who made freedom possible.