CREATED BY:
LAST UPDATED: November 15, 2019
The first African-American regiment ever commissioned in the United Stated is commemorated with this fountain in New Bedford, Massachusetts.
54th Regiment Massachusetts Memorial
54th Regiment Massachusetts Volunteer Infantry Plaza
On this site was the local recruiting station for the 54th Regiment, the first African-American regiment ever comissioned. Some 50 New Bedford men of color enlisted in the 54th and the 55th, the regiment formed from the surplus of recruits, and some of them are known to have escaped slavery. William Carney, a member of the Regiment, was the first African American to receive the Congressional Medal of Honor. It was awarded for his heroism during the Union assault on Fort Wagner in 1863. Another member was John L. Wright, a married laborer who enlisted 11 days after Carney and whose slave name was Stethy Swons. Wesley Furlong, who had worked as a ship's steward in New Bedford since about 1860, stated in his 1910 application for veteran's pension that he had been born "in slavery." The Rev. William Jackson became the chaplain of the 54th and then the 55th Massachusetts Volunteers and was the first chaplain of color in the United States Army.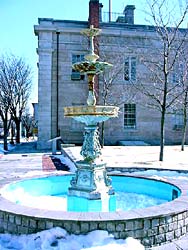 The city of New Bedford built and dedicated this plaza in February 1999 as a memorial to New Bedford people of color who fought for the Union in the Civil War. All told, more than 350 New Bedford men of color served in the Union forces between 1861 and 1865 in the 54th and 55th Regiments, the Fifth Calvary, and the U.S. Navy.
Excerpted from "The Underground Railroad: New Bedford," published by the National Park Service.