Share an article that outlines the history of St. Patrick's Day.
A Short History of the Holiday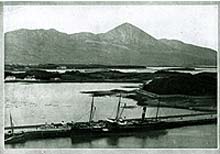 The view of Croagh Patrick, a popular pilgrimage for native Irish.
Ireland is no country for "Kiss Me, I'm Irish" buttons. Skip St. Patrick's Day in Galway, and head for Boston or New York—the holiday is celebrated with far greater fanfare on this side of the ocean.
Dublin won't be serving green beer, and its St. Patrick's Day parade is largely made up of American participants—marching bands and drum majorettes from Wichita Falls and the like. In Ireland, banks, stores, and businesses are closed on March 17, but the day has primarily been celebrated as a religious feast day. In the United States, however, as anyone not color-blind knows, St. Patrick's Day is a secular extravaganza celebrating Irishness, real or imagined. And it's no wonder the craic (Irish for "fun") has ballooned in this country on March 17: there are a whopping 37.8 million Americans of Irish ancestry (15.6% of the American population). Compare that to the 3.6 million Irish living in Ireland!
A Terrible Beauty Is Born
The holiday was more of an American event from the very start. In fact, the first St. Patrick's Day parade took place in New York City on March 17, 1762. Irish soldiers serving in the British colonial army staged a parade celebrating their heritage.
In Ireland St. Patrick's feast day was a time to attend church and celebrate in low-key manner. Corned beef and cabbage was the traditional meal—the prohibition against eating meat during Lent was suspended for the day.
A Barefoot Hike and Supplication Are More Like It
It's not that the Irish mind St. Patrick's Day, but for many the true way to honor the saint is a pilgrimage to Croagh Patrick, a steep, treacherously rocky mountain in county Mayo. On the last Sunday in July, thousands of pilgrims scale this mountain, where St. Patrick is said to have begun his ministry in the 5th century. The truly devout make the onerous climb barefoot as penance for their sins.
Soggy Shamrocks and Tatty Bands
A journalist writing for the Irish Voice, recalls the sorry state of St. Patrick's Day back in the Old Country:
Dublin was most definitely not the place to be on St. Patrick's Day. It was usually a rain-soaked, mournful day, punctuated with soggy shamrocks and a parade as faded as the 1950s.. . . we stood there bored to distraction. There were a few tatty bands, a few commercial floats. . . . In recent years, the high point was always the American high school bands and their high-kicking cheerleaders and baton twirlers. . . . Watching TV reports of the day-long celebrations in New York, we could only wonder. . . . It was all a bit embarrassing and we used to make fun of the crazy Yanks. But the truth was we were jealous.



—"Ireland Calling: Dublin Shines on St. Pat's Day"
Irish Voice, Mar. 18, 1997
Importing a National Holiday, Pronto
Since 1995, however, the Irish government—struck by the strange paradox of parts of the world (the U.S., Canada, and Australia) making a bigger hoopla out of St. Patrick Day than the Emerald Isle itself—began a national campaign to transform St. Patrick's Day into an authentic Irish celebration. What no doubt also struck the government was something else enticingly green besides shamrocks and beer—all the wonderful money-making opportunities, tourism, and P.R.
Bring On the Green
Since then, they've been catching up to the Yanks. St. Patrick's Day parades in the U.S. number about 100; in the Republic of Ireland, there are now about 30. Even Belfast, which had never before held a parade, began having its own in 1998. And once Ireland claimed the holiday as its own, it saw no reason it couldn't change the name to "St. Patrick's Festival," expanding the holiday first to three days, and eventually to a full week. In 2004, more than one million people showed up for the festivities in Dublin.