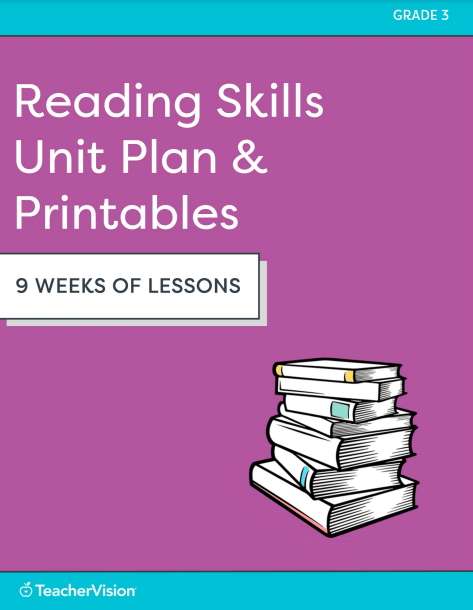 Purchase or subscribe to access this resource.
$7.95
Included with a Premium Membership
Subscribe for instant access to this and every resource on TeacherVision.
Subscribe
A 9-Week Unit Plan for Beginning of the Year Reading Skills for Grade 3
Start your year off with this fully guided 9-week unit of reading skills lesson plans, aligned with ELA Common Core State Standards for Grade 3. Each reading skills lesson plan contains day-by-day plans, activities to improve reading skills, read aloud suggestions, I Can statements, and guided and independent practice prompts. This easy to use reading skills kit will help any 3rd grade teacher begin the year right!
What's Included In This Unit Plan
For the teacher:
A complete back to school reading skills unit with 9 weeks' worth of lesson plans for Grade 3
Lesson plans include read aloud suggestions, engaging activities, whole group activities, guided and individual practice prompts, and a sharing activity
Ready-to-print activities to improve reading skills that correlate with each reading
Aligned with Common Core English Language Arts Standards for Grade 3
For the student
Creative teaching ideas to support students in developing their reading comprehension skills
Comprehension activities for 3rd grade - designed to be carried out independently, either as a whole class or in groups
Assessment sheet for monitoring and assessing students' skills and knowledge for each unit
What You'll Find Inside
Week 1 – Beginning of the School Year Reading Activities (pages 3-10)
First Day of School Questions
Reading Survey
How to Treat Others Anchor Chart
My Wish List Scavenger Hunt
Book Review Prompts
Week 2 – Reading Assessments (pages 11-17)
Preparing for a Trip Reading Passage
"Right There" Questions
"Beyond the Text" Questions
Open-Ended Question
Running Records Form
Reading Goal-Setting
Week 3 – Questioning: Asking and Answering Questions (pages 18-22)
Before Reading Questions
Asking and Answering Questions
Week 4 – Making Predictions (pages 23-31)
Making Predictions Definition and Sentence Starters
Making Predictions Printable Chart
Predicting Events
Evaluating Predictions
Whole Group Predictions
Independent Predictions
Week 5 – Characters and Their Traits (pages 32-40)
Physical Characteristics Drawing Sheet
Character Traits List and Examples
Introducing Character Traits
Finding Character Traits
Character Change
Writing About Characters
Week 6 – Story Elements (pages 41-48)
Finding the Setting
What's the Problem? Prompts
Story Events Fill-In
Story Solution Prompts
Story Map Printable
Week 7 – Drawing Conclusions and Making Inferences (pages 49-57)
Making Inferences Passage
Making Inferences Worksheet
Making Inferences About the Setting
Making Inferences About the Problem
Making Inferences About the Characters
Independent Inferences Passage and Prompts
Week 8 – Summarizing (pages 58-62)
Story Map Summarizer
Story Summary Printable Worksheet
Week 9 – Theme (pages 63-71)
Theme Definition and Examples
Common Themes Prompts
Finding the Theme
Whole Group Theme Practice Passage and Prompt
Independent Theme Practice Passage and Prompt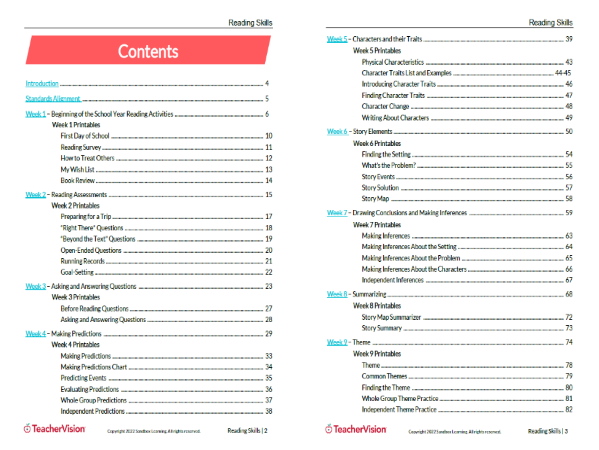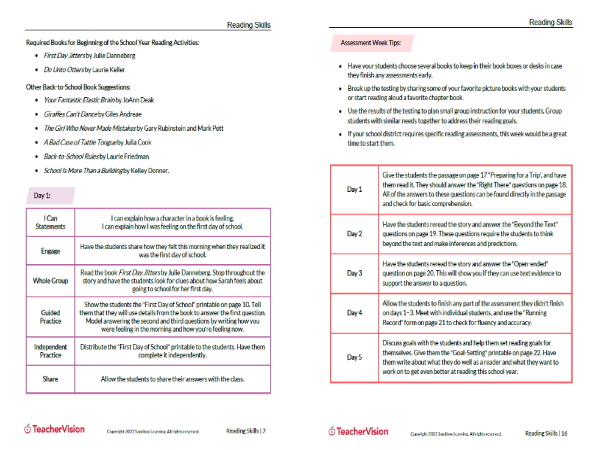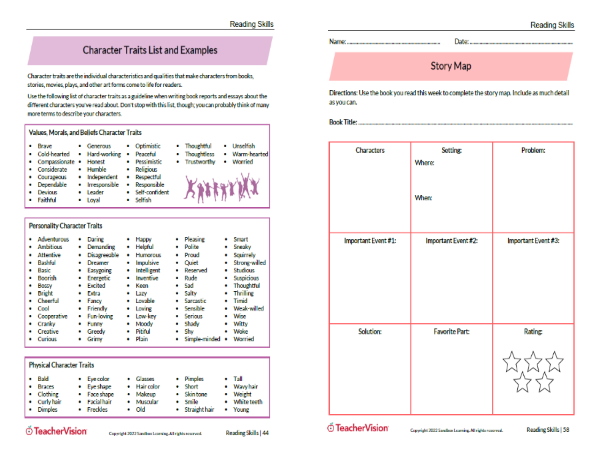 CREATED BY:
LAST UPDATED: August 16, 2022