"Marines' Hymn" Copycat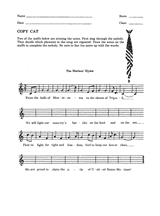 This music printable asks children to sing the melody to "The Marines' Hymn" and complete the missing notes. This would be a good song to sing in the classroom on Memorial or Veterans Day.
Grade Levels: 3 - 9

This book is one of seven illustrated units in the Music Curriculum Activities Library. The music activities in this unit focus on special days throughout the year. Provided are 50 reproducible worksheets, a handy teacher's guide, a progress chart, and more.