CREATED BY:
LAST UPDATED: January 23, 2020
Activities, tests, and websites that will help you teach How to Eat Fried Worms.
How to Eat Fried Worms
by Thomas Rockwell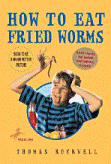 Include more protein in your diet – add worms! How to Eat Fried Worms has been grossing out children and adults since 1973. This is the story of Billy, a ten-year-old who takes a bet that he will eat 15 worms in 15 days – all for $50. The good part is the variety of ways Billy's friends cook up and dress up the worms. Yum!
Books by Thomas Rockwell
A Guide for Using
"How To Eat Fried Worms"
in the ClassroomHey, Lover BoyHiding OutHow to Eat Fried Worms and Other PlaysHow to Fight a GirlHow to Get Fabulously RichHumpf!The Neon MotorcycleThe Portmanteau BookRackety-Bang and Other VersesSquawwwk!The ThiefTin Cans