The 1895 book The Red Badge of Courage by Stephen Crane tells the story of a young farm boy who becomes a Union soldier in the Civil War. Use these lessons, activities, and references to help you teach this classic novel.
Page 1 of 2
The Red Badge of Courage
by Stephen Crane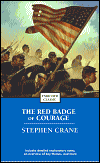 First published in 1895, The Red Badge of Courage is the amazing Civil War story of a farm boy turned soldier. Henry Fleming is a young Union soldier struggling with the horrors of war and the destruction of lives and property. Over the span of a few days, Henry must decide whether he is courageous enough to remain in the war, or so cowardly that he must flee and hide.
To buy this book, click here or on the book cover.

Enrichment Activities


Internet Resources


Books by Stephen Crane
---
Enrichment Activities
Act Out a Scene
Assign students, in groups of three or four, to act out a scene from The Red Badge of Courage.


Book Cover Design
Get students thinking about the main message of the book by having them design a new book cover. You can also have your class analyze the many book covers that the novel has been published with.


Internet Resources

The American Civil War Homepage
Grade Levels: Middle, Secondary
A comprehensive collection of resources on the Civil War.
http://sunsite.utk.edu/civil-war/warweb.html
Online Version of Book
Grade Levels: Middle, Secondary
An online version of the 24-chapter novel by Stephen Crane.
http://www.literature.org/authors/crane-stephen/the-red-badge-of-courage/
Selected Civil War Photographs
Grade Levels: Middle, Secondary
Over 1,000 photographs of military personnel, preparations for battle, Confederate and Union officers and soldiers, and more.
http://memory.loc.gov/ammem/cwphtml/cwphome.html
Stephen Crane Biography
Grade Levels: Middle, Secondary
Crane was only 23 years old when The Red Badge of Courage was published. On this site you'll find more information about the life of this fascinating author.
http://portjervisny.com/craneroots.htm
Teaching Books with Movies
Grade Levels: Middle, Secondary
A teacher's guide on how to use the 1951 film in combination with the novel.
http://www.teachwithmovies.org/guides/red-badge-of-courage.html