CREATED BY:
LAST UPDATED: November 9, 2022
TeacherVision Advisory Board Member, Jeanne, shares how incorporating mindfulness into her routine improved her mental health and well-being both in and out of the classroom. She shares some of her favorite tips and resources in this blog post.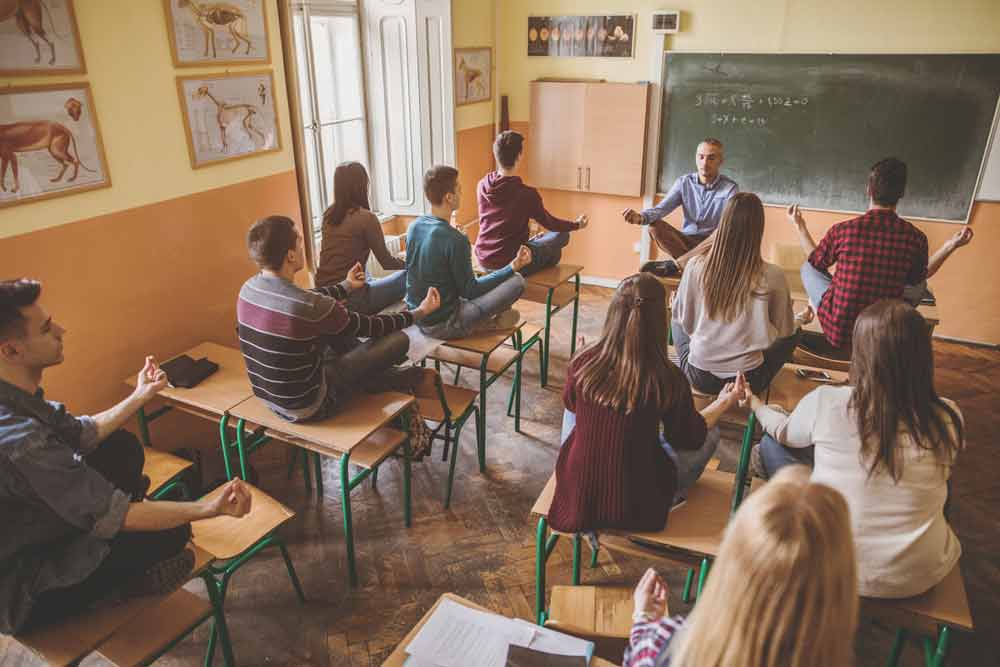 Let's talk about what mindfulness is and why mindfulness is taking the education world by storm. Then I'll tell you how it changed my career, and how it can change yours, too.
Let's start with the basics behind mindfulness.
What is Mindfulness?
One of the most compassionate things you do on a daily basis for friends, family, and students is listen. When someone approaches you to share what they're struggling with or about what they need and want, you stop and you listen. You respond. You might offer solidarity or help. But more important than anything, you're there for them to listen and make them feel seen, heard, and loved.
Guess what? You need this, too.
Mindfulness practice is about doing this listening for yourself. It's the practice of staying still and providing space for our own thoughts and emotions so we can observe and listen, and then help yourself let go. It's one of the most compassionate acts you can do for yourself.
"So often as teachers and playing that caregiving role, we tell ourselves that our own needs and wants matter less than everybody else's around us. Sometimes we tell ourselves this so many times, that we stop listening to them."
The more we ignore them, the stronger they become. Suddenly it's even harder to turn towards them. Kind of like knowing you've ignored a friend for a long time.
But just like everyone else needs to be seen and heard, your authentic self needs it, too. When you make a practice of stopping, clearing your mind, and watching what's really going on inside, you're doing just that: you're listening.
And afterward, the world becomes a lot clearer and your own anxiety (aka, the voice of your needs) naturally calms. It calms because you helped it feel heard.
"When I first started using mindfulness practices, I did it just to combat the anxiety I noticed growing in my teacher-life. I didn't realize that it would be something that could affect my entire career."
So often as teachers and playing that caregiving role, we tell ourselves that our own needs and wants matter less than everybody else's around us. Sometimes we tell ourselves this so many times, that we stop listening to them. 
Four Ways Mindfulness Transformed my Teaching
It helped me relax when I was supposed to be relaxing. Because mindfulness helps you learn to identify thoughts and emotions and then let them go, I got a lot better at leaving anxieties about school at school. This, in turn, helped me get better rest, and gave me more energy the next day.
It helped me regulate my emotions while at school. Let's be real: as teachers, we deal with a multitude of emotionally-taxing interactions in quick succession and on a deficit of sleep. Mindfulness taught me to slow down my thoughts and emotions during each of those interactions and not get caught up in them. It made me a more patient and compassionate teacher. I started recognizing when I needed to pause before responding to a student. I started a new routine of a couple minutes of deep breathing during my plan periods and after school to help me center myself after blocks of teaching.
It also helped me to prioritize and become conscious with what I was doing with my limited time. I started noticing which activities filled me up and which drained me, and which times I was full of energy to work, and which times it was best to let it go for the day. It helped me become more aware of when I was handling anxiety in unhealthy ways -- like turning to my phone or over-focusing on small details -- and then make a conscious choice to handle it more healthily.
In turn, mindfulness helped me teach these social emotional skills to my own students. I started using mindfulness breathing practices with my 9th hour sixth graders to help us all de-escalate from the stress from the rest of the day before class. I started explaining and modeling deep breathing to students in the middle of a crisis, and explaining to students when I was pausing in order to de-escalate myself. I began to ask students to reflect on what they were thinking and feeling before they turned to a particular off-task behavior (like my own phone-escape behavior) so we could come up with a plan on how to handle it differently. Students need explicit social emotional instruction and modeling, and mindfulness is a beautiful way to teach them.
Though there are sooo many more benefits to mindfulness, these are the top ways it affected my own teaching.
How You Can Incorporate Mindfulness into your Own Life and Teaching
If you're new to mindfulness (or even if you have already been practicing), I highly recommend starting with the Calm app. I've been using it regularly for 3 years and it's extraordinary the changes it's made in my own anxiety levels and overall happiness. Free for educators, it's packed with guided meditations (aka someone guiding you to calm your nervous system and tune into yourself) for a huge variety of emotional needs.
My favorite part is that they have mindfulness sessions as short as just 3 minutes--perfect for the newbie or the quick lunch break. Try three minutes and if you like it, work your way up.
There are also many different resources out there helping teachers to bring mindfulness into the classroom. Here are a few to help you get started:
This PBS article has a giant slew of resources for practicing mindfulness yourself as well as how to bring it into the classroom, as well as this article on ASCD.
Mindful Schools is an organization all about helping teachers bring mindfulness into schools.
Calm is a free-for-educators mindfulness meditation app with hundreds of different guided sessions for both kids and adults.
For additional resources on self-care and mindfulness check out Your Teacher Self-Care Workbook, A Time-Management Workbook For Teachers, and Self-Care Strategies For New Teachers. 
How do you use mindfulness for yourself and in your classroom? Share with us on Instagram, Facebook, Twitter, and Pinterest.
Jeanne Wolz taught middle school Writing and AVID in Illinois for four years in addition to serving as the English Department Chair. She holds a bachelor's in English and Secondary Education and a master's in Curriculum and Instruction. Currently, she teaches ESL, develops curriculum, and coaches new teachers. You can find more of her resources at www.teacheroffduty.com and follow her on Instagram, Facebook, Twitter, or Pinterest.