President William Howard Taft Biography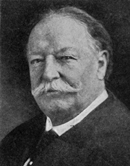 Return to U.S. Presidency - Index Page.
Return to U.S. Presidents' Biographies Page.
Born: 9/15/1857
Birthplace: Cincinnati, Ohio

William Howard Taft was born in Cincinnati on Sept. 15, 1857. A Yale graduate, he entered Ohio Republican politics in the 1880s. In 1886 he married Helen Herron. From 1887 to 1890, he served on the Ohio Superior Court; 1890–92, as solicitor general of the United States; 1892–1900, on the federal circuit court. In 1900 McKinley appointed him president of the Philippine Commission and in 1901 governor general. Taft had great success in pacifying the Filipinos, solving the problem of the church lands, improving economic conditions, and establishing limited self-government. His period as Secretary of War (1904–08) further demonstrated his capacity as administrator and conciliator, and he was Roosevelt's hand-picked successor in 1908. In the election, he polled 321 electoral votes to 162 for William Jennings Bryan, who was running for the presidency for the third time.
Though he carried on many of Roosevelt's policies, Taft got into increasing trouble with the progressive wing of the party and displayed mounting irritability and indecision. After his defeat in 1912, he became professor of constitutional law at Yale. In 1921 he was appointed Chief Justice of the United States Supreme Court. He died in Washington, D.C., on March 8, 1930.
Died:
3/8/1930

Provided by Infoplease—an authoritative, comprehensive reference website that offers an encyclopedia, a dictionary, an atlas, and several almanacs. Visit Infoplease.com to find more resources endorsed by teachers and librarians.
If you need to teach it, we have it covered.
Start your free trial to gain instant access to thousands of expertly curated worksheets, activities, and lessons created by educational publishers and teachers.
Start Your Free Trial