A biography of Lyndon Baines Johnson.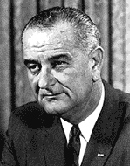 Return to U.S. Presidency - Index Page.
Return to U.S. Presidents' Biographies Page.
Born: 8/27/1908
Birthplace: Stonewall, Tex.

Lyndon Baines Johnson was born in Stonewall, Tex., on Aug. 27, 1908. On both sides of his family he had a political heritage mingled with a Baptist background of preachers and teachers. Both his father and his paternal grandfather served in the Texas House of Representatives.
After his graduation from Southwest Texas State Teachers College, Johnson taught school for two years. He went to Washington in 1932 as secretary to Rep. Richard M. Kleberg. During this time, he married Claudia Alta Taylor, known as "Lady Bird." They had two children: Lynda Bird and Luci Baines.
In 1935, Johnson became Texas administrator for the National Youth Administration. Two years later, he was elected to Congress as an all-out supporter of Franklin D. Roosevelt, and served until 1949. He was the first member of Congress to enlist in the armed forces after the attack on Pearl Harbor. He served in the Navy in the Pacific and won a Silver Star.
Johnson was elected to the Senate in 1948 after he had captured the Democratic nomination by only 87 votes. He was 40 years old. He became the Senate Democratic leader in 1953. A heart attack in 1955 threatened to end his political career, but he recovered fully and resumed his duties.
At the height of his power as Senate leader, Johnson sought the Democratic nomination for president in 1960. When he lost to John F. Kennedy, he surprised even some of his closest associates by accepting second place on the ticket.
Johnson was riding in another car in the motorcade when Kennedy was assassinated in Dallas on Nov. 22, 1963. He took the oath of office in the presidential jet on the Dallas airfield.
With Johnson's insistent backing, Congress finally adopted a far-reaching civil-rights bill, a voting-rights bill, a Medicare program for the aged, and measures to improve education and conservation. Congress also began what Johnson described as "an all-out war" on poverty.
Amassing a record-breaking majority of nearly 16 million votes, Johnson was elected president in his own right in 1964, defeating Senator Barry Goldwater of Arizona.
The double tragedy of a war in Southeast Asia and urban riots at home marked Johnson's last two years in office. Faced with disunity in the nation and challenges within his own party, Johnson surprised the country on March 31, 1968, with the announcement that he would not be a candidate for re-election. He died of a heart attack suffered at his LBJ Ranch on Jan. 22, 1973.
Died:
1/22/1973