You Are Going To Love This…
It's hard to get organized at the beginning of the school year. Without a planner to keep track of it all, chaos and possibly missed meetings and unplanned lessons are in our future.
This editable, printable 54-page planner is designed for the first two months of school - because we believe that the first two months are the most important months for establishing systems that will keep you organized and save you time.
Designed by a veteran teacher and TeacherVision Advisory Board Member, Sara drew on her own experience in the classroom to give you everything you need for Back to School organization.
From inspirational quotes about teaching to a place to track your daily schedule, meal plan, and brainstorm lessons, this editable planner has everything you need to start the school year off strong (and super organized). It is a place to capture your plans, and capture your dreams.
Sample pages: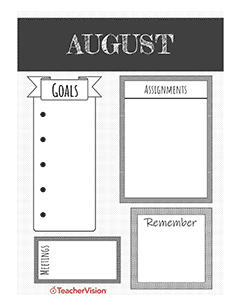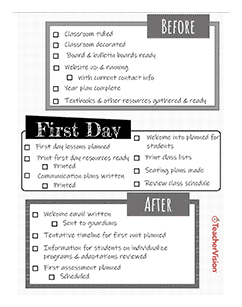 This 50-page planner includes:
A place to capture your plans...
Daily schedule
Contacts
Favorite resources
Logins
Monthly goals
Monthly meetings
Monthly assignments
Monthly reminders
Meal plans
Month by month Plans
Week by week Plans
A place to capture your dreams…
Inspirational teaching quotes
Lesson ideas brainstorm
Exclusive Back to School Checklists Created by a Veteran Teacher
Before School Starts Checklist
First Day Checklist
After The First Day Checklist