Women of the Ancient World Quiz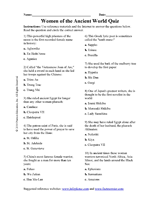 Students will use reference materials, the Internet, and their knowledge of ancient history to answer the questions in this quiz about ancient women warriors, rulers, writers, and inventors.
Grade Levels: 9 - 12
View Printable
Help with Printables


Provided by Infoplease—an authoritative, comprehensive reference website that offers an encyclopedia, a dictionary, an atlas, and several almanacs. Visit Infoplease.com to find more resources endorsed by teachers and librarians.