You can modify this arts & craft activity with different colored papers to make candles for Hanukkah, Kwanzaa, or Advent. Before starting the craft, explain the significance of candles for each of these holidays.
Objectives
Students make a candle decoration.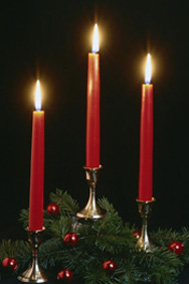 Materials
Toilet tissue tube or paper towel tube
White, yellow, green, red, and black construction paper
Glue
Some small pieces of cardboard
Procedure
Glue white construction paper over the toilet tissue tube.
Cut the cardboard into a circle shape approximately 1-inch bigger than circumference of the tube.
Cover one side of cardboard circle with black construction paper for base of candle.
Glue tube to candle base.
Cut out two flame shapes from the yellow construction paper.
Glue flames to the other end of the tube, to each side of the tube, facing each other.
Cut out nine holly leaf shapes from the green construction paper.
Cut out nine red berry shapes from the red construction paper.
Glue the base of each leaf to the base of the candle, overlapping leaves slightly as you go around.
Glue a red berry to the base of each leaf.
Students make candle decorations out of paper tubes and colored paper. This arts & crafts activity is especially nice to enjoy around the December holidays, like Christmas, when students like to make gifts for family members.