Read this profile of Illinois to learn about the state's history, points of interest, and government. Also find interesting facts about each state, including the state's motto, symbols, and when it entered the union.
Capital: Springfield
State abbreviation: Ill.
Postal code: IL
Population est.: 12,763,371
Largest City (2005 est.): Chicago, 2,842,518
Land area: 55,584 sq mi. (143,963 sq km)
U.S. Representatives: 17
Entered Union (rank): Dec. 3, 1818 (21)
Motto: State sovereignty, national union
Origin of name: Algonquin for "tribe of superior men"
State symbols:
| | |
| --- | --- |
| flower: | violet |
| bird: | cardinal |
| song: | "Illinois" |
| tree: | white oak |
Nickname: Prairie State
Residents: Illinoisan
Did you know: Illinois is home to the tallest building in the U.S., Sears Tower, in Chicago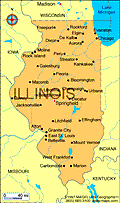 History
French explorers Jacques Marquette and Louis Joliet, in 1673, were the first Europeans of record to visit the region. In 1699 French settlers established the first permanent settlement at Cahokia, near present-day East St. Louis. Great Britain obtained the region at the end of the French and Indian Wars in 1763. The area figured prominently in frontier struggles during the Revolutionary War and in Indian wars during the early 19th century.
Significant episodes in the state's early history include the influx of settlers following the opening of the Erie Canal in 1825; the Black Hawk War, which virtually ended the Indian troubles in the area; and the rise of Abraham Lincoln from farm laborer to president.
Today, Illinois stands high in manufacturing, coal mining, agriculture, and oil production. The state's manufactures include food and agricultural products, transportation equipment, chemicals, industrial machinery, and computer equipment. The sprawling Chicago district (including a slice of Indiana) is a great iron and steel producer, meat packer, grain exchange, and railroad center. Chicago is also famous as a Great Lakes port.
Illinois is a leading producer of soybeans, corn, and hogs. Other agricultural commodities include cattle, wheat, oats, sorghum, and hay.
Central Illinois is noted for shrines and memorials associated with the life of Abraham Lincoln. In Springfield are the Lincoln Home, the Lincoln Tomb, and the restored Old State Capitol. Other points of interest are the home of Mormon leader Joseph Smith in Nauvoo and, in Chicago: the Art Institute, Field Museum, Museum of Science and Industry, Shedd Aquarium, Adler Planetarium, Merchandise Mart, and Chicago Portage National Historic Site.