Read this profile of Maine to learn about the state's history, points of interest, and government. Also find interesting facts about each state, including the state's motto, symbols, and when it entered the union.
Capital: Augusta
State abbreviation: Maine
Postal code: ME
Population est.: 1,321,505
Largest City (2005 est.): Portland, 63,889
Land area: 30,862 sq mi. (79,933 sq km)
U.S. Representatives: 2
Entered Union (rank): March 15, 1820 (23)
Motto: Dirigo (I lead)
Origin of name: First used to distinguish the mainland from the offshore islands. It has been considered a compliment to Henrietta Maria, queen of Charles I of England. She was said to have owned the province of Mayne in France.
State symbols:
| | |
| --- | --- |
| flower: | white pine cone and tassel) |
| tree: | white pine tree |
| bird: | chickadee |
| song: | "State of Maine Song" |
Nickname: Pine Tree State
Residents: Mainer
Did you know: The most easterly point in the U.S., West Quoddy Head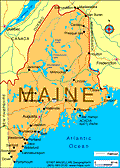 History
John Cabot and his son, Sebastian, are believed to have visited the Maine coast in 1498. However, the first permanent English settlements were not established until more than a century later, in 1623.
The first naval action of the Revolutionary War occurred in 1775 when colonials captured the British sloop Margaretta off Machias on the Maine coast. In that same year, the British burned Falmouth (now Portland).
Long governed by Massachusetts, Maine became the 23rd state as part of the Missouri Compromise in 1820.
Maine produces 98% of the nation's low-bush blueberries. Farm income is also derived from apples, potatoes, dairy products, and vegetables, with poultry and eggs the largest selling items.
The state is one of the world's largest pulp-paper producers. With almost 89% of its area forested, Maine turns out wood products from boats to toothpicks. Maine also leads the world in the production of the familiar flat tins of sardines, producing more than 75 million of them annually. In 2005, Maine lobstermen landed nearly 63 million pounds of lobster.
A scenic seacoast, beaches, lakes, mountains, and resorts make Maine a popular vacationland. There are more than 2,500 lakes and 5,000 streams, plus more than 30 state parks to attract hunters, fishermen, skiers, and campers.
Major points of interest are Bar Harbor, Acadia National Park, Allagash National Wilderness Waterway, the Wadsworth-Longfellow House in Portland, Roosevelt Campobello International Park, and the St. Croix Island National Monument.