Authored by:
Last edited: January 23, 2020
Enrichment activities and Internet resources to enhance teaching Across Five Aprils by Irene Hunt.
Across Five Aprils Discussion Guide
by Irene Hunt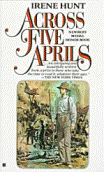 Jethro Creighton is nine years old in April 1861, when the Civil War begins. His southern Illinois farming family is torn apart when his brothers, cousin, and a close family friend leave to fight in the war. Jethro is forced to grow up quickly and tracks the progress of the war through letters and newspapers. Finally, four years later, the war is over and all are relieved. But then President Lincoln is assassinated. Suddenly, the future becomes frightening and uncertain once again.

Enrichment Activities


Books by Irene Hunt

---
Enrichment Activities
Compare and Contrast
Use a Venn Diagram to compare and contrast Jethro's life before and after his relatives leave to fight in the Civil War.


Books by Irene Hunt
Across Five AprilsClaws of a CenturyEverlasting HillsThe Lottery RoseNo Promises in the WindTrail of Apple BlossomsUp a Road SlowlyWilliam