Purchase or subscribe to access this resource.
$7.95
Included with a Premium Membership
Subscribe for instant access to this and every resource on TeacherVision.
Subscribe
A no-prep, easy-to-use set of templates for classroom games for students
Looking for a productive teaching strategy to help students review important material and develop mastery? Try games! This teaching kit includes templates and instructions for 20 different types of games that can be used in class to help students review material, build communication and collaboration skills, and have fun while doing it!
What's Included In This Teaching Kit
For the teacher:
20 templates for various types of games, including instructions, materials, prep, and more
Templates and patterns for dice games, board games, manipulative games, and puzzles
Step-by-step instructions for prep, how to play, and suggestions for differentiation
A wide variety of games that can be adapted for all subjects, and used with students of all ages
For the student:
Fun classroom variations on classic games like Chutes and Ladders, Parcheesi, Diamond Nine, and more
Opportunities for communication, collaboration, and fun while learning
Proven techniques for helping with review of any subject - perfect for study prep
What You'll Find Inside
Teaching notes and templates for:
Challenge Track
Chase Game
Fortune Teller
Connect Five
Cube
Diamond Nine
Dominoes
Fast-Talking Game
Heads or Tails
Hexagons
Hexbusters
Learning Grid
Parcheesi
Matching
Pencil, Paper & Dice Games
Ping Pong Study Prep
Chutes and Ladders
Taboo
Top Trumps
Word Puzzle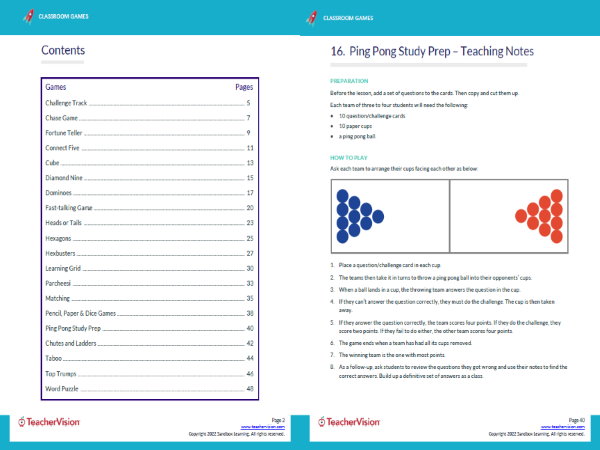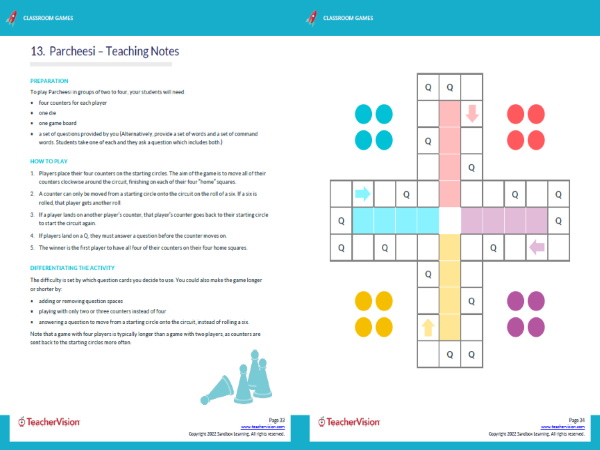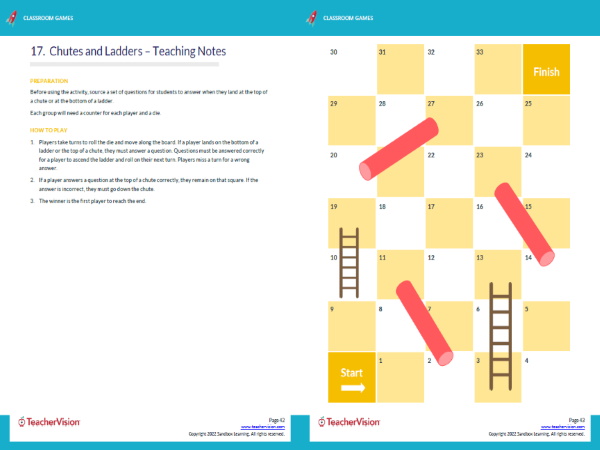 Authored by:
Last edited: May 19, 2022