Use this slideshow to give students a general introduction to astronomy. This mini-lesson illustrates how theories about the solar system have changed as scientists have gained more information.
Excerpted from
Eyewitness: Astronomy
This book provides an in-depth, comprehensive look at astronomy with a unique integration of words and pictures.
Receive 20% off your DK purchase with promo code DKCLIP.
Objective
Students will get a big picture overview of how the study of astronomy and views of the solar system have changed over time.
Suggested Time
15 minutes
Reading Level
Upper Elementary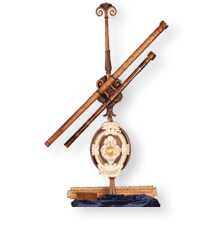 Teacher Background
The word "astronomy" comes from a combination of two Greek words: astron meaning "star" and nemein, meaning "to name." Even though the beginnings
Read more
Continue the Conversation
Ask students why it was reasonable for Ptolemy to think the Earth was the center of the universe. Remind them that there was no technology and that it was logical to think the Earth was stationary and everything was moving around it.
Write about it
Ask students to write a letter to Galileo! Suggest they tell him how different the world of astronomy is now. Perhaps they would like to ask him questions about how he felt when his ideas were censored.
Lesson Contents
TEACHER RESOURCES
Extension Activities
Reinforcements
Astronomy Word Power
Grade: 4 - 6
Students practice vocabulary relevant to astronomy by using each defined word in a sentence.

Storytelling and Astronomy
Grade: 3 - 5
Using storytelling as a tool for learning astronomy.