Learn about the geography, history, and government of South Africa by reading this country profile.
Republic of South Africa
President: Kgalema Motlanthe (2008)
Current government officials
Total area: 471,008 sq mi (1,219,912 sq km)
Population (2007 est.): 43,997,828 (growth rate: –0.5%); birth rate: 17.9/1000; infant mortality rate: 59.4/1000; life expectancy: 42.5; density per sq mi: 93
Administrative capital (2003 est.): Pretoria, 1,541,300 (metro. area), 1,249,700 (city proper); Legislative capital and largest city: Cape Town, 3,140,600 (metro. area), 2,733,000 (city proper). Judicial capital: Bloemfontein, 378,000. No decision has been made to relocate the seat of government. South Africa is demarcated into nine provinces, consisting of the Gauteng, Northern Province, Mpumalanga, North West, KwaZulu/Natal, Eastern Cape, Western Cape, Northern Cape, and Free State. Each province has its own capital
Other large cities: Durban/Pinetown, 2,396,100; Johannesburg, 1,675,200; East Rand, 1,378,792 (part of Johannesburg metro. area, 2000 est.)
Monetary unit: Rand
Languages: IsiZulu 23.8%, IsiXhosa 17.6%, Afrikaans 13.3%, Sepedi 9.4%, English 8.2%, Setswana 8.2%, Sesotho 7.9%, Xitsonga 4.4%, other 7.2% (2001)
Ethnicity/race: black African 79%, white 9.6%, colored 8.9%, Indian/Asian 2.5% (2001)
Religions: Zion Christian 11%, Pentecostal/Charismatic 8%, Catholic 7%, Methodist 7%, Dutch Reformed 7%, Anglican 4%, other Christian 36%, Islam 2%, none 15% (2001)
Literacy rate: 86% (2003 est.)
Economic summary: GDP/PPP (2007 est.): $467.1 billion; per capita $9,800. Real growth rate: 5.1%. Inflation: 7.1%. Unemployment: 24.3%. Arable land: 12%. Agriculture: corn, wheat, sugarcane, fruits, vegetables; beef, poultry, mutton, wool, dairy products. Labor force: 15.23 million economically active; agriculture 30%, industry 25%, services 45% (1999 est.). Industries: mining (world's largest producer of platinum, gold, chromium), automobile assembly, metalworking, machinery, textiles, iron and steel, chemicals, fertilizer, foodstuffs, commercial ship repair. Natural resources: gold, chromium, antimony, coal, iron ore, manganese, nickel, phosphates, tin, uranium, gem diamonds, platinum, copper, vanadium, salt, natural gas. Exports: $50.91 billion f.o.b. (2005 est.): gold, diamonds, platinum, other metals and minerals, machinery and equipment. Imports: $52.97 billion f.o.b. (2005 est.): machinery and equipment, chemicals, petroleum products, scientific instruments, foodstuffs. Major trading partners: U.S., UK, Japan, Germany, Netherlands, China, France, Saudi Arabia, Iran (2004).
Communications: Telephones: main lines in use: more than 5 million (2001); mobile cellular: 7.06 million (2001). Radio broadcast stations: AM 14, FM 347 (plus 243 repeaters), shortwave 1 (1998). Radios: 17 million (2001). Television broadcast stations: 556 (plus 144 network repeaters) (1997). Televisions: 6 million (2000). Internet Service Providers (ISPs): 150 (2001). Internet users: 3.068 million (2002).
Transportation: Railways: total: 22,298 km (2002). Highways: total: 362,099 km; paved: 73,506 km (including 2,032 km of expressways); unpaved: 288,593 km (2000). Ports and harbors: Cape Town, Durban, East London, Mossel Bay, Port Elizabeth, Richards Bay, Saldanha. Airports: 727 (2002).
International disputes: managed dispute with Namibia over the location of the boundary in the Orange River.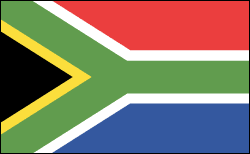 Geography
South Africa, on the continent's southern tip, is bordered by the Atlantic Ocean on the west and by the Indian Ocean on the south and east. Its neighbours are Namibia in the northwest, Zimbabwe and Botswana in the north, and Mozambique and Swaziland in the northeast. The kingdom of Lesotho forms an enclave within the southeast part of South Africa which occupies an area nearly three times that of California .
The southernmost point of Africa is Cape Agulhas, located in the Western Cape Province about 100 mi (161 km) southeast of the Cape of Good Hope.
Government
Republic.
History
The San people were the first settlers; the Khoikhoi and Bantu-speaking tribes followed. The Dutch East India Company landed the first European settlers on the Cape of Good Hope in 1652, launching a colony that by the end of the 18th century numbered only about 15,000. Known as Boers or Afrikaners, and speaking a Dutch dialect known as Afrikaans, the settlers as early as 1795 tried to establish an independent republic.
After occupying the Cape Colony in that year, Britain took permanent possession in 1815 at the end of the Napoleonic Wars, bringing in 5,000 settlers. Anglicisation of government and the freeing of slaves in 1833 drove about 12,000 Afrikaners to make the "great trek" north and east into African tribal territory, where they established the republics of the Transvaal and the Orange Free State.
The discovery of diamonds in 1867 and gold nine years later brought an influx of "outlanders" into the republics and spurred Cape Colony prime minister Cecil Rhodes to plot annexation. Rhodes's scheme of sparking an "outlander" rebellion, to which an armed party under Leander Starr Jameson would ride to the rescue, misfired in 1895, forcing Rhodes to resign. What British expansionists called the "inevitable" war with the Boers broke out on Oct. 11, 1899. The defeat of the Boers in 1902 led in 1910 to the Union of South Africa, composed of four provinces, the two former republics, and the old Cape and Natal colonies. Louis Botha, a Boer, became the first prime minister. Organised political activity among Africans started with the establishment of the African National Congress in 1912.
South Africa's Independence is Tarnished by Apartheid
Jan Christiaan Smuts brought the nation into World War II on the Allied side against Nationalist opposition, and South Africa became a charter member of the United Nations in 1945, but he refused to sign the Universal Declaration of Human Rights. Apartheid—racial separation—dominated domestic politics as the Nationalists gained power and imposed greater restrictions on Bantus (black Africans), Asians, and Coloreds (in South Africa the term meant any nonwhite person). Black voters were removed from the voter rolls in 1936. Over the next half-century, the nonwhite population of South Africa was forced out of designated white areas. The Group Areas Acts of 1950 and 1986 forced about 1.5 million Africans to move from cities to rural townships, where they lived in abject poverty under repressive laws.
South Africa declared itself a republic in 1961 and severed its ties with the Commonwealth, which strongly objected to the country's racist policies. The white supremacist National Party, which had first come to power in 1948, would continue its rule for the next three decades.
In 1960, 70 black protesters were killed during a peaceful demonstration in Sharpesville. The African National Congress (ANC), the principal antiapartheid organisation, was banned that year, and in 1964 its leader, Nelson Mandela, was sentenced to life imprisonment. Black protests against apartheid grew stronger and more violent. In 1976, an uprising in the black township of Soweto spread to other black townships and left 600 dead. Beginning in the 1960s, international opposition to apartheid intensified. The UN imposed sanctions, and many countries divested their South African holdings.
Apartheid's grip on South Africa began to give way when F. W. de Klerk replaced P. W. Botha as president in 1989. De Klerk removed the ban on the ANC and released its leader, Nelson Mandela, after 27 years of imprisonment. The Inkatha Freedom Party, a black opposition group led by Mangosuthu Buthelezi, which was seen as collaborating with the apartheid system, frequently clashed with the ANC during this period.
Apartheid is Abolished; Mandela Becomes President
In 1991, a multiracial forum led by de Klerk and Mandela, the Convention for a Democratic South Africa (CODESA), began working on a new constitution. In 1993, an interim constitution was passed, which dismantled apartheid and provided for a multiracial democracy with majority rule. The peaceful transition of South Africa from one of the world's most repressive societies into a democracy is one of the 20th century's most remarkable success stories. Mandela and de Klerk were jointly awarded the Nobel Peace Prize in 1993.
The 1994 election, the country's first multiracial one, resulted in a massive victory for Mandela and his ANC. The new government included six ministers from the National Party and three from the Inkatha Freedom Party. A new national constitution was approved and adopted in May 1996.
In 1997 the Truth and Reconciliation Commission, chaired by Desmond Tutu, began hearings regarding human rights violations between 1960 and 1993. The commission promised amnesty to those who confessed their crimes under the apartheid system. In 1998, F. W. de Klerk, P.W. Botha, and leaders of the ANC appeared before the commission, and the nation continued to grapple with its enlightened but often painful and divisive process of national recovery.
Mbeki Takes Over From Mandela
Nelson Mandela, whose term as president cemented his reputation as one of the world's most farsighted and magnanimous statesmen, retired in 1999. On June 2, 1999, Thabo Mbeki, the pragmatic deputy president and leader of the ANC, was elected president in a landslide, having already assumed many of Mandela's governing responsibilities.
In his first term, Mbeki wrestled with a slumping economy and a skyrocketing crime rate. South Africa, the country with the highest number of HIV-positive people in the world (6.5 million in 2005), has been hampered in fighting the epidemic by its president's highly controversial views. Mbeki has denied the link between HIV and AIDS and claimed that the West has exaggerated the epidemic to boost drug profits. The international community as well as most South African leaders, including Nelson Mandela and Desmond Tutu, have condemned Mbeki's stance. In 2006, 60 international scientists called the government's policies "disastrous and pseudo-scientific."
As expected, on April 15, 2004, the African National Congress won South Africa's general election in a landslide, taking about 70% of the vote, and Thabo Mbeki was sworn in for a second term.
In December 2007, African National Committee delegates chose Jacob Zuma as their leader, ousting Mbeki, who had been in control of the party for the last ten years. Zuma was acquitted of rape charges in 2006. In late December, prosecutors reopened corruption charges against Zuma and ordered him to face trial for "various counts of racketeering, money laundering, corruption, and fraud." He was accused of accepting more than $440,000 in bribes in exchange for helping a friend, Schabir Shaik, secure $5 billion in an arms deal and other government contracts. Zuma's lawyers accused Mbeki of trying to sabotage Zuma's political career. A High Court judge dismissed the corruption charges against Zuma in September 2008, saying the government mishandled the prosecution. The judge also criticised President Mbeki for attempting to influence the prosecution of Zuma.
Motlanthe Serves as "Interim" President; Opposition to the ANC Grows
Under pressure from leaders the African National Congress (ANC), Mbeki announced he would step down just days after Zuma was cleared. While party leader's cited Mbeki's alleged interference in the corruption case against Zuma, Mbeki's resignation culminated several years of bitter infighting between Zuma and Mbeki, which led to discord in the ANC. On Sep. 25, Parliament elected Kgalema Motlanthe, a labor leader who was imprisoned during apartheid, as president. Zuma must be a member of Parliament before he can be elected president. Parliamentary elections are expected in early 2009.
On his first day as president, Motlanthe acted to move beyond Mbeki's resistance to using modern and effective methods, such as antirretroviral medicines, to tackle its AIDS crisis by replacing South Africa's health minister, Manto Tshabalala-Msimang, who has suggested that garlic, lemon juice, and beetroot could cure AIDS, with Barbara Hogan. "The era of denialism is over," she said. More than 5.7 million South Africans are HIV-positive, the highest number of any country in the world.
In November, about 6,400 dissident members of the ANC held a convention in Johannesburg and decided to form a new party that will challenge the leadership of the ANC. The delegates, many of whom supported former president Mbeki, expressed dissatisfaction with the leadership of the party, calling it corrupt, authoritarian, and "rotting." In December, the new party, the Congress of the People (COPE), selected former defense minister Mosiuoa Lekota as its president.
South African's Supreme Court reinstated corruption charges against Zuma in January 2009, saying that a lower court had "overstepped" its authority in dismissing the charges. However, the country's prosecuting authority dropped all charges against Zuma in April, about two weeks before national elections, citing "intolerable abuse" by investigators who were loyal to former president Mbeki.