CREATED BY:
LAST UPDATED: January 23, 2020
Explore teaching activities to be used with the book Dreamland, by Sarah Dressen.
Page 1 of 2
Dreamland
by Sarah Dessen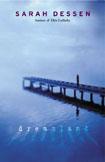 For Grades 7 - 12

Enter promo code TEACH for 15% off.

INTRODUCTION

"When he hit me, I didn't see it coming, It was just a quick blur, a flash out of the corner of my eye, and then the side of my face just exploded, burning, as his hands slammed against me."
Strange, sleepy Rogerson, with his long brown dreads and brilliant green eyes, had seemed to Caitlin to be an open door. With him she could be anybody, not just the second-rate shadow of her two-years-older sister Cass. But now she is drowning in the vacuum Cass left behind when she turned her back on her family's expectations. Caitlin wanders in a dreamland of drugs and a nightmare of sudden fists, trapped in her search for herself.
As violence becomes more and more prevalent in our world, one out of every five teenage girls in America will be beaten by a dating partner, and one third to one half of married women will be victims of abuse. Yet shame, fear, and assumed guilt keep many in a conspiracy of silence about this widespread but invisible anguish. Why do girls allow themselves to get into such relationships—and what keeps them there?
In this riveting novel, Sarah Dessen searches for understanding and answers through the mind of a young girl who suddenly finds herself in a trap of constant menace, a trap that is baited with love and need. More and more she must frantically manage her every action to avoid being hit by the hands that had seemed so gentle. All around Caitlin are women who care—best friends, mother, sister, mentor—but she can confide in none of them, especially not Cass, her brilliant older sister, whose own flight from home had seemed to point the way for Caitlin.

Dessen has here created a subtle and compelling work of literature that goes far beyond the problem novel in a story rich with symbolism, dark scenes of paralyzing dread, quirky and memorable characters, and gleams of humor. With the consummate skill and psychological depth that brought her praise for Keeping the Moon, she explores the search for self-identity, the warmth of feminine friendships, and the destructive ways our society sets up young women for love gone wrong.

About Sarah Dessen
Sarah Dessen grew up in Chapel Hill, NC, where she teaches fiction writing at the University of North Carolina and recently married her high-school sweetheart. Dreamland is her fourth novel for young people.
Books by Sarah Dessen

Dreamland
HC: 0-670-89122-3, $15.99 ($22.99 CAN)

Keeping the Moon
HC: 0-670-88549-5, $15.99 ($22.99 CAN)
PB: 0-14-131007, $5.99 ($8.99 CAN)

Someone Like You
HC: 0-670-87778-6, $16.99 ($23.99 CAN)
PB: 0-14-130269-0, $4.99 ($6.99 CAN)

That Summer
PB: 0-14-038688-2, $5.99 ($8.99 CAN)


FURTHER READING, RESOURCES, AND RECOMMENDED SITES

Related Reading
I Never Asked You to Understand Me
by Barthe DeClements
Puffin Books, 0-14-130059-0, $ 4.99 ($ 6.99 CAN)
In a school for "dropouts and druggies," Didi finds friends who help her put her life back together after his mother's death.
Zero at the Bone
by Michael Cadnum
Viking Children's Books, 0-670-86725-X, $ 15.99 ($ 22.99 CAN)
Puffin Books, 0-14-038628-9, $ 4.99 ($ 6.99 CAN)
After Cray's older sister Anita doesn't come home that night—or ever—he and his family are left searching for reasons for her disapperance.
When She Was Good
by Norma Fox Mazer
Scholastic Paperbacks
Em's huge, dangerous big sister Pamela is dead, but her voice goes on telling Em that she's stupid and bad and deserves to be hit.
Breaking Free from Partner Abuse
by Mary Marecek
Morning Glory Press
A simply written little book that uses quotes from abused women, poetry, and helpful advice, to drive home the message that "people aren't for hitting." Includes a 16-page mini-lesson on abuse.

Resources to Help Stop Partner Violence

If you or someone you know is having trouble with partner violence, here are some organizations that you can turn to.
National Domestic Violence Hotline
Tel: 1-800-799-SAFE
Advice, comfort, and referral for teens in violent relationships. Available 24 hours a day.

"Love Doesn't Have to Hurt Teens"
www.apa.org/pi/pii/teen
A teen-friendly website, sponsored by the American Psychological Association, that offers counsel to girls who think they may be headed for an abusive relationship.

National Resource Center on Domestic Violence
Tel: 1-800-537-2238
www.nrcdv.org
A referral organization that works to develop national and local programs, and distributes materials like their guide for parents, "Helping Teens Stop Violence."

National Coalition Against Domestic Violence
Tel: 1-303-839-1852
www.ncadv.org
A gathering of organizations and groups working to stop partner abuse. Distributors of the "Rough Love" video and teaching guide.