Addition Robbery
Grade Levels: 3 - 6
Objectives
Students will practice agility and cooperative learning.
Students will review and practice addition and subtraction.
Materials
8 beanbags
7 tennis balls
3 volleyballs
5 softballs
10 hockey pucks
5 Frisbees
2 footballs
4 hula hoops
Other equipment may be substituted, depending on your inventory.
Procedures
Notes: When placing the hula hoops in each corner, make sure that they are equal distances from the center and one another. This creates equal running distances for each team. Let students know that they must keep adding or subtracting when each team is placed in or taken out of their hoop.
Place one hula hoop in each corner of a basketball court.
Have students make equal groups, facing the center, behind each hoop.
In the center of the gym place different objects.
Each object should be assigned a different number value.

| | | |
| --- | --- | --- |
| Objects: | Point Value | Number in Center |
| Beanbags | 3 | 8 |
| Tennis Balls | 5 | 7 |
| Volleyballs | 12 | 3 |
| Softballs | 7 | 5 |
| Hockey Pucks | 2 | 10 |
| Frisbees | 8 | 5 |
| Footballs | 15 | 2 |

Using a relay format, each team sends students to the center to get an object and bring it back to their hoop.
When one person returns, the next one goes to the center and brings back another object.
When all objects are gone from the center, players may go to another group's hoop and take one of their objects (players may not guard their objects).
Play continues until one team gets objects in their hoop totaling 30 or more points.
Modifications:
Use only beanbags, giving each color a different value. Change the total necessary to win or number of various objects available, making the game go more quickly or more slowly.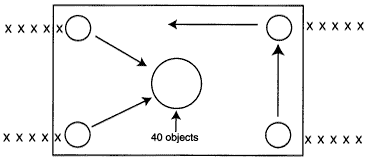 Excerpted from P.E. Teacher's Complete Fitness & Skills Development Activities Program.
If you need to teach it, we have it covered.
Start your free trial to gain instant access to thousands of teacher-approved worksheets, activities, and over 22,000 resources created by educational publishers and teachers.
Start Your Free Trial