Classroom Arrangement Checklist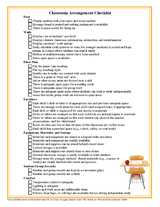 This checklist will help you make sure that all aspects of your classroom are ready for students. Items include your floor plan, furniture, and equipment arrangement. This printable list is intended as a general guide to help you arrange your classroom for back to school. Some items on this list vary by floor plan, teaching style, and grade.
This content is free for a limited time to Special Offers for Teachers subscribers. Not a Special Offers for Teachers subscriber? Visit our Newsletter Center and subscribe today.
Grade Levels: Pre-K - 12