TeacherVision Advisory Board Member, Jeanne, loves to travel and is a frequent flyer. Here she shares how traveling will make you a better teacher, along with tips for how to travel without breaking the bank.
Updated: July 22, 2019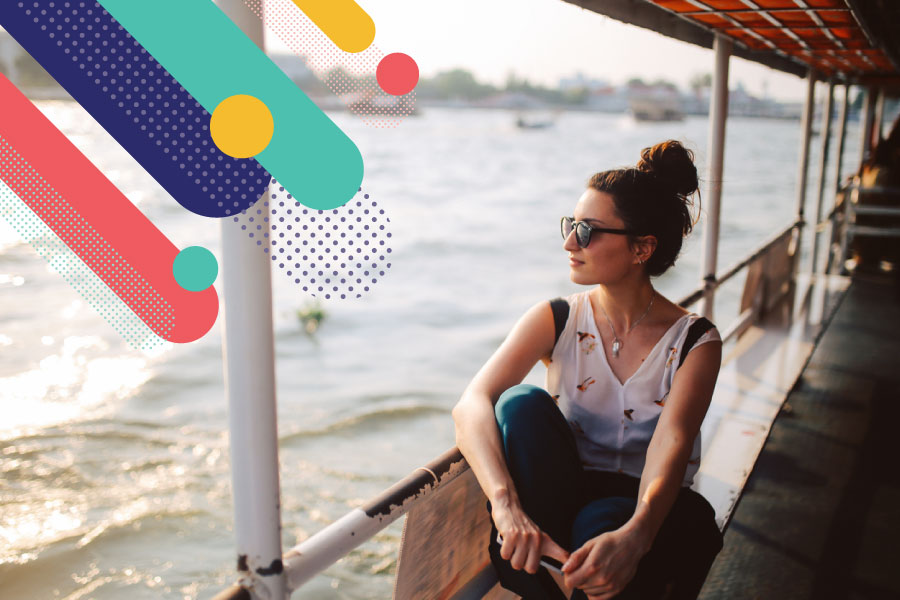 There are so many more benefits to traveling than simply relaxation.  Here are four other major reasons why teachers should prioritize travel. 
It makes you question your own cultural norms 
So much of our own cultural expectations are invisible to us until we are immersed in cultural environment different than what we are used to. As teachers, so many of our decisions are based on our own cultural norms; it's critical that we take steps back to question our own cultural assumptions for the sake of the variety of cultures represented in our own classrooms. Traveling helps you do just that. Every time I've traveled, I've learned more than just about a new culture--but something new about my own. I take that back with me into the classroom every year.
Gets you outside of your comfort zone
Let's admit it. As teachers, we like our control. We like the routines that we set up, the structures we enforce, and the momentum of the day. When you travel, particularly to another country, that control and comfort goes out the window. Pushing ourselves outside of our comfort zone teaches us how to navigate uncharted territory. It exercises our flexibility, patience, and resilience--all traits we need in bulk as a teacher. 
You learn about another part of the world
...and all the perspectives and history it might contain. I cannot tell you how many conversations I have had with people while traveling that turned everything I thought I knew about history, politics, culture, and language upside down. When we stay in our own community, we only learn the perspectives that surround us. By talking to people completely separate from our community, we're able to learn different takes on the same events in our past or present, as well as learn more deeply about a culture we previously may have known nothing about. That perspective and knowledge enriches what we bring to our students.  
You have the opportunity to learn or practice a language
How many families in your school speak a language other than English at home? Beyond practicing a language in order to use it in communicating with families, practicing a second language with native speakers can be an incredibly humbling experience--and one that many of our students have to go through every day. Being a language learner makes you vulnerable. While it can be exciting to make progress, most of the time it can be embarrassing, frustrating, and downright depressing. Traveling gives us the opportunity to learn what it takes to become fluent in a second language, as well as what helps and what doesn't. It also teaches us just how strong and resilient our own emergent multilingual students are. 
5 Ways to Save Money while Traveling
Apply for a teacher-travel scholarship
Did you know that there are actually many scholarships available for teachers to go on educational trips over the summer? Check out this list for opportunities.
Use Google Flights to find cheap flights
I never book a flight without checking an engine that compares multiple airlines, multiple cities, and multiple days. This can save you literally hundreds of dollars on flights. With Google Flights, you can search specific cities and dates, or you can search entire continents and ask Google to tell you what dates cities would make the cheapest 2-week trip. It then searches dozens of airlines to find the cheapest option for you. Absolutely amazing! Another pro-tip? When you buy the flight, use a credit card with no foreign transaction fees and purchase the flight in the currency where the airline's headquartered. This can save you a ton of money in conversion fees that the airline doesn't tell you it's charging. In a recent flight to Europe, buying my flight in euros saved me over $100.
Housesit
Did you know that you can stay in beautiful places around the world for absolutely free? There are several sites with a similar set-up to AirBnB, where people search for house-sitters for their homes and pets while they go on vacation. With some flexibility, good notification settings, and quick application action, you can stay for a weekend or even months at a time for free in places like Spain, England, Costa Rica, or Australia in exchange for taking care of someone's home and pets. I have used Trustedhousesitters in the past and have absolutely loved it. If you're interested in looking into it, use this link to save 25% on a membership for TrustedHousesitters. 
Use public transportation
With Google maps and a million other public transportation databases, there is little reason in many places to hire private shuttles once you arrive. Most major cities' public transportation systems are uploaded into Google maps with everything you need to know to navigate. I've also used and loved the app CityMapper. When traveling between countries, do your research to find the national train and bus services, which are usually the cheapest option. When in doubt, if a service looks tourist-friendly, it probably is--and probably carries a premium to prove it. 
Stay somewhere with a kitchen and cook!
AirBnBs and many hostels have kitchens you can use that can save you hundreds of dollars while traveling. Just because you want to eat out to try the local cuisine doesn't mean you have to eat out every single meal. Both your wallet and your digestive system will thank you for it. Cooking or just having quick, cheap meals on hand can save you a lot of time, too. Plus, you can make it a cultural experience! Do your research to find the town's local farmer's market, and explore what it has to offer while choosing fresh, local produce for a delicious meal at home. 
If you were considering a trip this summer break, we hope this gave you the nudge you needed; and if you hadn't yet considered it, we hope it has given you some new inspiration to get out there and explore. 
Jeanne Wolz taught middle school Writing and AVID in Illinois for four years in addition to serving as the English Department Chair. She holds a bachelor's in English and Secondary Education and a master's in Curriculum and Instruction. Currently, she teaches ESL, develops curriculum, and coaches new teachers. You can find more of her resources at www.teacheroffduty.com and follow her on Instagram, Facebook, Twitter, or Pinterest.