Authored by:
Last edited: December 15, 2022
Veteran teacher Heather has curated a great collection of fun, easy, and meaningful winter holiday-themed bulletin board ideas from around the web to share with you and your students this holiday season!
The holidays are right around the corner. Before you know it, your little learners will be preoccupied with thoughts of Santa, the taste of holiday cookies and treats, and the thoughts of spending time with their families. You can embrace this jolly time by decorating your Christmas bulletin board to compliment their excitement and anticipation!
Here are five holiday-themed ideas for your classroom that your students will love (and you'll be pretty fond of, too!).
1. Don't Be a Grinch, Be Kind!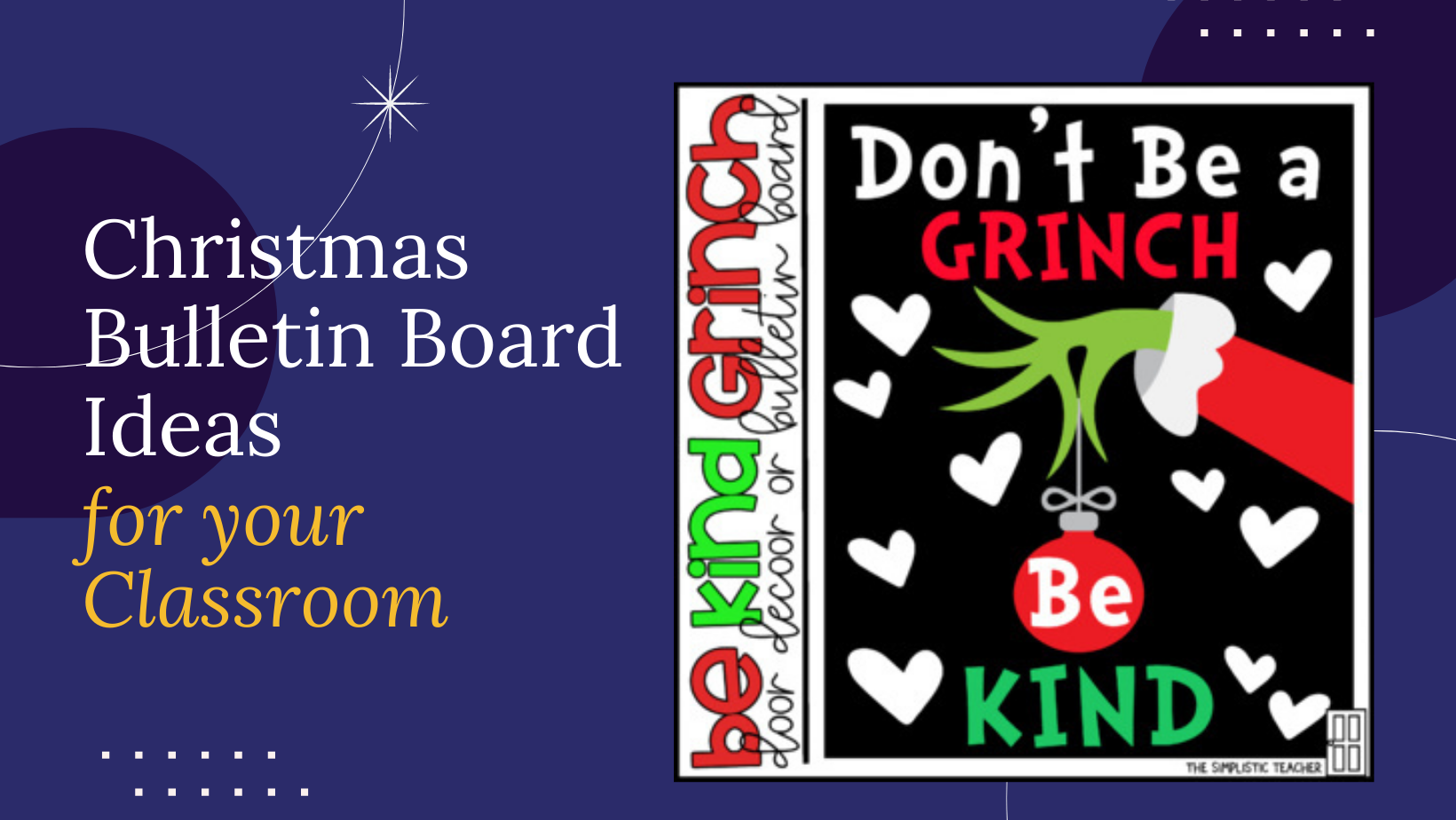 Share this powerful message with your students, regardless of their age or cultural beliefs. This bulletin board will emphasize that the holidays are about the spirit of selflessness and giving. It is also a non-denominational, non-cultural display, so all students can participate and appreciate it. Kindness (and acts of kindness) are universal!
Credit: The Simplistic Teacher
2. Hip, Hip Hooray for the Holidays!
Everyone loves Pete the Cat! More appropriate for students in grades K-2 - your bulletin board will look utterly adorable when Pete adorns it. Read some Pete the Cat holiday stories while building the board to get students excited for the final product.
Credit: Mud Pie Studio
3. Light-Up Gingerbread Village
This bulletin board gets the whole classroom community in on the decorating action. 
Invite some parent volunteers in. 
Each student should bring a small box. 
With some help, create 3-D gingerbread houses out of the boxes. 
Exacto knives will help carve out windows and doors, and plenty of construction or tissue paper will cover the boxes. 
Allow students to decorate them as they like. 
Line the background of your board with blue for the sky and white for the mountains. 
Using push pins, secure each box house to the board. 
Run a string of lights through each box, so the light shines through. 
Decorate the rest of the board with student-created Christmas trees and glittery letters that say "Seasons Greetings." 
You can also have your students create tiny gingerbread figures in the background of your winter bulletin board with their names displayed on them. These mini gingerbread houses will look cute and peaceful when you dim your lights, and they'll love the help they receive from parent volunteers (and so will you!).
Credit: Nienke Krook/bulletinboardideas.org
4. What Brings You Joy?
Again, keeping with the true meaning and spirit of the holidays, focusing on happiness is key. Allow the students to write what brings them joy around the holidays inside the letters. Voila! You have a boast-worthy board that your students also created. If you are limited with room, this theme also makes an excellent door decoration, as students can add their thoughts on paper ornaments or a cute cut-out snowman.
 
This theme is perfect if you want to avoid a Merry Christmas vibe if some of your students don't participate in some Christmas traditions or adhere to certain beliefs. Hence, the themes of joy, kindness, and thankfulness are universal and are always appropriate to ponder around the holidays.
Credit: Keeping Creativity Alive
5. Learning Is A Gift
Are you limited for space? Why not use one of your side blackboards to set up a holiday-themed bulletin board? Allow the blackboard to serve as your background. Layer up a few festive borders, and using pieces of rectangular construction paper, decorate each as a gift. Students can add stickers to them and bows. Your students will be reminded how lucky they are to have a great teacher and wonderful education every day! This is also an excellent board to incorporate acts of kindness around the holidays, where students learn that sometimes the greatest gifts they have around them cost nothing at all!
Credit: TREND Enterprises
BONUS: Oh Deer!
In addition to these five popular bulletin board and door display ideas, you may wish to take on an "Oh deer" theme, where students get photographed and their heads photoshopped onto a reindeer's face. Or, creating a giant snow globe on a Christmas holiday bulletin board is sure to get attention as students walk into your classroom!
 
The main thing to remember is that you don't have to spend a lot of money on your holiday bulletin boards. All you need is a little time, effort, and creativity. Your students will love these memorable festive boards, which will put them in the holiday mood (and brighten up your spirits as well).
"Get creative with your bulletin board decor, and don't be afraid to think outside the box!"
What Are the Three Types of Bulletin Boards?
Three main types of school bulletin boards can be set up in your classroom: formative, display, and interactive.
 
Informative: An informative bulletin board is loaded with printables that present information about a particular topic. For example, if students are learning about the solar system, an informative bulletin board will show images of planets, labels, and facts about them. Some informative bulletin boards are designed to serve as an information hub, where students can view their lunch menu, schedule, grab their make-up work, and read other important pieces of information that you hang up.
 
Display: A display bulletin board showcases student work or highlights a holiday with a festive theme, such as a gingerbread man for the holidays, a Valentine's Day decoration, or something that allows for a student's name to be seen on their completed work easily. Display boards are the most popular kinds of themed bulletin boards because they can be designed in all different colors, ideas, backgrounds, and borders.
 
Interactive: An interactive bulletin board allows students to practice a certain skill on a larger scale. It gets them physically involved in learning. For example, if you are learning about addition and subtraction, the bulletin board may be created in a way that allows students to move items around (due to the use of Velcro or push pins) or copy problems down to solve independently or with a partner. Many interactive boards allow student self-checking and serve as a unique, hands-on experience, rather than completing worksheets at their seat.
How Can I Make My Bulletin Board More Attractive?
Making a bulletin board more attractive is easy! Use lots of bright colors, decorative borders, and add some texture. It's certainly OK to use darker shades too. Many teachers choose black paper to create their backgrounds and accent it with letters and other decor that "pops" in contrasting, brighter colors such as turquoise, yellow, or tangerine.
Using pre-made and cut letters can also be practical and look attractive, neat, and organized. Ensuring the bulletin board is set up straight and seamless helps make it look more attractive to others. Some teachers select student work that is exceptionally well done to put the finishing touches on their board. They also serve as an example for other students by setting a certain work level standard.
You should also consider using a catchy slogan or saying that draws the eye upward toward it. For example, you could use the phrase, "Buzzing about Adjectives," and use bee printables that contain an adjective on each. Or, if you are creating a gingerbread display, you may have a mixing bowl on your winter bulletin board that says, "Mixing up some holiday cheer." The options are endless when it comes to themes, holidays, and styles! Always try to choose a title for your winter bulletin board that resonates with others and is memorable! Get creative with your bulletin board decor, and don't be afraid to think outside the box!
What is the Purpose of Bulletins?
Bulletins promote student work, add to a positive rapport in class (and school-wide), and make any place or space more inviting. They help students feel like they are in a home, away from their home.
For example, you can turn a bulletin board into a large fireplace during the holidays. Hang a Christmas stocking for each child from it, and later fill it with goodies before they leave for Christmas break. To add a sweet touch, staple a Santa sticker or cut-out design near the fireplace. The purpose of this board (as well as other boards) is to make students excited or eager to enter your classroom or get hyped up for a special event or holiday. It makes them work hard, so they feel the honor of having their classwork highlighted for all to see.
Bulletin boards make the room and hallway more pleasant, giving a home-like feel and putting students at ease. However, they can also serve as an excellent motivator for students.
"All you need is a little time, effort, and creativity."
Is Pinterest a Bulletin Board?
Pinterest is an idea site, but it's also a bulletin board of sorts. With its primary purpose of sharing great thoughts and ideas, a bulletin board in your classroom or school can have the same purpose! As the point of a bulletin is to share information. Pinterest may be one of the world's biggest, most popular sharing sites. Great for teachers, it has a vast selection of holiday bulletin boards and classroom door and decor ideas, among other things! Search for what you need and get it at your fingertips instantly!
How Do You Make a Bulletin Board?
Making a bulletin requires some great ideas, a few simple materials, and a little patience (maybe even a helping hand sometimes to ensure the background paper is straight!).
First, measure and cut paper or fabric and use staples to line the board's background. Surround the background's edges with bulletin board borders. Set up your lettering with a catchy phrase or slogan, and then add other important pieces such as stickers, a bulletin board set of graphics, Christmas lights, and other cool cut-out designs that you diy or purchase pre-made.
Some teachers prefer to use a common background on their classroom bulletin board all year round. Often, they will opt for a basic blue tone or faux shiplap paper. This saves time and only requires the bulletin board set and bulletin board borders to be updated.
If you do not have a large bulletin board in your classroom or area where you wish to set up a display, make one with lots of tape, staples, tacks (it depends on your wall surface), and paper! Simply do everything you would on a traditional bulletin board! A classroom bulletin board can be made virtually anywhere and serve many purposes.
Some teachers create portable bulletin boards if you are short both a physical corkboard and wall space. This is done by either purchasing a trifold board or creating their own by reusing a large piece of cardboard. A portable bulletin board should be able to stand on its own and can be of the styles listed above-informative, display, or interactive. You can line the three-dimensional board with felt or fabric or paint a background. Add a border and any decor to complete your look. A portable bulletin board is popular with teachers who aren't necessarily stationed in one area or room, such as a reading or math support teacher, a speech teacher, or an occupational therapy teacher.
Related article: Evergreen Tree Bulletin Board for Winter
What is the Easiest Way to Make a Bulletin Board?
Hands down, the easiest way to make a bulletin board is to create one on a giant, blank corkboard. Paper is easy and nice to use, but fabric may last longer and create a unique texture. Material can also be washed and ironed, unlike paper. Plus, if paper rips in the background of your board, you need to take everything down and redo it!
Many teachers opt to have helpers set up their bulletin boards, which can be fun for little ones and a huge time saver for teachers. This is especially popular when transitioning your classroom decor from one holiday to another.
"Your students will love these memorable festive boards, which will put them in the holiday mood (and brighten up your spirits as well)."
What is the Difference Between a Bulletin Board and a Poster?
The main difference between a bulletin board and a poster is that posters are completely flat on the wall, and bulletin boards are 3-dimensional. They can be hung anywhere and allow for classroom decor and other cut-out designs and decorations to adhere to them easily through tacks and staples. It's also much easier to be interactive with a bulletin board, rather than a poster, for instructional purposes during morning work and center time.
Need more Bulleting board Ideas? Download this Bulletin Board Kit or head over to our Bulletin Boards Hub to find the perfect bulletin board to fit your current theme or topic of discussion. Be sure to sign up for our TeacherVision newsletters and look around our hub for some awesome ideas for educators (from educators!).