One of the core challenges of remote learning is the struggle to build community and relationships with students. Drawn from her own experience, veteran teacher, Rebecca, shares some tips for making those connections happen more easily.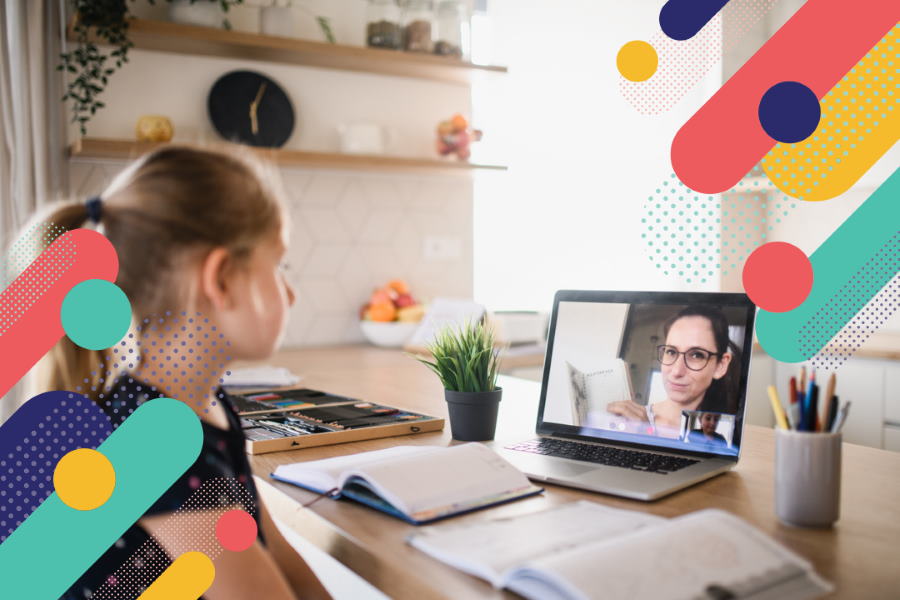 In the age of COVID, when connecting with people in general has become more challenging to say the least, teachers are trying to come up with ways to connect with their students on a more personal or deeper level, especially when delivering instruction in a hybrid or fully remote model. When students (and adults) are at home most of the time, they have a tendency to feel isolated and are left craving more real human interaction. To combat this, here are some some tried and true suggestions you can use to do more than just "connect" remotely with your students.
1. Lunch Online Together
No matter how you slice it--the importance of communicating one on one with each of your students is vital. Make it a point to have an online lunch with each of your students at some point throughout the first quarter. It may seem impossible, but think of all the times you spent individually with students getting to know them in a regular classroom environment. This is a simple way to get to know them on a personal level in a social way. 
2. Schedule Morning Meetings 
Even with a virtual classroom, morning meetings are still possible! Try to make morning meetings happen at least three times a week with as many of your students as possible. Things are different and it may not feel as intimate, but it's still a great way to get to know your students on a deeper level. Schedule students to ensure that they have time to share over Zoom and feel a sense of community, even if it is just virtually. 
3. Value Student Feedback 
Allow students to offer their thoughts via Google forms or similar platforms. This could be open-ended or a more specific survey allowing students to express their voice in their experience. This is all new to everyone, so allowing students to make suggestions and express what they like and do not like will help build a healthy rapport with your students. Download the Student Survey: School Climate printable here. 
4. Supplement with Seesaw 
Seesaw is an excellent app that can be used for content and demonstrating mastery within the classroom, but it can be used for so much more. Give students an opportunity to use the app to post a scrapbook-like display all about themselves. Allow them to upload pictures, or discuss their interests and hobbies. This will allow you to learn more about your students and make them feel part of a classroom family. 
5. Acknowledge and Celebrate 
Do not forget to do something special on important days in your students' lives! Make sure to do something special, like a fun video or classroom post telling them Happy Birthday or Congratulations for an accomplishment or milestone! Make sure to ask parents early in the school year to share special and important dates in their students' lives! 
6. Give Brain Breaks 
Thanks to Zoom and other video conferencing programs, you can still make sure brain breaks are included in your school day. A way to make it fun and inclusive is to allow each student a time to lead a brain break. Make sure to provide guidelines and demonstrate many examples. Students would love to show off their yoga skills or maybe even their new karate or dance moves! 
7. Set Goals Together 
Allow for time to set goals with students individually at the beginning of each quarter. Provide a template for them to fill out beforehand and then conference with them individually to discuss what they want to accomplish. Be sure to include social-emotional goals along with academic goals. 
8. Offer Office Hours 
This may be difficult to fit into an already hectic schedule but if it's possible, it can provide students an informal time to ask questions or make comments. While working on plans or other work, holding office hours provides an avenue for students to individually "stop by" or send a quick message to ask any questions or express any concerns that they may have.
9. Incorporate Social-Emotional Learning 
After speaking with your administration to better understand the expectations for social-emotional learning, make sure to include a lesson at least weekly if time and schedule allows. Make sure these lessons include students speaking or writing down their thoughts. A great visual way to do this is have them fill out a graphic organizer with various thought bubbles, where they fill in their feelings or inside thoughts. These lessons often invoke a part of your students you may have never known was there. Students feel included when they get to discuss and learn more about relationships and topics outside of academic content. 
10. Create Interactive Bitmojis 
Create an online classroom environment that is as similar as an in-person classroom as possible. Allow students to create their own bitmojis too! Students love having an identity or icon to use to help demonstrate who they are. These avatars can help build relationships by mimicking a physical classroom as much as possible.
Try out some of these helpful tips to connect during this somewhat disconnected time when feeling "close" to people is not easily attainable. Not only will connecting with your students on a personal level speak volumes, but it will help you bridge relationships and build a classroom community with your students AND their parents. Being more tuned into your students, their needs, wants, and interests will help you get to know them as students and as people, which is very important in this isolating time of COVID. For even more ideas, make sure to connect with us on social media at @TeacherVision.
Rebecca Fennel has experience teaching elementary school in grades 2-5. She has expertise in personalized learning, integrating meaningful technology in the classroom, and best practices for teaching to the whole child. She lives in Charlotte, NC with her family.