Read this profile of Idaho to learn about the state's history, points of interest, and government. Also find interesting facts about each state, including the state's motto, symbols, and when it entered the union.
Capital: Boise
State abbreviation: Idaho.
Postal code: ID
Population est.: 1,429,096
Largest City (2005 est.): Boise, 193,161
Land area: 82,747 sq mi. (214,315 sq km)
U.S. Representatives: 2
Entered Union (rank): July 3, 1890 (43)
Motto: Esto perpetua (It is forever)
Origin of name: An invented name whose meaning is unknown.
State symbols:
| | |
| --- | --- |
| flower: | syringa |
| bird: | mountain bluebird |
| song: | "Here We Have Idaho" |
| tree: | white pine |
Nickname: Gem State
Residents: Idahoan
Did you know: The longest main street in America, 33 miles, in Island Park, Idaho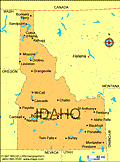 History
First settled by Polynesians sailing from other Pacific islands between A.D. 300 and 600, Hawaii was visited in 1778 by British captain James Cook, who called the group the Sandwich Islands.
The region was explored by Meriwether Lewis and William Clark in 1805-1806. It was then a part of the Oregon country, held jointly by the United States and Great Britain. Boundary disputes with Great Britain were settled by the Oregon Treaty in 1846, and the first permanent U.S. settlement in Idaho was established by the Mormons at Franklin in 1860.
After gold was discovered at Orofino Creek in 1860, prospectors swarmed into the territory, but they left little more than a number of ghost towns.
In the 1870s, growing white occupation of Indian lands led to a series of battles between U.S. forces and the Nez Percé, Bannock, and Sheepeater tribes.
Mining and lumbering have been important for years. Idaho ranks high among the states in silver, antimony, lead, cobalt, garnet, phosphate rock, vanadium, zinc, and mercury.
Agriculture is a major industry: The state produces about one fourth of the nation's potato crop, as well as wheat, apples, corn, barley, sugar beets, and hops. The 1990s saw a remarkable growth in the high technology industries, concentrated in the metropolitan Boise area.
With the growth of winter sports, tourism now outranks other industries in revenue. Idaho's many streams and lakes provide fishing, camping, and boating sites. The nation's largest elk herds draw hunters from all over the world, and the famed Sun Valley resort attracts thousands of visitors to its swimming, golfing, and skiing facilities.
Points of interest are the Craters of the Moon National Monument; Nez Percé National Historic Park, which includes many sites visited by Lewis and Clark; and the State Historical Museum in Boise. Other attractions are the Snake River Birds of Prey National Conservation Area south of Boise, Hells Canyon on the Idaho-Oregon border, and the Sawtooth National Recreation Area in south-central Idaho.