Gymnastics, track and field, cycling, fencing, and swimming are five events that have appeared at every Summer Olympic Games since the birth of the modern Olympic Games in 1896.
Basketball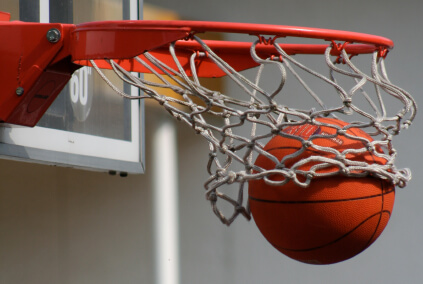 Basketball
Basketball made its official Olympic debut in 1936, with women's basketball added in 1976. There are men's and women's basketball tournaments, with 12 teams in each tournament and 12 players to a team. Starting in 1992, NBA and WNBA professionals became eligible to compete in the Olympic Games.
Gymnastics, Rhythmic Gymnastics, Trampoline
Gymnastics, Rhythmic Gymnastics, Trampoline
Gymnastics events have 12 men's teams and 12 women's teams, each with a maximum of 6 athletes. There are four phases of competition with medaling events, including all-around, team, floor, pommel horse, rings, vault, parallel bars, high bar, uneven bars, and balance beam. Rhythmic Gymnastics was introduced in the 1984 Olympic Games. Women compete in the all-around individual event and the group exercises competition. A maximum of 24 gymnasts can compete in the individual competitions. The group events consist of 12 groups comprised of 6 gymnasts. Men's and women's trampoline made its Olympic debut at the 2000 Sydney games. There will be 16 men and 16 women competing in the individual events.
Track & Field, Triathlon
Track & Field, Triathlon
The track & field (also known as athletics) program has a total of 47 events: 26 running events, 3 walking events, 16 field events, the decathlon, and the heptathlon. Men participate in 24 events, and women compete in 23 events (they do not compete in the 50 km race walk). Men and women compete separately in the triathlon, which consists of a single race where athletes swim 1500m, cycle 40km, and run 10,000m.
Beach Volleyball, Volleyball
Beach Volleyball, Volleyball
Men's and women's beach volleyball tournaments are each made up of 24 teams. Teams consist of 2 players interchanging between the roles of blocker and setter. Volleyball at the Olympic Games also consists of men's and women's tournaments, each made up of 12 teams. Each team consists of 12 players, with 6 players on the floor at once, rotating positions.
Aquatics
Aquatics
Men's and women's aquatic sports consist of swimming, diving, synchronized swimming, and water polo.
The
swimming
program comprises 32 pool events, as well as a 10k open water marathon. The
diving
program consists of 8 events: 4 individual and 4 team events.
Synchronized swimming
is made up of a duet and a team event, both including a technical and a free routine.
Water polo
in the 2012 Olympic Games will feature 8 women's teams and 12 men's teams.
Equestrian
Equestrian
Men and women compete against each other in the equestrian competitions, comprised of several events: dressage, jumping, and eventing, each with a team and an individual competition.
Dressage, originally developed as a method of training horses for war, deals with the horse's ability to respond to the rider's commands.
Based on foxhunting traditions, the jumping event requires the horse and the rider to clear obstacles on a course in a specified time.
Eventing tests horsemanship, combining dressage, cross-country, and jumping events.
Equestrian medal events:
July 31, August 6-9
Boxing
Boxing
The Greeks introduced boxing in the ancient Olympic Games in the late 7th century. The boxing program consists of 11 tournaments; one for each weight class. Boxing matches have four rounds of two minutes each, with one-minute rest periods. Women's boxing was added to the Olympics for the 2012 Games in London. Boxing medal events: August 9, 11, and 12
Cycling
Cycling
There will be 18 sets of medals awarded in the cycling events: track cycling, road cycling, mountain biking, and BMX. There are men's and women's divisions in each event. Cycling medal events: July 28 and 29, August 1-7, August 10-12
Fencing
Fencing
There will be 10 sets of medals awarded for 3 individual and 3 team events for men's and women's divisions. The events consist of foil, sabre, and épée.
Foil is the most common fencing weapon. A point is scored by pushing a button on the end of the shaft to create an electric circuit.
The sabre fencing weapon uses fast attacks, where a point can be scored with the edge of the blade.
Épée is a heavier sword with a stiffer blade and a larger bell guard. The entire body area is a valid target.
Tennis, Table Tennis
Tennis, Table Tennis
Olympic tennis events include four sets of medals that are awarded in the men's and women's individual and doubles events. Each individual event features 64 competitors, and each doubles event features 32 teams. Table tennis made its medaling Olympic debut at the 1988 Seoul Games. Table tennis includes women's and men's singles and team events. The doubles event was replaced with the men's and women's team events for the Beijing Games.
Soccer (Football)
Soccer (Football)
Soccer was the first team sport included in the Olympic Games, debuting in 1900. It became an official Olympic sport in the 1908 Games. Women's soccer was introduced in the 1996 Games. The London soccer events consist of 16 men's teams and 12 women's teams, each with 18 athletes.
Weightlifting
Weightlifting
Weightlifting was one of the few sports featured at the first modern Olympic Games in 1896 in Athens. 15 sets of medals are awarded for the 8 men's events and 7 women's events.
Judo, Taekwondo
Judo, Taekwondo
Judo, traditional Japanese wrestling, was developed out of older schools of jujitsu. Judo tournaments at the Olympic Games award 14 sets of medals for the 7 men's and 7 women's weight classes. Taekwondo is a traditional Korean martial art that uses the hands and feet to defeat an opponent. In the Olympic Games, competitions consist of single elimination tournaments, and will award 8 sets of medals in the 4 men's and 4 women's weight classes.
Wrestling
Wrestling
Wrestling is one of the most ancient sports known. At the Olympic Games it is divided into freestyle and Greco-Roman divisions, then further divided by weight class. Men compete in both areas, while women compete only in the freestyle events. This is the third Olympic Games to feature women's wrestling as an event. A total of 18 sets of medals will be awarded to athletes.
Rowing, Canoeing/Kayaking, Sailing
Rowing, Canoeing/Kayaking, Sailing
Rowing is an endurance sport for both men and women, with two different divisions: sweeping and sculling. Athletes row with one oar in the sweeping events, and two oars in the sculling events. There are eight scull events and six sweep events; all races are 2000 meters long. The canoeing and kayaking events consist of flatwater and whitewater slalom events. There are 12 flatwater events and 4 slalom events; women compete only in kayaking events. The sailing program includes 11 events; men compete in 7 and women compete in 4. Crew sizes range from single-handed to three-person boats. All events are sailed in fleet racing format, allowing teams to drop their worst score.
Other Olympic Events
Other Olympic Events
Other Olympic events include archery, badminton, field hockey, handball, modern pentathlon, and shooting.