Read this profile of Mississippi to learn about the state's history, points of interest, and government. Also find interesting facts about each state, including the state's motto, symbols, and when it entered the union.
Capital: Jackson
State abbreviation: Miss.
Postal code: MS
Population est.: 2,921,088
Largest City (2005 est.): Jackson, 177,977
Land area: 46,907 sq mi. (121,489 sq km)
U.S. Representatives: 4
Entered Union (rank):Dec. 10, 1817 (20)
Motto: Virtute et armis (By valor and arms)
Origin of name: From an Indian word meaning "Father of Waters"
State symbols:
| | |
| --- | --- |
| flower: | flower or bloom of the magnolia or evergreen magnolia |
| bird: | mockingbird |
| song: | "Go, Mississippi" |
| tree: | magnolia |
Nickname: Magnolia State
Residents: Mississippian
Did you know: Coca-Cola was first bottled in 1894 in Vicksburg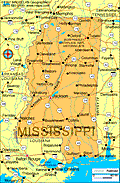 History
First explored for Spain by Hernando de Soto, who discovered the Mississippi River in 1540, the region was later claimed by France. In 1699, a French group under Sieur d'Iberville established the first permanent settlement near present-day Ocean Springs.
Great Britain took over the area in 1763 after the French and Indian Wars, ceding it to the U.S. in 1783 after the Revolution. Spain did not relinquish its claims until 1798, and in 1810 the U.S. annexed West Florida from Spain, including what is now southern Mississippi.
For a little more than one hundred years, from shortly after the state's founding through the Great Depression, cotton was the undisputed king of Mississippi's largely agrarian economy. Over the last half-century, however, Mississippi has diversified its economy by balancing agricultural output with increased industrial activity.
Today, agriculture continues as a major segment of the state's economy. For almost four decades soybeans occupied the most acreage, while cotton remained the largest cash crop. In 2001, however, more acres of cotton were planted than soybeans, and Mississippi jumped to second in the nation in cotton production (exceeded only by Texas). The state's farmlands also yield important harvests of corn, peanuts, pecans, rice, sugar cane, and sweet potatoes as well as poultry, eggs, meat animals, dairy products, feed crops, and horticultural crops. Mississippi remains the world's leading producer of pond-raised catfish.
The state abounds in historical landmarks and is the home of the Vicksburg National Military Park. Other National Park Service areas are Brices Cross Roads National Battlefield Site, Tupelo National Battlefield, and part of Natchez Trace National Parkway. Pre–Civil War mansions are the special pride of Natchez, Oxford, Columbus, Vicksburg, and Jackson.
On Aug. 29, 2005, Mississippi was hit by Hurricane Katrina, killing hundreds, mostly in Harrison County.