Green Activities & Classroom Resources
We found 41 items
Supplement outdated science textbooks with our environmentally focused resources. These activities and guides will encourage your students to live a "greener" lifestyle, at home and at school. By teaching children at a young age to be environmentally aware, you are building lifelong habits that could potentially make a dramatic difference in the future of the earth. The activities and resources include methods for reducing waste and trash, information about product consumption, recycling tips, facts about pollution and its effects on the environment, global warming statistics, worksheets on different ecosystems, and plenty of projects for students to complete inside and outside the classroom.
Reducing Trash, Litter & Waste
Choose from these resources to teach students ways to help the environment. Included are printables to create alternatives to cleaning up the environment, learning about landfills, and a fun detective activity.
Recycling Tips & Tricks
Use these resources to enhance students' knowledge about recycling through reading passages, a study guide, and coloring book.
Minimizing Pollution
Enhance students' comprehension about air pollution by using these resources. Included is a vocabulary printable, creating a wanted poster, along with enrichment and hands on activities.
Resource Consumption
Expand your lessons on the environment by using these on Resource Consumption. Students research natural resources and map their locations, fill in a graphic organizer with ways to help the environment, along with other activities.
Protecting Ecosystems
These resources will extend student learning. Lessons include home projects, role playing, and a nature walk to collect information about ecosystems.
Making Your School a Greener Place
Get your students involved! These resources include lessons on doing things to make a difference at school, eating a waste-free lunch, and establishing a club with environment-impacting activities.
Environmental Science
Choose from these resources to expand students' learning about the environment. Activities include printables, quizzes, and thought-provoking questions.
For Your Whiteboard
Our list of resources is full of choices to make great lessons. Choose from cross-curricular and regular lessons to increase students' environmental learning.
Browse Green Activities Resources
Your Free Gift
Take Back Your Evenings: Top 5 Strategies for Work/Life Balance
It can be difficult to have a life outside of school when you let the demands of teaching take over every moment of your day. This workbook includes the top 5 strategies to help you take back your evenings while still being a great teacher.
Start a free trial today to get your work/life balance strategies workbook absolutely free (a $19.99 value)!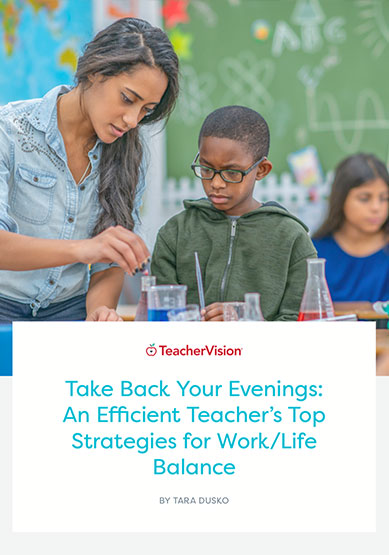 ​