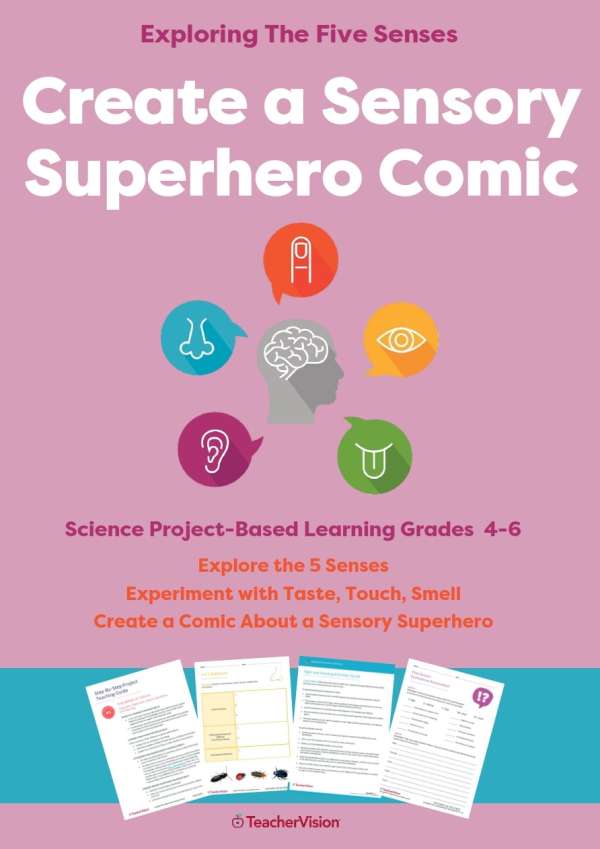 Purchase or subscribe to access this resource.
$14.95
Included with a Premium Membership
Subscribe for instant access to this and every resource on TeacherVision.
Subscribe
A Comprehensive Lesson on the 5 Senses - Taste, Touch, Sight, Smell, and Hearing
Learn about the 5 senses, experiment with smell, taste, and touch, create a working homunculus, explore the variations of scent by experimenting with a "Super Sniffer," and synthesize that knowledge by designing and creating an online comic strip featuring a superhero with super senses!
Your students will learn all about the 5 senses of touch, taste, sight, smell, and hearing while applying research, experimentation, and descriptive writing skills in this complete project-based learning unit on the 5 senses for grades 4-6 science. They'll learn all about each of the 5 senses, explore each one in detail with various experiments, discover the answers to challenging senses-related inquiry questions, and then create and present an online comic strip of their own featuring a superhero with super senses.
What's Inside
Packed with hands-on inquiry-based activities, extensions and enhancements, cross-curricular independent and group work, and engaging and interactive challenges, this 73-page project-based unit comes complete with:
For the Teacher: A complete Five Senses Lesson Plan with step-by-step instructions for all activities, teaching tips, assessment guidance, and inquiry questions.
For Students: A full-color Student Pack complete with all of the printables, slides, photos, and instructions students need for the research, experiments and activities - just print (or share) and teach!
A complete, ready-to-teach Teacher Pack that includes:
Teacher versions of all the student printables with step-by-step annotations and notes for teaching the 5 senses;
Formative and summative assessments, answer keys, and a full project rubric;
Instructions and guidance for the extension activities and project enhancements;
Materials and resources lists, links to articles, videos, and research, plus additional resources for lecture and presentation.
What's Included
Lesson Plan - Step-by-Step Project Guide
Milestone 1: The Sense of Touch
Milestone 2: Sense of Smell
Milestone 3: The Sense of Taste
Milestone 4: The Senses of Sight and Hearing
Milestone 5: Five Senses Project
Teacher and Student Resources
List of Materials for the Projects in this Unit
Books About the Five Senses (oprional)
Teacher Notes for Sense Organs: Skin, Nose, Tongue Lecture
Sense Organs: Skin, Nose, Tongue Facts Handouts
Collecting Data for a Homunculus Activity
Creating a Homunculus Drawing Activity
The Sense of Touch Activity and Answer Key
The Sense of Smell Activity and Answer Key
Milestone #1 Inquiry Question Writing Prompt
Insect Senses Reading Passage
3-2-1 Reflection KWL Chart for Insect Senses Reading Passage
The Sense of Smell Reflective Writing Prompt
Teacher Notes: Setting Up for the "Super Sniffer" Project Activity
"Super Sniffer" Activity Instructions and Handout
Milestone #2 Inquiry Question Writing Prompt
The Sense of Taste Activity and Answer Key
Teacher Notes: Setting Up for the "Mapping Tastes" Project Activity
Test Your Taste Buds Activity
Teacher Notes: Setting Up for the "Super Tasty" Project Activity
Super Tasty Data Collection Sheet Handout
Milestone #3 Inquiry Question Writing Prompt
Five Sense Quick Quiz and Answer Key
Teacher Notes: Sense Organs, Eyes and Ears Lecture 
Sense Organs: Eyes and Ears Facts Handout
The Senses of Sight and Hearing Activity and Answer Key
Sight and Hearing Activities Guide
Milestone #4 Inquiry Question Writing Prompt
Senses Scavenger Hunt Activity
Nervous System and Senses Video Review Writing Activity
Super Senses Project Instructions and Guidelines Handout
Super Senses Story Writing Handout
Milestone #5 Inquiry Question Writing Prompt
Five Senses Summative Assessment and Answer Key
Five Senses Project Rubric
OVERVIEW:
This project-based learning lesson is designed to support and reinforce the concepts taught as part of a science lesson or unit on the 5 senses. It is built around 5 inquiry-based milestones that incorporate cross-curricular hands-on projects, formative and summative assessments, independent and group activities, and extensions.
STUDENT/GROUP OUTPUT:
In the course of this project-based learning unit, students will:
Build background knowledge about the 5 senses by researching and studying each in detail;
Explore the specifics of each sense using different experiments, such as creating a homunculus or a "super sniffer;"
Research and understand how the senses work together to provide continuous information to the brain;
Participate in a variety of inquiry-based challenges for each of the 5 senses;
"Show what they know" by using their research, experiments, and descriptive writing skills to produce an online comic strip featuring a superhero who has a combination of "super senses."
SUGGESTED SUBJECT PREREQUISITES:
Students will acquire necessary background knowledge of the 5 senses as part of this project, and instructional materials for providing that background are included in the Teacher Pack. 
SEQUENCE AND PACING
This project-based unit is divided into 5 milestones. The minimum suggested duration for completing this project-based unit is 5 class periods. However, the unit is completely flexible can be lengthened or shortened as necessary or desired, based on available class time and interest level.
TECHNOLOGY RESOURCES (suggested):
Internet access
Presentation software (Microsoft PowerPoint or Google Slides)
Access to the MakeBeliefsComix website (provided)
STANDARDS ALIGNMENT
These activities support the following NGSS curriculum standards:
4-LS1-2: Use a model to describe that animals receive different types of information through their senses, process the information in their brain, and respond to the information in different ways.