Famous Cats Quiz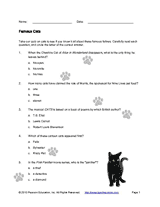 Take our quiz on cats to see if you know it all about these famous felines.
Grade Levels: 3 - 6
View Printable
Help with Printables


Provided by Infoplease—an authoritative, comprehensive reference website that offers an encyclopedia, a dictionary, an atlas, and several almanacs. Visit Infoplease.com to find more resources endorsed by teachers and librarians.