Authored by:
Last edited: July 11, 2020
TeacherVision advisory board member, Tara, shares three choice boards for teaching multiplication, division, and geometry. Whether you use choice boards often or will try them for the first time, we hope that you download, print and use these resources to support students with opportunities for choice.
What is blended learning?
Blended learning is an instructional approach that integrates technology and online educational materials with in-person teacher facilitation and teaching best practices.
In a blended learning classroom, students have voice, choice, and agency over components of their learning.
Some blended learning models include flipped learning, choice boards, playlists, mastery and self-paced learning models, and station rotations.
I believe it is important to state that blended learning isn't using technology in the classroom. When we blend and personalize learning for students, we still need a strong teacher who facilitates learning and guides the students through the topics and skills.
"Blended learning is truly a blend of strong teaching and meaningful technology integration."
Why is blended and personalized learning important?
Technology is more available for students than ever before. In many classrooms every student has access to a computer or tablet. Teachers often have access to learning management systems like Google Classroom and Canvas, and there are endless apps and games to incorporate into classroom instruction.
Many of these apps support students to take ownership over their learning and work more independently, whether they are in the classroom or at home. When we personalize learning for our students we recognize that students have different needs, work at different paces, and have different strengths and challenges. Teaching is no longer one-size-fits all.
We create systems and routines and procedures that provide opportunities for our students to make choices about their learning, reflect on those choices and self-assess, and move forward. If you would like your students to learn how to pivot and adjust, how to take ownership over how they learn best, and how to learn to ask for help, trying blended and personalized strategies in your classroom is a great first step.
One of my favorite blended learning strategies is a choice board.
What is a choice board?
A choice board is a graphic organizer that allows students to move at their own pace and have choice over what they learn and how they interact with the content. Students are able to choose which activity they are most comfortable completing first, master that activity, and then can move to other activities on the choice board.
A choice board can be used to present students with new information, to have students practice and master academic content, to assess student mastery, or as a combination of all three. Choice boards increase student ownership and provide teachers with opportunities to differentiate and support students at their individual learning levels.
Here are some important questions to consider as you design and implement a choice board
What is the goal of the choice board?
Are the activities at the student's developmental level?
How much time will students have to complete the choice board?
What could be challenging about this activity and how could you address these challenges in advance?
How will you provide support for students as they work through the choice board?
What types of activities and assessments could you create for the choice board?
What activities could you choose to represent various learning styles?
How could you support students to understand their learning style?
How will you support students to make choices that are best for them?
Three New Choice Boards
TeacherVision advisory board member, Tara, created three Math choice boards to provide students with opportunities for choice in how they learn and practice multiplication, division, and geometry. These choice boards are designed for 3rd, 4th, adn 5th graders, but can be modified to meet all students' needs.
Division Choice Board
Get it here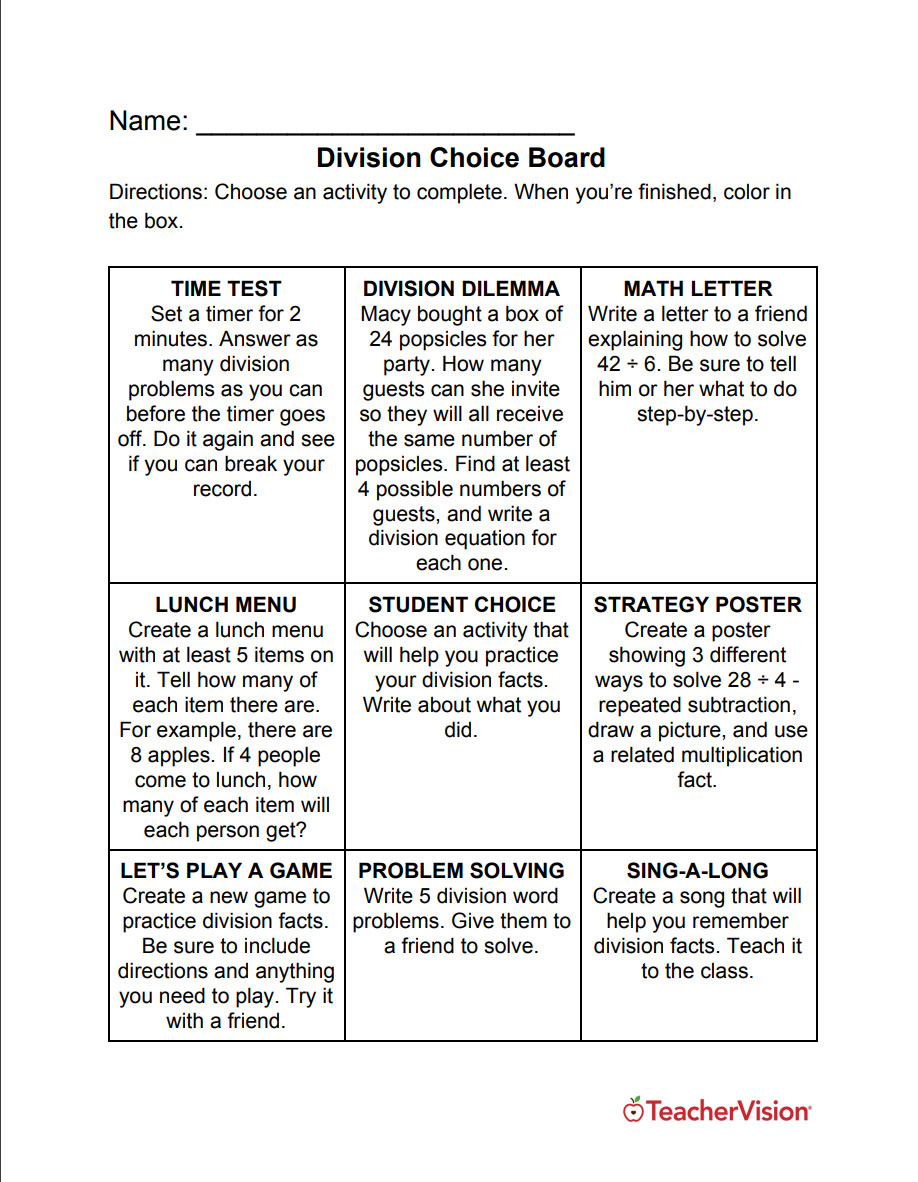 Multiplication Choice Board

Get it here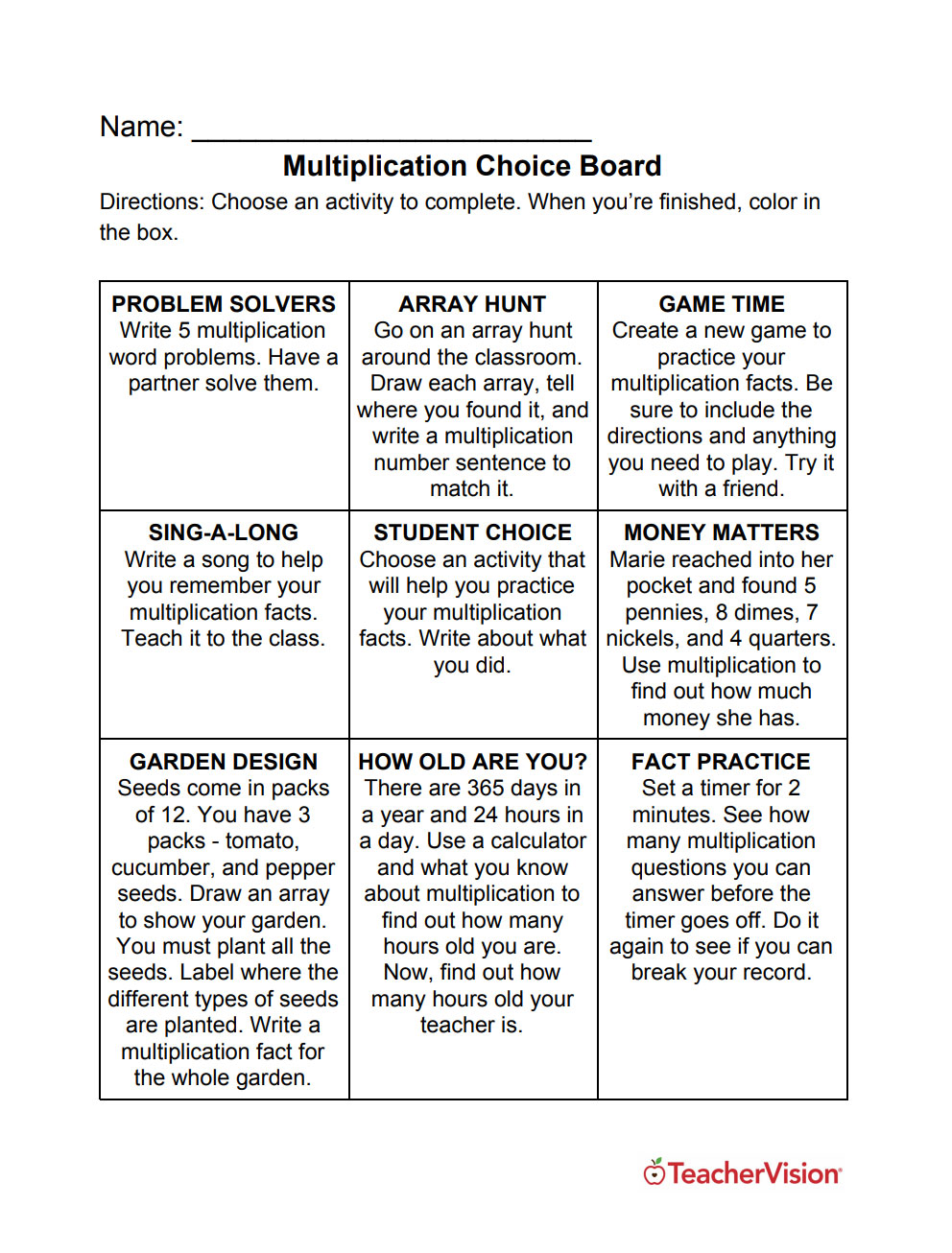 Geometry Choice Board
Get it here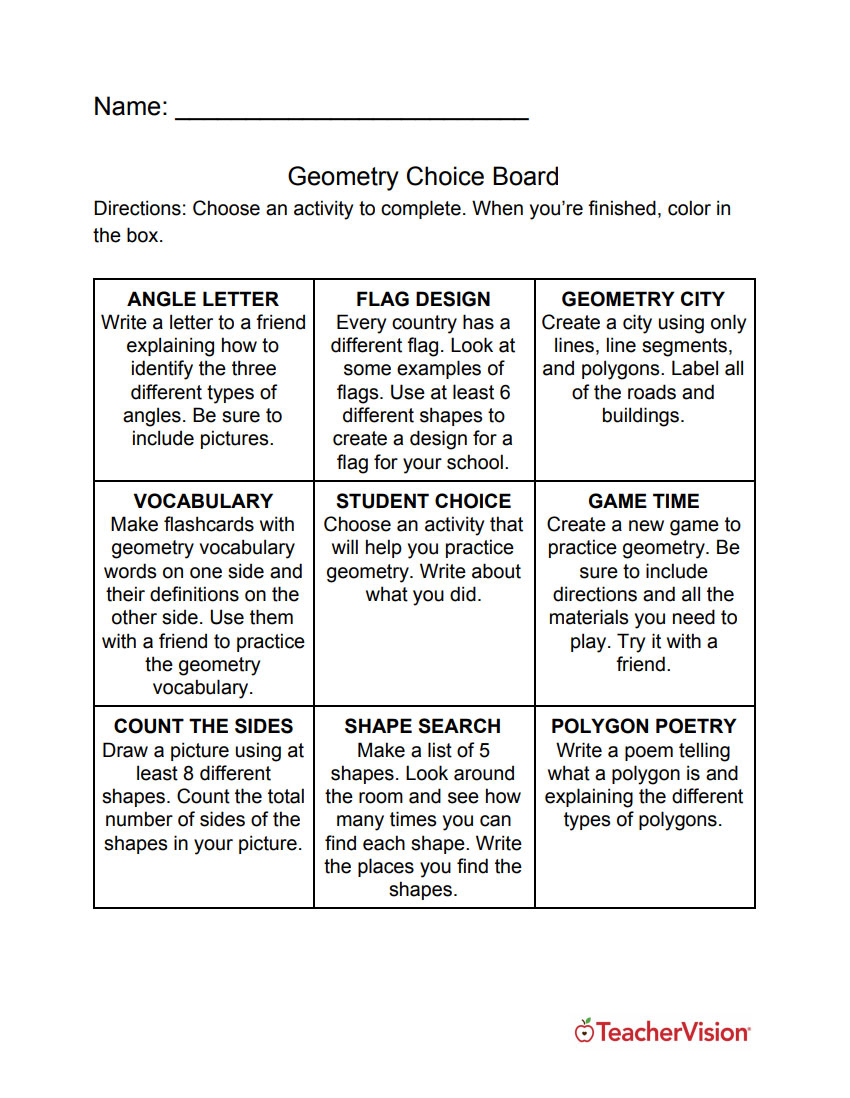 Teaching Tip
It can be challenging for students to feel comfortable making choices, especially when they aren't used to it. Use a self-assessment scale to provide students with an opportunity to reflect on the choice that they made, and how working on that choice went, and what their next steps are.
Teaching Tip
Before you distribute the choice board, determine for how long students will work on the choice board, and how much time they will have. Is your goal for students to complete the entire board? Are you using the board to review for an assessment? Will they work on it at home?
Teaching Tip
When you first introduce a choice board it can be helpful to offer three choices, and then build up to additional choices as students become more comfortable with the process.

For additional information on choice boards, check out these resources: Three Ways To Blend and Personalize Your Classroom, and Offering Students Choices From Day One. 
Do you use choice boards? Share with us on Instagram, Facebook, Twitter, and Pinterest.
Tara Dusko is a third grade teacher in Sinking Spring, Pennsylvania. She's spent the past 14 years finding engaging ways to make her students love learning. When she's not planning lessons for her classroom, she is spending time with her husband and two children or trying out new recipes in the kitchen. Get some tips for reducing the stressfulness of teaching on her blog, www.teachwithouttears.com.
 
Julie Mason is the Head of Curriculum and Content for TeacherVision. She taught middle and high school English for eight years, and then worked as an instructional coach, supporting K-12 teachers to blend and personalize their classrooms.