Hopefully, you started summer off with some rest and relaxation. Once you're feeling recharged, it's time to start thinking about the new school year. Here are some ways to use summer break to get ahead of the game.
Updated on: July 10, 2018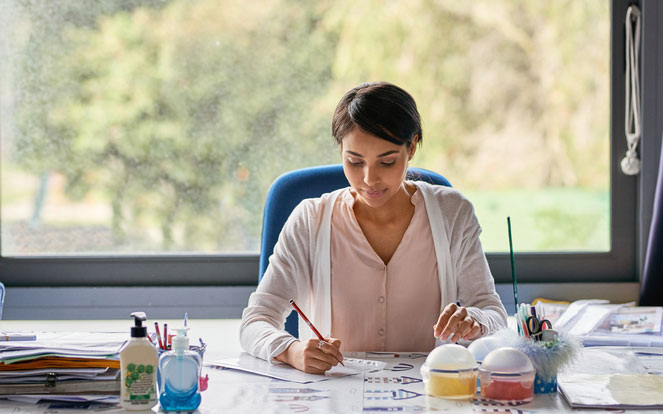 Organize
Summer is the perfect time to clean out your classroom and do some organizing. Over the course of the school year, you accumulate lots of stuff - books, posters, papers. Go through and get rid of anything you don't need. This is also the perfect time to organize your classroom library. Find a system that makes it easy for your students to find "just right" books that interest them. I organize my library by genre and reading level. If you need more books for your library, check out these ways to get them free or cheap.
Decorate
Each spring, the teachers at my school choose a theme for the next year. Over the summer, I look for decorations that match the new theme. As I slowly accumulate new decor, I add it to my classroom. That way, I'm not rushing to do everything a few weeks before school starts.
Plan
Organizing and decorating require you to go to school. I know some teachers aren't able to get into their school buildings over the summer. Others just don't want to set foot in their classroom. Planning is something you can do from the comfort of your home. There are always lessons that don't go the way you planned and units that aren't as engaging as you would like. During the school year, I make a list of concepts I want to find new ways to teach. Then, I look for new ideas over the summer. When school starts again, you'll be prepared with fun new lessons!
Divide and Conquer
If there are other teachers on your team at school, decide on the changes you want to make for the new year. Then, divide up the work. That way, everyone isn't working on the same thing, and a lot more gets accomplished. A few years ago, my school moved to a guided math model. My team divided up our math lessons, and each of us planned guided math groups for 4 units. Creating lessons for 4 units took a lot less time than planning all 16 units.
Look for Deals
Summer is the perfect time to look for good prices on items you want for your classroom. Thrift stores and yard sales are perfect places to find cheap items. From furniture to teaching supplies, you might be surprised by what you find. Stores often have sales over the summer, especially around back to school time. You can get some really great deals if you wait for a big sale. Check out these awesome products to organize your classroom!
As teachers, it feels like our job is never done. We constantly have new ideas to improve our lessons, and it's hard to turn off your teacher brain. However, don't forget to enjoy summer!
Do a little bit each week to prepare for the new school year. You will still have plenty of time to have fun, and you won't be rushing to get everything done the last few weeks before school starts. Then, you can start the year prepared and less stressed.
Want more from this author? Check out Tara's tips for managing a chatty class, getting free or cheap books for your classroom library, and her money-saving ideas for teachers.
Author Bio:
Tara Dusko is a 3rd-grade teacher and mom of two. She blogs about ways to have a fun, low-stress year as a teacher at Teach Without Tears and about time and money-saving tips for moms at Flavors, Fashion, and Fun.