Authored by:
Last edited: September 6, 2022
With classrooms becoming more digital than ever before, it can be challenging for teachers to know which digital tools are effective for learning, as well as being fun for students. When it comes to using technology in the classroom, game-based learning is a great way to introduce math concepts to students in a fun, accessible and engaging way. However, teachers, and parents, need to be confident that the games students use for their math learning are curriculum-aligned, build important math skills, and track student progress easily.
Here, Kayla Dornfeld – an award-winning teacher, author, and blogger – shares her experiences of using Prodigy Math as a digital tool in the classroom.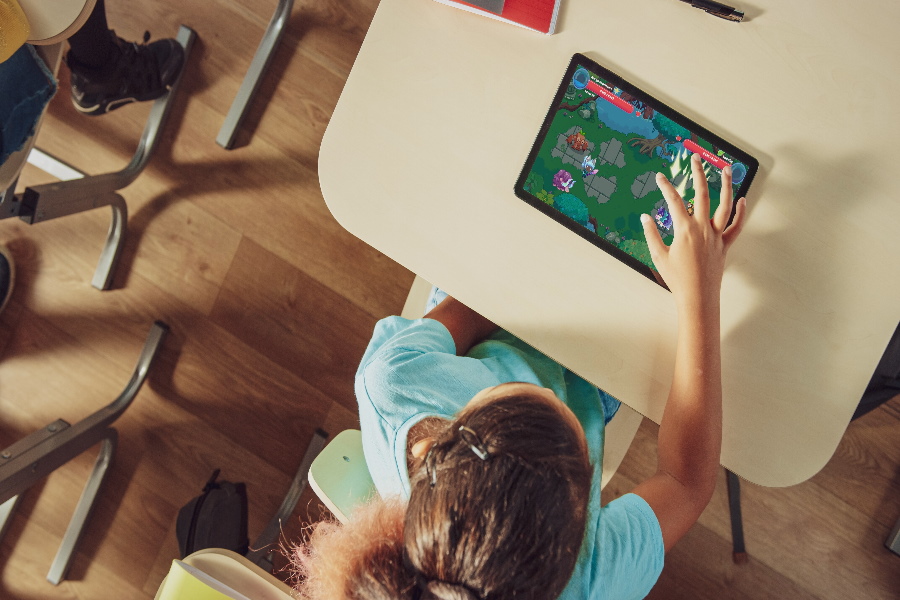 Kayla Dornfeld is the 2020 Top Educator of the Year, and the 2019 North Dakota Teacher of the Year. Kayla is a two-time (2017 and 2018) Global Hundred honoree, recognizing her as 1 of the top 100 innovative educators in the world. The New York Times named her "one of the tech-savviest teachers in the United States". Using Prodigy in her classroom has tremendously impacted student engagement, competence, and confidence. 
If you're a follower of Top Dog Teaching, you already know I'm a big believer of implementing tools that provide my students with opportunities for autonomy and creative alternatives to demonstrate competency. Our classrooms are more digital than ever, and our students come to school connected. Yet, oftentimes we ask students to technologically power down when they enter our classrooms. One of the platforms I use in my classroom is Prodigy Math, by game-based leaders Prodigy Education. 
Prodigy Math is a research-based game designed to make curriculum-aligned learning fun and engaging. Game-based learning means that teachers and parents can help students love learning. My students have so much fun learning and practicing math skills with Prodigy that they don't even know they are learning. Prodigy Math makes learning math a magical experience, literally! Players embark on a journey filled with quests, battles, spells, and rewards. Every battle brings more skill-building math questions for students to solve.
Prodigy Math is a supplemental platform I've been using in my classroom and sharing on my social media pages and during my professional development sessions since its infancy. So many of my students have anxiety related to learning math, and Prodigy Math takes some of the pressure off so students can practice skills in a low-stress environment. 
The content students engage with is created by teachers who research learning standards and build the content in incremental steps that students can manage and master. Personally, I love knowing it's educators who are creating the learning content (that includes more than 1,500 skills!). 
Prodigy's mission is simple, "To help every student in the world love learning." I can say confidently that giving my students time to play Prodigy Math during our math stations absolutely increased a love of learning and their confidence surrounding math concepts.
The research done by Prodigy Education is amazing! Students who started on Prodigy Math with low math enjoyment saw a statistically significant increase in math enjoyment in just a few months. And, in one school district, each hour students spent answering questions on Prodigy Math correlated with higher end-of-year test score outcomes. Isn't that astounding?
Whether you're a teacher looking to enhance your math block at school or a parent who is helping tackle questions at home, Prodigy Education's evidence-based tools make learning gratifying and effective for kids. One of my favorite things about Prodigy Math is that it uses an adaptive algorithm that adjusts as students master new skills or need more practice. It matches their learning style and grade level as well.
Want to know more about Prodigy? Here are some quick facts to explore. 
Students answer skill-building math questions in an engaging online environment, with full diagnostic reports provided - so there's no marking required! 
Teachers can ensure classroom alignment and differentiate in-game content for students' needs. It's easy for me to align the standards my students are mastering in their math curriculum while playing Prodigy Math. I love that my students are getting extra practice on the exact skills I'm teaching while playing in a fun game-based environment. 
Parents can feel confident their child has the support they need to thrive in their learning journey. There's also an easy-to-understand parent report to share progress and help parents assist their children.
Set up your free account with Prodigy today, and make this year your best yet!